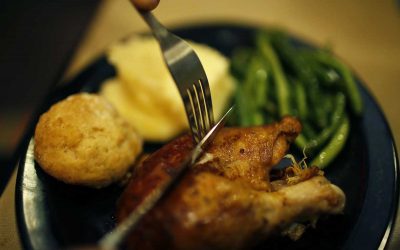 Aramark, the second largest foodservice provider in the United States and the provider of poultry to campuses across the country, including Boston University, made its way into the national spotlight recently, as an online petition against Aramark has garnered more than 70,000 signatures over the past two weeks.
The petition is part of a campaign led by The Humane League, a nonprofit organization that works to better the treatment of farm animals. The campaign is working to combat alleged abusive treatment of chickens at Aramark, said Taylor Ford, the corporate campaigns manager at The Humane League.
Ford said the League reached out to Aramark six months ago, and, after receiving no response, decided to take their campaign public.
The petition calls for Aramark to adopt a meaningful animal welfare policy that spares chickens from the abuses they currently endure in the company's supply chain. Aramark's animal welfare policy states the company is looking into these issues, but Ford said that the policy has no actionable items, nor does the company have any timeline to implement the policy.
"While no company is perfect, we do see that other foodservice providers seem to take sustainability and animal welfare initiatives a little more seriously," Ford said. "When a foodservice provider is willing to work productively with nonprofits like the Humane League, that's really impactful."
The campaign has three major demands: enriching chickens' environment with natural light and reduced stocking density, moving to slower growing species of birds to eliminate injuries caused by excessive growth and transitioning from live-shackling slaughter to more humane methods, according to the campaign's change.org page.
BU is among the institutions that The Humane League has asked to implore Aramark to change their policies. The group is currently in the process of reaching out to student groups on campus to achieve that objective, Ford said.
Nicole Maldonado, a freshman in the Questrom School of Business, said she is troubled by The Humane League's claims, but it won't stop her from eating chicken.
"I'd appreciate the change of how they treat the chickens, but I wouldn't change my habits," Maldonado said.
Kimberly Graham, a junior in the College of Arts and Sciences, said the university should support organizations or companies that promotes animal welfare.
"I'm a vegetarian, so I think that speaks for itself," she said. "[BU dining halls] have all those posters of cows, free range chicken and free range eggs. They try to make it sound very organic and make from an ethical place, but if [Humane League] actually proved that it's not, a lot of people would be very upset."
University spokesperson Colin Riley said the petition does not reflect the facts at BU Dining Services "regarding [the university's] record of sustainability and animal welfare."
Each year, Dining Services conducts a student survey and compiles a sustainability report that outlines their progress and goals for the future, Riley said. Animal welfare and sustainable farming are some of the prominent goals in the 2016 Sustainability Report, Riley said.
"We are very proud of our work and publicly report on our efforts," Riley said. "We will continue to work directly with the BU community and strategic partners, such as Aramark, as we work to achieve our goal of purchasing 25 percent of our food from sustainable sources by 2020."
Although Aramark has provided a variety of dining and catering services to the university since 1976, BU Dining Services began to source humane-certified broiler chickens from Murray's Chicken in 2013, Colin said.
While Murray's does not meet all of the animal-welfare goals that The Humane League would like to see, namely switching to a slower-growing breed of bird, it is a better alternative than Aramark, Ford said.
However, if a student wanted to avoid eating chicken treated with cruelty, they would need to avoid eating chicken from BU Dining Services, Ford said.
Aramark, on the other hand, has rejected the allegations made against them by The Humane League's petition — Karen Cutler, the vice president of sale strategy at Aramark, wrote in an email that The Humane League is supporting this campaign because Aramark is cooperating with other nongovernmental organizations.
"The sole reason for the campaign is that we are working with respected groups like the Humane Society of the United States and Compassion in World Farming, and not [The Humane League]," Cutler wrote. "We tried to work with them in 2015, and they launched a similar attack campaign."
Cutler wrote that Aramark is committed to animal welfare and sustainable sourcing practices, as shown by the company's "industry leading policy" that addresses a range of topics, including broiler chickens.
"The reality is that producing sustainably sourced broiler chickens is currently a challenge for the entire poultry and food industry, not just Aramark," Cutler wrote. "We are committed to being part of the solution."
Chris Liptrot, The Humane League's corporate relations manager, said all information in the petition is factual, and their sole motivation is to see companies appropriately address pressing animal welfare issues in a timely manner.
"Aramark continues to release blatant lies about The Humane League and our intentions," Liptrot said. "We intend to continue our campaign until Aramark addresses the indefensible, cruel treatment of chickens in their supply chain."
Andreas Towers, a freshman in CAS, said that as a "fan of chicken," although she supports animal welfare, she is afraid that it will raise the price of chicken.
"[The petition] probably will not alter the way I eat at the dining hall," Towers said.  "I would definitely appreciate [improving chickens' welfare] as long as it doesn't result in an increase of the price of meal swipes at the dining halls. The cost of chicken would go up if they had to implement better conduct."