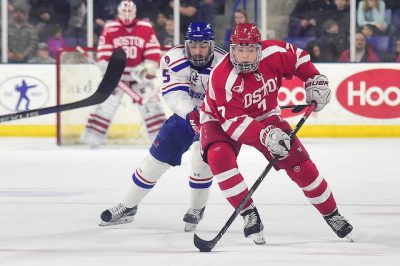 The No. 2 Boston University men's hockey team looked to bounce back against No. 10 University of Denver on Saturday night, but answers few and far between.
By the night's end, the Pioneers' (2-2) freshman phenom, Henrik Borgström, tallied twice, and BU (1-2) lost 3-1, marking its second-consecutive defeat to Denver. All in all, the Terriers were sent back to the east coast with zero points from their two-game stand in Colorado, having fallen 4-3 on Friday.
After a scoreless first period, the floodgates broke open 1:37 into the second when Borgström flipped an odd-angle shot near freshman Jake Oettinger's net. The projected 2017 NHL Draft selection misjudged the play, granting Denver a 1-0 lead on Magness Arena's ice.
The scoreline remained that way until the third period, when BU showed a glimpse of standing tall in the face of adversity. It was freshman forward Kieffer Bellows who beat goaltender Tanner Jaillet 43 seconds into the stanza, as he collected the puck on the right-hand boards and fired into a wrister into the far-side netting.
Bellows' salvaging bid was short lived, however, with Borgström getting the best of Oettinger with 9:37 left in regulation play. The first-round selection of the Florida Panthers at the 2016 NHL Draft, Borgström strode down the left side, deked and flipped a backhander over Oettinger's glove.
Seeking to find any way back into the contest, head coach David Quinn pulled Oettinger with about 1:45 left in the game. The risk bore little fruit, though, as Denver added an empty-net goal through freshman Tyson McLellan with 24.9 ticks remaining. At that point, the win was signed, sealed and delivered to the Pioneers.
Despite going home empty handed, it must be noted that Jaillet stymied BU time and time again, posting 24 saves on the evening. The Terriers also had ample opportunities on the power play, but couldn't find a way to score.
Looking down the road, BU returns home next weekend – despite a prestigious national ranking – with a losing record. Tilts against Sacred Heart University and No. 3 Quinnipiac University arrive on Friday and Saturday night, respectively.
Come that point, maximum points will be the Terriers' only goal, especially as they try to move on from this trying weekend in mid October.