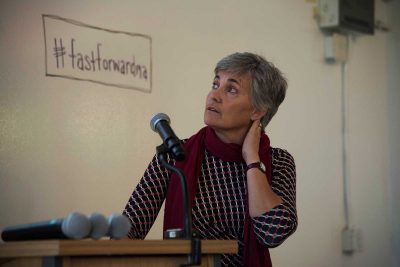 Massachusetts professionals in the transportation field met on Friday to discuss a report written by a consortium of transportation and technology professionals to make transportation in Boston more innovative and efficient.
The report, titled "Fast Forward: The Technology Revolution in Transportation and What it Means for Massachusetts," outlines seven policy principles and 15 policy recommendations. The principles range from broader goals like, "Protect people and the environment" to more specific guidelines such as, "Modernize oversight and address gaps in regulatory coverage for emerging services."
First to speak on Friday was Tony Dutzik, the senior policy analyst at Frontier Group who edited the Fast Forward report.
"We're at the beginning of the arrival of another set of innovative technologies that promise to change everything," Dutzik told approximately 70 professionals gathered at the District Hall in Boston's Innovation District.
"The stakes are high," Dutzik said. "Our current transportation system is failing on nearly every count … The technology revolution in transportation gives us the rare opportunity to hit the reset button on all that."
At the Fast Forward event, speakers explained the "current state of innovative mobility," and looked at "the implications of technologies and services," and introduced new policies as a "framework for the integration of these services" into cities across the Commonwealth, according to the executive summary.
Charlie Ticotsky, the policy director at Transportation for Massachusetts, and one of the contributors to Fast Forward report, explained it might take some time for the policies outlined by Fast Forward to be enacted.
"We believe that some of these recommendations can become legislation in the short term, some may have to wait 10, 15 years, some are going to be at the federal level … some of these recommendations are more best practices or recommendations for pilot projects."
One of the conference's biggest focuses was autonomous vehicles, commonly referred to as self-driving cars. Robin Chase, the cofounder and CEO of Zipcar, gave a keynote speech that presented her hopes and concerns for the future of AV's.
"With autonomous vehicles, we have two paths.  One is, let's just see how it goes, let's just let it fit in with what we're doing," Chase said. "Or, we can … work really hard to take this opportunity and go where we want with it, and design cities and transportation that we want."
One potential solution, "Fleets of Autonomous Vehicles that are Electric and Shared," could drastically reduce the number of cars on the road, carbon pollution and costs to individuals, creating benefits such as less space taken up by roads and a direct positive influence on the environment, Chase said.
Chase said regulations would ensure these AV's would run on electricity from renewable energy sources.
Several attendees agreed with Chase's vision, though each prioritized different issues outlined by Fast Forward.
Fred Hewett, of Cambridge, and a member of 350 Massachusetts for a Better Future, an organization dedicated to addressing the climate crisis, said the future of AV's is an important topic to discuss.
"The dichotomy between [the futures described by Chase], it's clear, it's been discussed, it's been known for some time, and it's so important," Hewett said. "… A critical thing is maintaining core infrastructure — making sure that regional transit authorities have the funding to do the job that they need to do in all communities."
Paul Schimek, of Jamaica Plain, is a lecturer in Urban Planning and Design at the Harvard University Graduate School of Design. He said it's important to institute a tax on carbon to reduce greenhouse gas emissions and, by extension, climate change.
"There is a proposal [for a carbon tax in Massachusetts] but people haven't even really heard about it," Schimek said. "So we need to get that on the table, and I'm actually somewhat disappointed that that hasn't been brought up here."
Bruce Lederer, of Cambridge, who works with bicycle tourism company Cycle Massachusetts, was generally in agreement with the points made at the conference.
"Having a comprehensive planning structure for going forward for transportation is really, really important, as well as support from all areas of government for that," Lederer said. "[The popularization of AV's is] going to happen, and, as Robin Chase pointed out, if we don't do something, we'll have just more vehicles taking up more space on the roads."