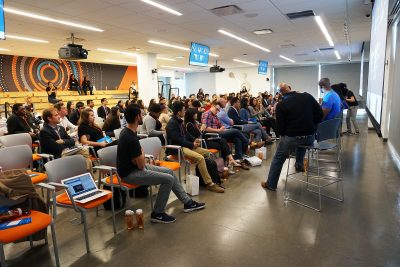 Starting college, finding a job and building a professional network are standard, often stressful rites of passage for most 20-somethings. For first-generation students, however, this path gets a little trickier, and a little darker. Navigating, therefore, requires some stamina.
Several Boston-based technology industry leaders discussed their experiences as first-generation students at Breaking Barriers: First-Gens in Tech, a networking event held in Cambridge on Friday.
"Whatever you're curious about, take the time to invest in yourself and look into the curiosity," said Melissa James, the president, founder and CEO of The Tech Connection, and the first in her family to graduate from college.
The entrepreneur added that she believes curiosity is what makes young entrepreneurs successful.
The inaugural event was hosted by HubSpot, an online marketing and sales software platform that is dominating the Boston tech scene. Breaking Barriers aimed to help first-generation students highlight the skill sets needed to break into the corporate and technological industries.
Aside from the industry insider panel, HubSpot also offered tours of their facilities, free headshots for attendees and resume building and networking workshops.
The panel focused on several themes, including family, mentorship, taking risks and turning challenges into strengths, which were all geared toward specific hardships first-generation entrepreneurs face, according to panel moderator Joselin Mane, a social networking consultant and the co-founder of BostonTweetUp, a digital marketing platform.
"If you have no network, it's hard to make connections," said Alec Ortega, a front-end engineer for HubSpot and the event emcee.
Ortega shared that he became homeless at age 15 after coming out to his family, and moved to Boston for college "with one cardboard box, and started over."
The panelists opened by introducing themselves and how they began their careers. Oscar-Wyett Moore, co-founder and chief risk officer for Door of Clubs, a company that helps connect student clubs and businesses, interned with a Fortune 100 company in college and had an opportunity to either begin working there upon graduation, or begin his own company.
"[The company] had a lot of great opportunities," Moore said to the panel attendees. "The decision was hard because I had a child … did I choose certainty, or follow what my heart wanted?"
During the panel, Moore stressed the importance of leaving one's comfort zones in order to find an "environment" or place where one's talents can properly flourish.
"Ever since I was a kid, I saw myself living an extraordinary life," Moore said. "If I was going to live an extraordinary life, I'd have to get out of my environment."  
Leaving one's environment, according to the panelists, could mean physically leaving their homes or communities, or just moving away from the old ideas they learned from their families.
For example, Jody Rose, the executive director of New England Venture Capital Association, withdrew from classes at the University of Maryland after developing depression her sophomore year, she said. 
Rose's father immediately found her a job, and insisted she continue to work and support herself.
"He was focused that I was lining up a secure future," Rose said to the attendees.
She went on to graduate from SUNY Westbury with a Bachelors in Marketing, worked at several large media groups, but after some time, left to begin work at NEVCA, a company that coordinates entrepreneurs, students and leading founders for the development of innovation.
Her parents were at first hesitant when she left the comforts of large companies. Rose said her family is very supportive, and she described her father as one of her closest friends.
Sophia Teague, founder of event management group Events by Maple, also reflected on contrasting with her family's ideas. Her parents, both Greek immigrants, stressed the importance of education and finding a stable job.
Teague later became focused on thinking outside of typical parameters of success and founded her own company, a risk she was comfortable with but her parents were not.
"The younger you are, the easier it is to take risks," Teague said. "It isn't a waste of time. You're building your network."
James also advised attendees to take risks when they're young, as they typically have less responsibilities.
"My whole life has always been about how to make dreams happen," James said at the beginning of her introduction. She later added that the "immigrant hustle" was that mindset, in reference to her work ethic while in school.
The attendees also reflected the drive and ambitions that the panelists displayed and discussed.
Jaslyn Gomez-Jobson, 18, a student at Year Up Greater Boston, thought coming to the event was "inspiring."
While being a student in general can be difficult, Gomez-Jobson said that as a first-generation student, "a lot of decisions I make could impact [my family]. Whatever I do could affect their future, not just my own."
Correction: A previous version of this article misrepresented Jody Rose's education level and her relationship with her family. It has been edited to reflect these changes.