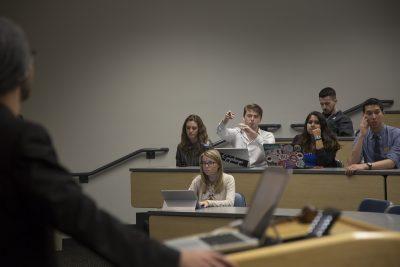 The Boston University Student Government Senate proposed a new Constitutional Reform Committee setup Monday night to avoid a repeat of last year's clash with certain interest groups.
SG President Jake Brewer said he hopes to revamp the current constitution by mandating the CRC to come up with a new constitution.
Brewer, a senior in the College of Arts and Sciences, said last year's constitution catered to student interest groups for votes in elections. In addition, the previous year's CRC became a platform for personal debate, Brewer said.
"SG [meetings] got turned into 'how can I win and get a resume stamp,' instead of 'how can I advocate for students,' which is what it should be about," Brewer said during the meeting.
The CRC functions as an umbrella committee for other specific issue areas, Brewer said. Meetings will start in November, when the CRC will draft at least five versions of new constitutions, and the CRC as a whole will vote on which constitution to present to the student body on the Executive Board ballot, Brewer said.
For the amendment to pass, 5 percent of the student body needs to vote for the amendment, but if the vote does not reach this approval rate, the constitution will be voted on by the senate, Brewer added.
"I hope that the people who will get involved will be more focused on the new constitution and less on one upping each other," Brewer said during the meeting.
Brewer's proposal to reform the constitution through an amendment was rejected by the senate twice last year, each time following hours of debate and a narrow margin between yays and nays, The Daily Free Press reported on April 21.
At Monday's meeting, the senate increased the number of judicial commissioners from three to five — Mathew Renik and Paige Gulley were confirmed as two new commissioners. The intent is to have more people to speak on judicial matters, SG Senate Chair Daniel Collins said.
"There have been a lot of times when we needed official judicial elaborations or proclamations," Collins, a CAS junior, said after the meeting. "Having more of them just gives us more people to help us out."
As a result of the changes in the Judicial Commission, the senate proposed to raise the two-thirds majority required to pass motions amongst judicial commissioners to three-fifths. With five commissioners, it's impossible to have a two-thirds majority, Collins explained.
Another constitutional amendment proposes to replace judicial commissioners if they choose to resign in less than two semesters. The current system does not allow for a replacement if a judicial commissioner resigns, which occurred frequently last year, Collins said.
These amendments will be voted on in the following meeting, which is on Nov. 1.
There were also a few updates from the summer. The Residence Hall Association, for example, left the senate because they did not see the value of being involved in SG, said Collins, who also serves as the RHA quality of life director.
"The things that come to senate does not really affect the day to day activities of the RHA," Collins said.
RHA also has their own budget for the year, so there was no financial incentive for them to remain in the senate. Moreover, RHA's presence as one-third of the senate led to overrepresentation of students who lived on campus and did not represent those who don't, Collins said.
Several senators said they are looking forward to what the reformed CRC will come up with — Hector Meneses, a sophomore and a Questrom senator, said he is excited to see "whether or not [the CRC] comes out with actual pragmatic and constructive documents."
Michael Baker, a freshman and a CAS senator, said he hopes the CRC will enhance SG's interaction with the student body and bring new proposals that improve SG.
"The CRC proposal seems like a really great idea to get students engaged and involved with the process of creating a new constitution," Baker said.
Anushka Pinto, a senior and a CAS senator, said she is looking forward to the potential of increased student involvement in SG.
"It's really important to engage the student body because my philosophy is that if you have students writing the constitution, they'll want to join SG," Pinto said. "They are creating a SG that they feel they want to join."