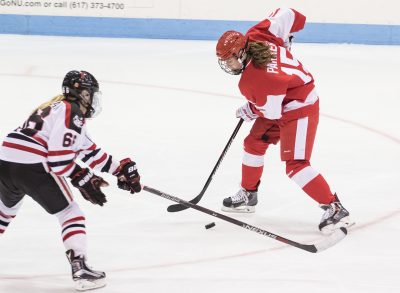 During the Boston University women's hockey team's trip to Pennsylvania State University last weekend, graduate student forward Mary Parker showed her teammates, opponents and the whole division how it's done. The Milton native scored the team's first goal in Friday's 3-3 tie and posted five points to lead the Terriers (3-2-1, 2-2-0 Hockey East) to a 7-2 win on Saturday with a hat trick and two assists.
Parker's play did not go unnoticed; on Monday she was named the Hockey East Player of the Week, along with senior Jonna Curtis of the University of New Hampshire.
She wasn't done, though, as with another goal on Tuesday night against Northeastern University, she celebrated her 100th career point.
"She's got a great shot, a real quick release offensively," BU head coach Brian Durocher said. "She has had a nice start all the way through. Everything went her way this weekend. She can execute. We're lucky have her on board."
Durocher also described Parker's prior college hockey experience as a great asset. Parker played three full seasons at Harvard University, leading the Crimson in scoring during the 2014-15 season and leading the team to the 2015 national title game.
"She's a very experienced college hockey player," Durocher said. "She comes in a lot more relaxed than most people in a new program."       
As the oldest member on the team, Durocher said Parker has a very distinctive demeanor, highlighting her role as a quiet leader.
"She gives the team another established, accomplished player," Durocher said. "She'll show our young kids the way to do things."
Concerning trend, or mere coincidence?
Going into Tuesday night's contest against the Huskies (4-2-1, 1-0 Hockey East), a closer examination of the Terriers' first five contests of the season — six including the preseason exhibition game against Whitby Junior Wolves — offered a significant trend.
In all its wins, BU won by at least three goals: 5-2, 5-1, 7-2, and the 6-0 exhibition victory. In close games, the Terriers lost 3-2 and tied 3-3.
Is this early-season trend possibly an indicator of an inability to win close games, or is it just a statistical anomaly? Durocher is of the opinion that it's most likely the latter.
"I think it's a real early-season coincidence," he said. "The two games we didn't come up with wins, our compete level was middle-of-the-road. We weren't ready to do some of the dirty work that's needed to play well."
Though Tuesday's 6-2 loss at the hands of the Huskies was out of reach early, Durocher said the key to winning, whether it be a grind-it-out game or not, is defense.
"We need to be better defensively in tight games," he said. "We should be doing things that frustrate and make the other team work hard defensively. We wanted it to come too easy in some games."
Young team learning the ropes
With eight newcomers and six freshmen, this 2016-17 Terriers group looks quite different than the team that skated on Walter Brown Arena's ice last season.
According to Durocher, this is a particularly big crop of newcomers: all are experienced skaters, one of the eight is Parker and another is former national champion Nina Rodgers, a junior forward.
Regardless of prior hockey experience, the world of college hockey can certainly present a hefty learning curve.
"We're trying to get those kids caught up to the speed of college hockey," Durocher said. "They're doing a good job."
Coming out of high school, many athletes are not yet accustomed to having abundant time to practice and improve the various facets of their game. Now that these players have been integrated into BU's prestigious hockey program, it's only a matter of time before they are completely comfortable.
For new players especially, Durocher stressed the importance of defense.
Less experienced hockey players have a tendency to overthink their defense, which can sometimes cause their offense to suffer. Once the defensive adjustments have been made, Durocher, players can shift their focus to the specific skills they already possess, which have allowed them be successful in the past.
"The sooner we get those kids caught up," Durocher said, "the better off our program will be."