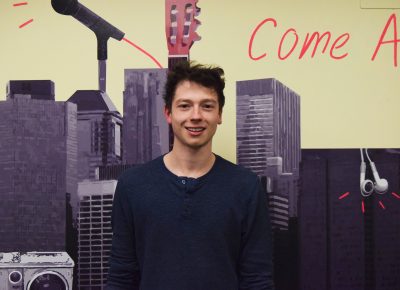 In the basement of the George Sherman Union, several members of the Boston University community meet regularly to create a podcast called the Common Thread, a program aimed at discussing issues of great importance to BU and beyond.
Pedro Falci, the associate director of the Howard Thurman Center for Common Ground, wrote in an email that the podcast is an HTC program and has the mission of creating meaningful conversations with varied perspectives on issues relevant to students' lives today.
"The center funds the production of the podcast by purchasing recording equipment and providing students a space to record interviews," Falci wrote. "The podcast content must further the Thurman Center's mission of generating meaningful dialogue around contemporary issues from varied points of view."
The podcast, originally began in 2008, had been dormant until it was revived by the HTC under the current podcast team. Common Thread re-launched in the April of 2016 — this time, the podcast targets on the issue of mental health on college campus.
Kobe Yank-Jacobs, a junior in the College of Arts and Sciences who is currently on a leave of absence, is one of the three students running the podcast this semester. He explained the process of creating each podcast.
"The basic idea is we come together, we talk about something we find compelling, and we get together people who might have insight on the topic and who might be able to speak eloquently on it," Yank-Jacobs said. "We draft questions and do a lot of research depending on what the subject is."
Team member Matthias Grenon wrote in an email that creating the podcast has been a rewarding experience, specifically when working on those addressing mental health.
"Personally, working on the podcast has revealed just how much knowledge, expertise and resources at BU we as students take for granted or are ignorant of," the CAS senior wrote. "We have some really interesting and intelligent people walking around on campus and it takes actively seeking them out to identify them. They're more than willing to share their knowledge and participate in a discussion about subject matter they're passionate about."
For the first episode, the team spent two to three weeks researching Martin Luther King Jr.'s work. The inspiration to tackle Martin Luther King Jr.'s legacy came from Grenon's experience at an event about King, he wrote.
"I got the idea after attending BU's ceremony for MLK day last January and coming away surprised by how much of his historical legacy was omitted from the content of the ceremony itself," Grenon wrote.
Emmy Parks, a BU alumna who graduated from CAS in 2016, wrote in an email that she is an avid listener of the podcast, which is comprehensive but not too technical.
"The Common Thread team does a thorough job of combing through all the facts and teasing out what is important and then presents it in a digestible and relatable way," Parks wrote. "I know a lot about mental health but, for example, I'm not a history or politics person and I was able to learn from the MLK episode without straining myself."
Parks wrote that the podcasts, along with being easy to use and listen to, aim to communicate with their audience rather than teach them.
"It provides an in-depth analysis of whatever topic they are covering while managing to stay engaging and warm," Parks wrote. "I have never gotten a sense of entitlement or that I was being lectured at. Whenever I listen, I feel as if I am part of the conversation and learning along with the hosts."
Several students said although they are not familiar with the podcast, they are impressed by the team's effort, and they believe mental health is an issue worth discussing.
Joey Buzzell, a CAS sophomore, said that this podcast could be helpful for students who don't know how to deal with their stressors.
"Especially when finals are really close together, a lot of stress tends to rise up and not a lot of students have good ways of handling that stress," Buzzell said. "In instances like that [mental health on campus] is an issue."
Jake Corriea, a sophomore in the College of General Studies, said that the issues the podcast addresses are current and prevalent on campus.
"I wouldn't say [mental health] is huge but it's obviously a problem," Corriea said. "Everybody has something going on that affects health, their mental state."
For Yank-Jacobs and his team, they are constantly thinking of new topics to discuss for the podcast.
"We're thinking about discussions on political rhetoric, a series on small businesses, family businesses [and] how losing those change the community," Yank-Jacobs said. "Those are the kinds of things we're exploring in the off-campus sense."