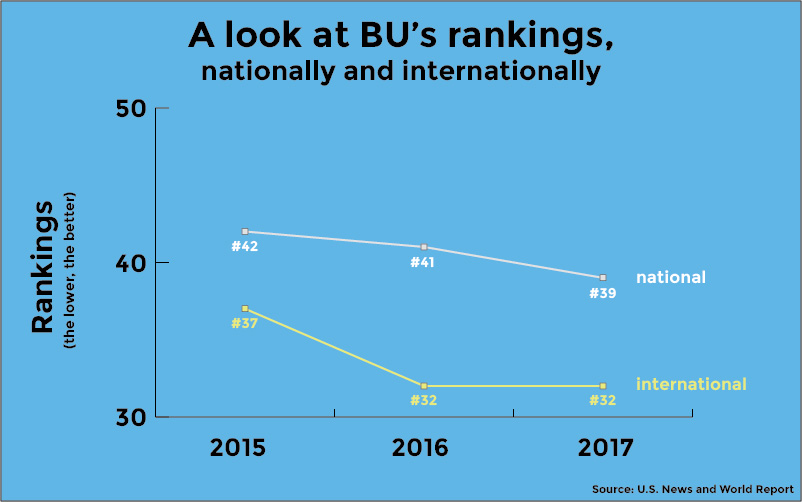 Boston University ranked No. 32 in U.S. News and World Report's 2017 Global Universities Rankings, seven spots higher than where the university placed in the national ranking earlier this year.
The disparity in rankings is caused by a difference in criteria between the global and national rankings, said Robert Morse, the chief data strategist at U.S. News. The global rankings focus solely on universities' research while the national rankings take into account a much wider range of information about students' college experiences, he added.
"The global rankings are entirely focused on research performance metrics," Morse said. "U.S. News believes that's the kind of data that can most reliably be compared globally. There isn't any student data like graduation retention rates or admissions scores or other things that you can compare globally like that."
Morse said that in the case of BU, ranking higher in world rankings than national rankings is not atypical. In fact, earning a relatively similar place in the two rankings is what's most remarkable about BU's results, he said.
"It's probably more surprising that Boston University is rating somewhat close [nationally and internationally], whereas some schools it's very different," Morse said.
Morse acknowledged that the lack of ability to compare more holistically between schools around the world is a weakness in the best world university's ranking process.
"I wish there was data that we could compare the student experience between one country and another in a real way," he said. "It lacks data about what goes on in terms of teaching, and what goes on in a classroom, and what goes on for students to compare globally, so that's a weakness."
However, the rankings are still one of the only ways that prospective students can attempt to compare college options across the globe — U.S. News analyzes data from 1,000 schools and 22 subject areas before publishing the rankings, he said.
BU spokesperson Colin Riley said BU's strong performance in rankings reflects well on the university, especially for prospective students and parents.
"We tend to know that people are interested in rankings and use them as sort of a stepping-off point when they start looking at schools of interest," Riley said. "The ranking is significant. It looks at schools around the world in many different countries, and to be in good company among the top 30 or so schools is pretty good actually."
Riley said the university's world rankings have continued to rise over the past several years, which also holds true for its national rankings.
"It's generally been on a very positive trajectory," Riley said. "It certainly reflects well about the things going on at BU, and the good work here, so we're pleased."
Several students said although they are pleased to see the university's high ranking, they wonder how much it means to students.
Angie Yu, a sophomore in the College of Engineering, said when the rankings are focused on research, it isn't as meaningful for all students, especially those who are not doing research.
"We're ranking the average [for] how much research this entire school does compared to this other entire school," she said. "But what if you don't want to do research, or what if you're doing something cool, that's like separate from that?"
Michaela Cushing-Daniels, a junior in the College of Arts and Sciences, said although going to a school with name recognition is important to a degree, whether you are in a good program matters more.
"BU is a good university," Cushing-Daniels said. "The chances of them having a program that speaks to you are very high. Ranking should really only matter in the context of your specific program or if you're looking for name recognition."
Alexis Kenney, a sophomore in the College of General Studies, said BU's rankings definitely matter to prospective students — sometimes maybe too much.
"Everyone wants to go to a higher-ranked school; that's why I came to BU over some other universities," Kenney said. "It's a factor to weigh when you're choosing a school, but it shouldn't be the only factor."