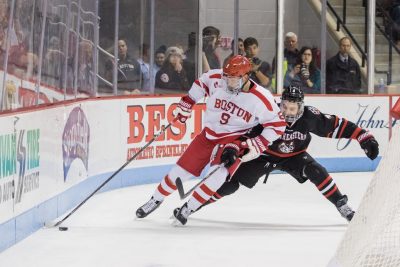 If you've been following the No. 4 Boston University men's hockey team this season, you know that head coach David Quinn has harped on limiting penalties.
The Terriers (4-2-1, 1-0-1 Hockey East) are a Hockey East powerhouse, but they've struggled to stay out of the box early on in the year. Quinn wants to hold his team to no more than four penalties per game, but entering Saturday's bout with Northeastern University, BU averaged 10.2 penalties per contest.
In the Terriers' 3-0 victory over the Huskies (3-2-4, 0-2-1 HE), however, BU enjoyed the benefits of staying off the penalty kill.
After totaling four penalties in the opening frame, the Terriers went more than 43 minutes without a penalty call, giving their offense a chance to find it's rhythm with a constant five men on the ice. It didn't take long for the Terriers to capitalize, as freshman forwards Pat Harper and Kieffer Bellows scored in a span of 32 seconds in the second period to stick Northeastern in a sudden hole.
Harper would add another goal later in the frame to put the Terriers up three. BU finished with a season-low five penalties in the win, highlighting the importance of staying out of the box in order to establish the offense.
"We have so much skill on our team throughout the whole entire lineup that [when] we're five-on-five, it really just makes us play our game and we can play our game in every single zone," Bellows said. "[As] soon as we're on the offensive zone, that's really where all our creativity and all of our skill players really takeover."
Just a day after BU had eight penalties and one 10-minute misconduct in a 4-4 tie at Northeastern, the Terriers kicked off Saturday's win with penalties on senior defenseman Doyle Somerby and Bellows. Only 3:23 into the contest, the Huskies had a 5-on-3 advantage, and with two more penalties later in the period, the vaunted Terrier offense was unable to get going.
Sophomore defenseman Charlie McAvoy noted that after Friday's draw, Quinn made it clear that he would not be tolerant of penalties any longer, and the Terriers took that to heart on Saturday.
"The whole first period I think we were killing for a good amount of that period, then you see they dictated play," McAvoy said. "When we get 5-on-5, we're able to do a lot of damage. It's obvious, there's no secret. If we can stay out of the box, I think we'll have a way better chance of winning games."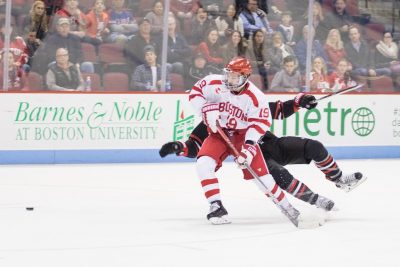 Once the second period began, it was an entirely different BU team. The Terriers were more controlled both with the puck and their aggression. As a result, the offense flowed, starting with Harper's goal halfway through the period.
Thanks to great passing from freshman forward Clayton Keller and sophomore linemate Jordan Greenway, Harper was able to beat Northeastern goaltender Ryan Ruck for his third goal of the year.
Moments later, Bellows found the back of the net on a rebound from sophomore forward Jakob Forsbacka Karlsson to put the Terriers up two. It may have taken a while for BU to light the lamp, but once they got past the silly penalties, they were at their most impressive this season.
"[We] certainly overcame a lot of adversity in the first period," Quinn said. "The continuing theme for us has been penalties all year long. We take four in the first period and overcome it and settle it down, then not take another one until the end of the game was certainly a positive note. If we're going to have any chance, we've got to stay out of the box."
In future games, the Terriers will likely have some penalty-filled affairs, as any young team would. Yet make no mistake; Saturday's victory was a huge step in the right direction. Though Quinn noted that five penalties is still more than he'd prefer, his team is beginning to adapt to the new standards in college hockey.
"The players are adapting, we seem to be adapting a lot slower than other people," Quinn said. "The referees are adapting too, and I think they're starting to eye in on what the penalties are and you're seeing the games being called with a little more reason. But five penalties is too many, you want to stay under four. We weren't able to do it but the last 40 minutes but we did really good staying out of the box."