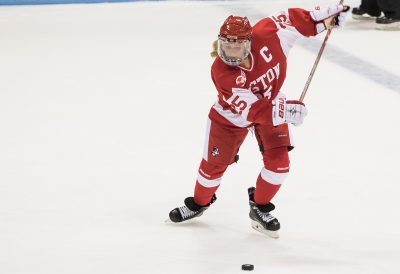 After a weekend series against No. 4 Boston College, the Boston University women's hockey team dropped a 5-3 away contest Friday night, only to emerge on the winning side of the same scoreline at home on Saturday.
During that span, one truth became apparent: BU's defense can sway a game one way or the other. Namely, the Eagles' (7-3-2, 6-2-0 Hockey East) offense offered staunch competition for the Terriers (4-4-1, 3-4-0 Hockey East) throughout, testing the will of head coach Brian Durocher's side.
"BC came right back and made it 3-1," Durocher said following Saturday's victory. "That's a tall mountain to climb, but we fought back. They showed some great character today and resiliency. It's big because we've had a little bit of a skid here the last three [games] and it was a quality win."
Still, one might think offense is the squad's calling card, as the Terriers average 3.9 goals and 35 shots per game. Furthermore, five forwards have reached double-digit scoring through the team's first nine games.
Yet, as the offense picked up momentum against BC on Saturday, as capped off by a game-winning goal from freshman forward Deziray De Sousa, the defense kept the Eagles at bay as bodies crowded the net and pucks flew towards goal.
"[The defense] did a really good job," De Sousa said. "We had a ton of blocked shots which helped us out a lot, picking up sticks in front of the net, and also getting it up quick to the center or the wing."
The defensive pair of senior Sarah Steele and freshman Abby Cook stood out, and the pair was especially strong during the last minutes of Saturday's contest as BC attempted to equalize. Along the way, their efforts were consistently supported by junior goaltender Erin O'Neil.
"I think [O'Neil] made a good statement today, and we've got to look at what goes ahead," Durocher said. "I like the fact that late in the game, she was going behind and stopping the puck because that's not a mandatory thing, but it's a thing I think the goalies at this level should be able to do."
Despite surrendering five goals Friday night, O'Neil saved 34 shots, including 25 across the first two periods. The Minnetonka, Minnesota native went on to match that number the next afternoon while playing at Walter Brown Arena.
O'Neil's currently has a .904 save percentage and 3.18 goals-against average, leaving Durocher showering her with praise.
"[Her performance was] real solid and that's important," Durocher said. "We're trying to get someone to take it just to the next level and [Friday] night was close. I liked the fact that she was out of the net and in great shape for 50 minutes. There was a whisker of a hiccup, but today she did a great job."
While BU did struggle with corralling BC's power play across the two contests, its defense has steadily improved. For starters, the Terriers' opponents are scoring on .095 of their shots and converting on .123 percent of their power-play opportunities.
So with a weekend series against the University of Maine on the docket for next weekend, BU's defense is starting to show its muster.
"To keep a team like [BC] to three goals is a decent sign, but when you play somebody else that isn't Boston College but a competitive team, we have to see if we can start getting games with zero or one or two on the opponent's side," Durocher said. "That's going to be strictly from a team effort."