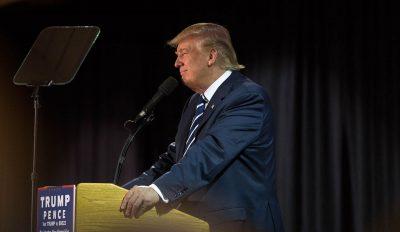 By Noor Adatia and Taylor Kocher
Sara Skelton, a freshman in the College of Arts and Sciences, said she was sitting in in her dorm room watching live coverage of the presidential election when she heard Republican presidential nominee Donald Trump announced as the president-elect.
"The fact that he is the ruler of the free world is terrifying," said Skelton, who voted for Hillary Clinton in the general election. "The Canadian immigration website crashed during the election night. That says something."
After more than a year of emotionally charged presidential campaigns, students across the Boston University campus have mixed feelings about the election results.
Corey Pray, a CAS senior and the president of the BU College Republicans, wrote in an email that he understands the results of the election have disappointed many BU students, but that America needs to work together for the future.
"Your voice will still be heard," he wrote. "Although this election was certainly one of the most divisive and contentious in history, it is now time to come together as Americans and look to the future. In a democracy, individual voices matter. I hope everyone will continue to be active in the political process and advocate for what they believe in."
Melody Shaff, a junior in CAS and vice president of the BU College Democrats, wrote in an email that regardless of the negativity that came out of the election, she still believes America needs to fight.
"This [election] proves that we can, at times, let negativity win," Shaff said. "We are America every bit as much as Donald Trump is America and we may have lost this battle, but we must continue to use our voice and make ourselves heard. I think – and hope – we are going to see a nation that will not be silenced, and one that will fight back."
Jake Brewer, a CAS senior and president of BU Student Government, said one takeaway from the election is that college students "are in a bubble." He also commented on the state of the Democratic Party.
"Neoliberal economics and politics have failed – it's time to recalibrate the left and the Democratic Party," he said.
In response to the election results, Kathleen Lupu, a freshman in CAS who voted for Clinton, said in some ways, perhaps "America deserves this."
"I know riots might break out near me," Lupu said. "I do not feel safe that Donald Trump is president and I am a little bit worried."
Anna Ellis, a freshman in CAS who also voted for Clinton, said she believes this election is "symptomatic of a larger problem in the United States that's coming from the ignorance of the public."
"I have been thinking about how best not to despair and how to move forward in light of recent events," Ellis said. "There are plenty of causes and issues to champion moving forward."
On the other hand, Tony Yao, a senior in CAS who went home to Newton to vote for Clinton in the election, said that he wasn't surprised by the result.
"I'm not angry or anything – I'm fine with it, but staying together is important," Yao said. "The world's not going to end."
For students like Emily Guo, a senior in CAS, the election result hasn't sunk in yet. Guo said she woke up this morning feeling dread, and she is concerned for other people's safety.
"I haven't really thought about how it's going to affect me yet," Guo said. "It will hit me later when it all calms down."