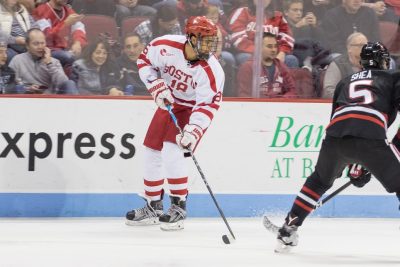 Certain periods haven't always been pretty for the No. 4 Boston University men's hockey team in 2016-17, but it has more often than not found a way to bounce back.
On Friday night at the University of Michigan, however, there was no resurgence or moment of inspiration. Rather, the Terriers (4-3-1, 1-0-1 Hockey East) were swarmed by the 18th-ranked Wolverines (5-3-1) early and often, paving the way for what was ultimately a 4-0 defeat at Yost Ice Arena.
Traveling to Ann Arbor, Michigan for the first time in three years, a 37-second span in the first period set the encounter's tone. Freshman Will Lockwood and junior Tony Calderone both potted on the power play, with freshman goaltender Jake Oettinger screened on both occasions.
Facing an early 2-0 deficit, BU's fate was certainly not signed, sealed and delivered. And that mentality reaped some rewards, as the Terriers outshot the Wolverines, 15-3, in the second frame. Still, no end product or finishing touch was in sight.
Head coach David Quinn's side suffered another setback 6:17 into the third stanza, with freshman Jake Slaker slotting home a loose puck in front of BU's goal. Matters got even worse with 4:35 left in the contest, as Calderone added another, this time via an empty net.
While the Terriers surely won't offer up any excuses for their lackluster showing, it must be noted the squad was without three top-nine forwards. Freshman Clayton Keller, sophomore Ryan Cloonan and junior Nikolas Olsson all missed out, with the later two possibilities to feature in Saturday night's rematch.
Their absences aside, BU still forced netminder Hayden Lavigne into 30 saves, many of which came from shots on the perimeter. Even when BU had space in the offensive zone – it went 0-for-5 on the power play – Lavigne was rarely threatened for extensive periods of time.
All things considered, one has to wonder if the Terriers will shake up the lineup some when Red Berenson's side again plays host Saturday. Junior defenseman Brien Diffley has only played once this year, while sophomore blueliner Shane Switzer has seen zero ice time. It's entirely possible that junior goaltender Connor LaCouvee could receive his first start, too.
Regardless of what unfolds Saturday, this 4-0 loss is arguably the low point on BU's campaign so far. Chances were few and far between, the Wolverines were opportunistic with their 21 shots and BU hardly looked the part of a top-5 team.
The sky isn't falling in the land of Terrier hockey, but Quinn's side needs to search inward for answers. After all, the talent is there.