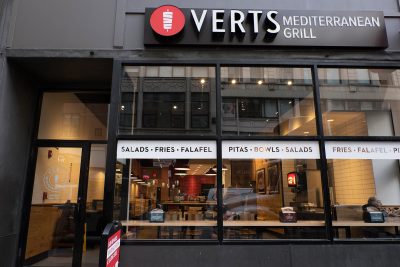 VERTS Mediterranean Grill opened up a new location on Summer Street on Nov. 4, and they do not plan on stopping there. They were rated ninth by Restaurant Business Online in their list of the "Top 25 Fastest-Growing Fast Casuals" in May 2016, taking off in many Texas locations and opening in Boston with plans to expand up north.
Dominik Stein, one of the two owners of the fresh food chain, said he is dedicated to exposing Boston to a new way of eating Mediterranean food.
"Our mission is to educate these people about really really good food, which is in our case, from Texas, but can be found all over the world," Stein said. He explained that the mission for VERTS is to focus on food quality and to give the people of Boston some much-needed access to quick, fresh, Mediterranean food.
To spread the word about the new restaurant and bring people in to try the food on opening day, VERTS handed out free entrees all day Nov. 4. Management knew that in a city like Boston, marketing was key, and they insisted on offering free food to give the customers a taste of what they're dealing with.
"You can have all the advertising in the world, it can be the nicest newspaper article, [but] if there is no incentive to come, then it's just brand awareness, for us that's an incentive for people to try [the food]," Stein said. "And you can see the line, so obviously there is an outcome."  
The line to get into the restaurant was out the door, with an estimated turnout of 1,500 people, but no one appeared to mind waiting in the cold to see what all the commotion was about.
"I was excited for the free food and I thought it was a great idea," said Alexandra Mercurio, a sophomore in the Boston University College of General Studies. "People are always skeptical of trying new places, but what's more enticing than free food? I probably wouldn't have gone if I hadn't heard it was free, but now that I got to try it and I know it's good, I definitely won't mind paying when I come back."
VERTS followed through with their goal of providing fast, fresh food. The food was prepared quickly and with care. It was fresh, full of flavor and its different origin exposed people to a kind of food they may not have regular access to, diversifying their palettes.
"For the amount of time it takes for them to make it, it's fantastic," said Ashley Oliveto, a student at the Boston Conservatory and a food runner at Trade, a restaurant in Boston. "Like, it's great, fast Mediterranean food with a lot of flavor."
With a positive turnout, opening day attendees seemed optimistic about the future of VERTS.
"I think VERTS will be a great success because people love this style of food. It's good quality food in a casual setting but it's not really 'fast food,'" Mercurio said. "That's super popular right now. There's no other place serving this kind of food in this kind of style."
VERTS seems dedicated to providing fresh, quality food to customers, and, according to Stein, the restaurant has no plans of slowing down. He said they already have two new locations in the works: one in the Boylston Street area and one near the intersection of School and Washington streets.
"Hopefully in two or three years we'll sit together again and we will have five, maybe eight locations open in Boston," Stein said.