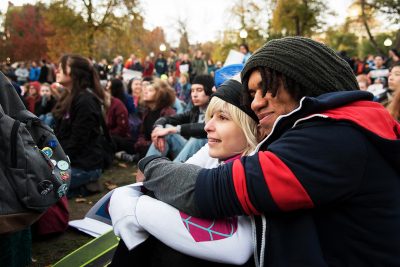 Over 500 people gathered in the Boston Common on Friday at a Love Rally to peacefully protest the outcome of the presidential election.
The rally, publicized through Facebook by Mari Golden and Christina Bardjis, was intended to be an open forum for anyone who wished to have their voice heard.
"The results of the 2016 election do not have to define us a[s] citizens," the description of the rally's Facebook event read. "Let's unite together to peacefully show all of those whom Donald Trump or his supporters have put down that we still care about them, and to give them an opportunity to have their voices be heard."
Golden, a student at Northeastern University, said after the event that she organized it as a gathering place for anyone who felt unwelcome in their own country.
"I felt it was important because people have been hit pretty hard by recent events, and people have been feeling unwelcome in our own country," she said in an email.
A few people were passing out safety pins, which have become a symbol of safety and solidarity for anyone who feels unsafe.
The crowd gathered and chanted phrases such as, "I see you, I love you, I will not stop fighting with you," "My body, my choice, everybody get a choice," and "Si se puede," which translates to "yes you can" throughout the rally.
Many held up signs reading, "When injustice becomes law, resistance becomes duty," in order to challenge the outcome of the race.
One woman held up a sign that read "Not my pussy Trump."
Several Boston residents and students who attended the rally expressed anger and fear at the outcome of the election.
Cynthia Tower-Loewen, 50, of the North Shore, a registered independent, said she voted for Hillary Clinton and felt that Trump was not the most qualified candidate.
"Mr. Trump, the stuff that he has unleashed, and the hate and the racism and the sexism, goes against so many of the things that I believe in," she said.
Nicholas Brown, 41, of Jamaica Plain, attended the rally with his daughter, who held a sign with the phrase "Educate, Agitate, Organize."
"I'm angry, I want to be with people who are angry," he said. "I want my daughter to be here. She's angry, she's scared."
Korrey Colon, 25, of Dorchester, said he thought the rally was a beautiful thing, but would have liked to see more organization.
"I would like to see more of a directed message … something we can actually move on," he said. "Everybody is tired, everybody is fed up, everybody, for the most part is trying to promote positivity, but as far as an actual plan, I think we need a solid message."
On the other hand, several demonstrators said they came to the rally in order to spread love throughout their communities, as the title implies.
Nyssa Patten, 37, of Newton, is an English as a Second Language teacher who came to the rally to make her voice heard.
Patten held a sign that read, "I love my Muslim, Mexican, Trans, Gay, Female, International, Special Needs Students."
"I have all of these students in my class and I always teach them about respect and safety, and I want them to know that I'm here for them and they'll be safe with me," she said.
Petrina Chan, a sophomore at Tufts University, said she came to the rally because it felt like a supportive space as opposed to a hostile protest.
"Although protest marches are great and they work, I'm glad that this is a safe community where people can get together and express their opinions safely," she said. "It's a family-safe space, I've seen kids, I've seen pets and it's such a loving environment I'm glad I can be out here."
Crystal Cole, 22, of Cambridge, said she's grateful for the opportunity to make her voice heard in what she considers a therapeutic setting.
"It's really cathartic yelling with people, and being upset and organizing to be deal with the grief we are feeling with the loss of Hillary Clinton," she said.
Jennifer Rich, 33, an alumna of Wellesley College, said as a Hispanic woman, she felt particularly close to this election.
"It's been very hard … feeling like this country literally hates me and people who look like me," the Cambridge resident said. "To be here is giving me a lot back."