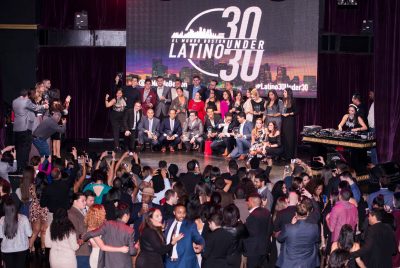 Latin music pulsed, strobe lights swirled and English and Spanish syllables mixed with ease. On stage, a deejay danced along to the rhythms of cumbia and salsa pouring from her speakers.
This is the Latino 30 under 30, a community celebration at Royale Boston on Saturday, hosted by Spanish-language newspaper El Mundo Boston. It's the first time the city has honored 30 entrepreneurs and innovators under 30 years old from all around the Boston area.
According to Maritza Merino, a sales and marketing associate at El Mundo Boston and one of the event organizers, the 30 under 30 event was the brainchild of Elvis Jocol Lara, the director of digital media, special partnerships and business development at El Mundo Boston. Jocol Lara worked on the idea for almost two years, Merino said, and organizing the event was almost a year-long project. 
All the time spent planning and prepping certainly paid off.
"When people think of Latino cities, they think of Los Angeles, New York, Miami, but the truth is, one out of five Bostonians is Latino," Merino said. "We really wanted to shine light on Latino success in Boston."
The event was hosted by Yarel Ramos, host of Reventón con Yarel, and featured music by DJ Karen Santana. It was catered with food from all over Latin America, including Peru, Cuba, Colombia and the Dominican Republic. Celebrity mixologist Joseph Solis also worked the bar, which was in part supplied by Hennessy Cognac, one of the event's largest sponsors.
These choices were deliberated thoroughly, Merino said, because the organizers wanted the night to "be different from the typical nightlife scene," as well as showcase the diversity in the Latino community, which Merino called one of the most "beautiful things" about it.
But the celebration focused on more than having fun.
The true purpose, Merino said, was to remind the greater Boston population of the contributions Latinos have made to their city. It was a sort of "wake-up call."
It turns out the Latino community in Boston was more than eager to participate. The 30 under 30 were initially chosen through a nomination process, by which potential candidates could either nominate themselves or be nominated by a third party. Within the month-long nomination period, Merino said, the organizers received hundreds of submissions.
"Applications were pouring in until the last minute," Merino said.
The ultimate list was highly varied, including everyone from actors to executives to business owners.
Colombian-American actress and activist Diane Guerrero of "Orange is the New Black" and "Jane the Virgin," was one of the night's honorees. Boston Celtics forward Al Horford, who is of Dominican heritage, and Yari Golden-Castaño, the only Mexican-American astronaut candidate for the Mars One space project, were also recognized.
Frank Pinto, vice president of engineering at LendBuzz, was also one of the night's honorees. LendBuzz is an online firm that offers car loans to international students and expats, according to the Latino 30 under 30 website.
The biggest impact of the night for Pinto, he said, was the opportunity for networking.
"It's hard for us Latinos to connect across the city because there's nothing really coordinated," Pinto said. "It's a very positive experience."
This kind of an event, he said, allows for "higher frequency" of connection between Latinos in Boston.
In fact, Crista Núñez, the founder and CEO of Cambridge-based DIDART, attended specifically to network. DIDART creates craft kits for elementary school-aged children based on traditional art of native artisans in Guatemala and El Salvador to foster cultural exchange, she said.
For her, attending the Latino 30 under 30 showed her that the community here in Boston truly is thriving, she said.
"I feel proud about the Latinos doing great stuff in Boston because that means that there is an opportunity and that motivates other Latinos to do something," Núñez said.
And that sentiment is exactly the one the event was meant to communicate, Merino said.
Leadership, she said, isn't defined just one way. Many Latinos are children of immigrants, and she said the event meant to communicate that with hard work, the community can in fact break stereotypes.
"It doesn't matter what path you take," Merino said, "as long as you set your mind to it."