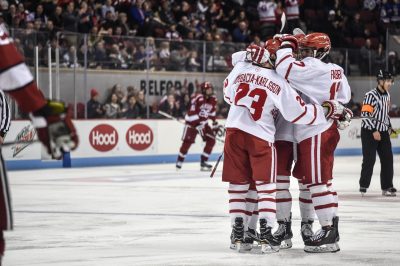 Given the recent history between the No. 7 Boston University men's hockey team and No. 9 Harvard University, Tuesday's contest should come as no surprise.
It was a back-and-forth affair at Agganis Arena on Tuesday, but the Terriers (7-4-1, 2-1-1 Hockey East) scored twice in the third period to secure a 5-3 victory over the Crimson (5-2-1). In their last seven meetings, the two teams averaged a combined 9.1 goals per game, and BU and Harvard again provided a high-scoring battle, with the Terriers coming out on top.
It was the freshman who led the way offensively for BU, as forwards Pat Harper, Kieffer Bellows, Pat Curry and defenseman Dante Fabbro scored for the Terriers. Junior forward Nick Roberto chipped in another goal, while junior goaltender Connor LaCouvee made 29 saves.
"I thought it was just a really good hockey game from both ends," Quinn said. "Really proud of our guys, it's a great way to go into a little break here. We got the weekend off, we were going to have to live with this result for 10 days, it's a lot easier to live with a win. I thought we played well too, so a feel good win for us."
A big factor in the Terriers earning the win was the penalty kill unit holding a talented Harvard offense to 0-for-3 on the power play. BU has been impressive on the PK all season, and senior defenseman Doyle Somerby credits that to the unit staying calm in big situations.
"I thought we just kept it simple and got in lanes and really sacrificed a lot of our bodies out there," Somerby said. "Whoever was out there for the PK was doing a really good job."
The first period was as wild as they get. Harvard would get on the board first when a slapshot from forward Sean Malone deflected off Fabbro's skate and past LaCouvee with 9:10 left in the frame.
The Terriers would retaliate with 4:30 left in the period when Bellows controlled a loose puck behind the net and jammed it past Harvard goaltender Merrick Madsen for his fourth goal of the year.
Unfortunately, Bellows would cost his team later on during BU's first power play of the game. He tried to leave the puck for a teammate near the blue line, but failed to see Crimson forward Alexander Kerfoot and could only watch as Kerfoot took the puck and beat LaCouvee on a breakaway goal. It was the Terriers' first shorthanded goal allowed since Oct. 31, 2015.
Bellows' error would be soon forgotten, as Harper scored on a one-timer from point blank range 23 seconds later.
Once the second period started, it was more of the same. Fabbro would strike first in the frame, lighting the lamp on a slapshot from the blue line moments into a power play.
Given the nature of the game, it would only make sense that Harvard would score soon after on a shot from Kerfoot that LaCouvee probably should have had. Just like that, the score was knotted up yet again.
Then in the third, it was Roberto who came up huge. He got control of a loose puck behind the net and his shot deflected off of Madsen's stick, went between the netminder's legs and gave Roberto his third goal of the year.
Curry would then put the game on ice with a breakaway goal with 1:30 remaining. After his second goal of the year, 19 of BU's 38 goals have come in the final frame. Quinn credited that stat to assistant strength and conditioning coach Kyle Czech and team consultant Ben Prentiss.
"I think it talks about our resiliency for a young team to be able to stay with it mentally and win third periods," Quinn said, "That's a big part of having success when there's so much parity in college hockey and against a really good team like Harvard. We've been a pretty good third period team all year, and we're going to need to be if we're going to achieve the things we want to achieve."
Curry echoed his coach's' statements, saying the team's' performance in third periods shows their resiliency.
"Obviously you don't want to be trailing into the third, but when you have a stat like that, it definitely makes you feel a little bit more comfortable when you're going into the third period down. Obviously that's good to have."
The Terriers have now won the last three contests with the crosstown rival Crimson, and Somerby pointed out the importance of winning games against rivals.
"There's definitely a rivalry," Somerby said. "You always want to be the best team in Boston, obviously with a good game, that helps."