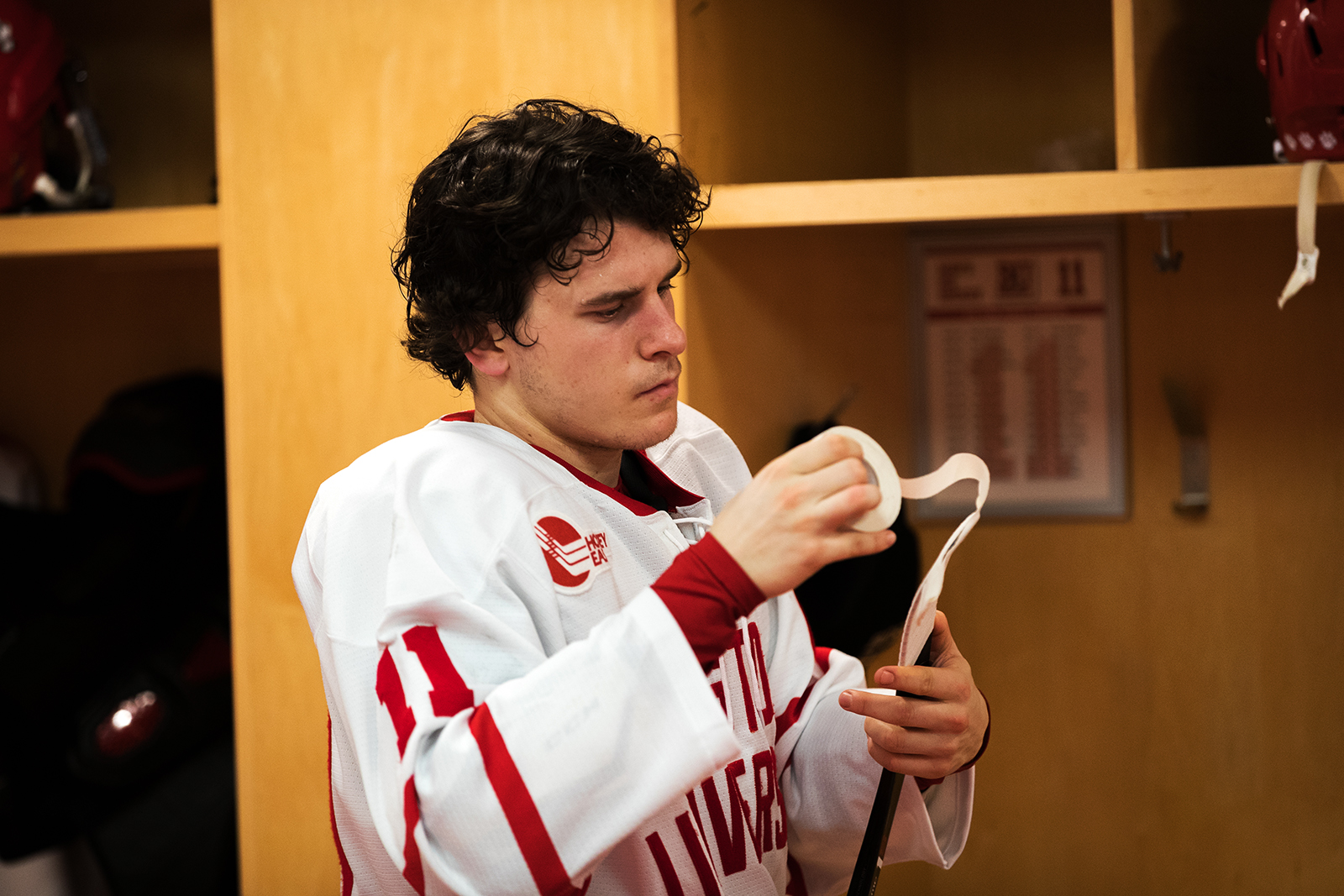 Patrick Curry tends to leave an impression on people. On the ice, off the ice, in the locker room and beyond.
When you touch base with those who've grown to know the 20-year-old from the Northwest suburbs of Chicago, stories tend to follow suit.
"One year at the tryouts he was kinda dogging it," recalled Dave Maciuk, Curry's childhood coach with the Chicago Young Americans. "My son was my assistant coach and I said, 'I don't know if I'm going to take Curry this year, I just don't know.' Then at the last tryout the little bugger scores three goals. Forces my hand some, eh? But that's him. He's kinda like an Eddie Haskell that kid."
A laugh or two stems from each tale as well, perhaps none more so than one Dennis Williams, Curry's coach with the USHL's Bloomington Thunder, offered up.
"We'd always say how in the morning it was like the Energizer Bunny commercial where you put in the batteries," Williams said. "He'd go through the day and we'd joke that he'd plug back in at night. Once you get to know Patrick, you see he just goes and goes and goes."
Now a freshman forward on the Boston University men's hockey team, the anecdotes aren't slowing down. David Quinn, BU's head coach, likes to tell one about a conversation with Nikolas Olsson, an assistant captain on the 2016-17 Terriers.
"I was actually talking to Nik Olsson last night when I was out to dinner with the captains," Quinn said. "We were talking about Curry and [freshman forward Gabriel] Chabot, and he asked, 'Are you guys surprised with how much ice time they're getting?' I told Nik, 'When Curry came here I thought he was going to sit in the stands for over half the games, and he's been on the top three lines.'
"The best players play," Quinn added. "I don't care when we recruited you or how much [scholarship] money we gave you. The best players play, and he's been one of our top-nine forwards since day one."
As the patriarch of Agganis Arena hinted at, Curry's personality — his enthusiasm, his vigor, his verve — have taken the scarlet and white by storm. He has two goals and four assists through his first 14 collegiate games, but, as is usually the case with players such as the 5-foot-11, 185-pound center, his biggest impact isn't quantifiable.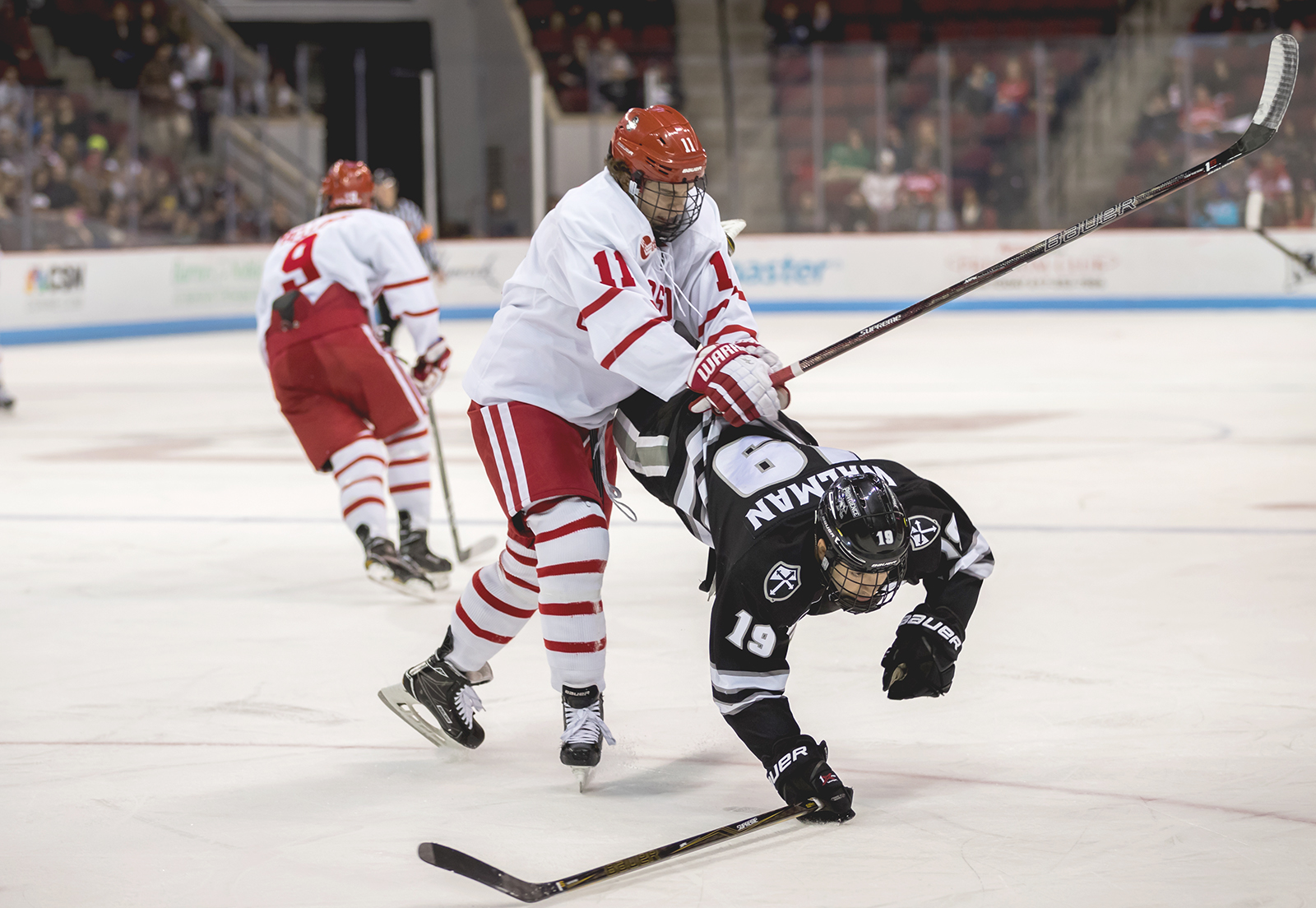 ---
Watch BU's No. 11 for a shift, a period or a whole game, and one mark will stick out: his passion.
This came to the surface after Curry's second collegiate goal, the insurance tally in a 5-3 win over Harvard University on Nov. 22. He beat Merrick Madsen, a Philadelphia Flyers draft pick, with a wrister to the far side, and channeled his best Tiger Woods impression, sliding along one knee and fist-pumping into a crowd of teammates.
But that dose of raw emotion speaks volumes to what Curry thinks all game long.
"When I'm playing my best is when I'm playing tenacious," Curry said. "I'm hitting, I'm talking to the other team, trying to get under their skin and all that … When I have that edge and sandpaper type of style, that's when I'm playing my best hockey."
It's not just talk either, as Curry seldom shies away from throwing an extra shove after the whistle or checking an opponent into the boards. All along, he's carefully walking the line between protagonist and antagonist, never afraid to needle and prod.
There's the continual banter, too — "It's funny to hear what the guys come at you with," Curry said — and descriptors such as "dogged," "pugnacious" and "staunch" are ones his coaches have grown to love.
"He's definitely one of those guys who's not afraid to mix it up out there and he's very good at getting guys off their game," Maciuk said. "He has a little bit of that Kenny Linseman in him from back in the day. You want to have him on your team because you hate to play against him."
His teammates love his whole ensemble of traits, though. Following last month's Harvard game, senior defenseman and captain Doyle Somerby hailed Curry's grittiness and willingness to retrieve the puck from the corners. What's funny, however, is how easy it is to gloss over Curry among the hyped-up, nine-member freshman class.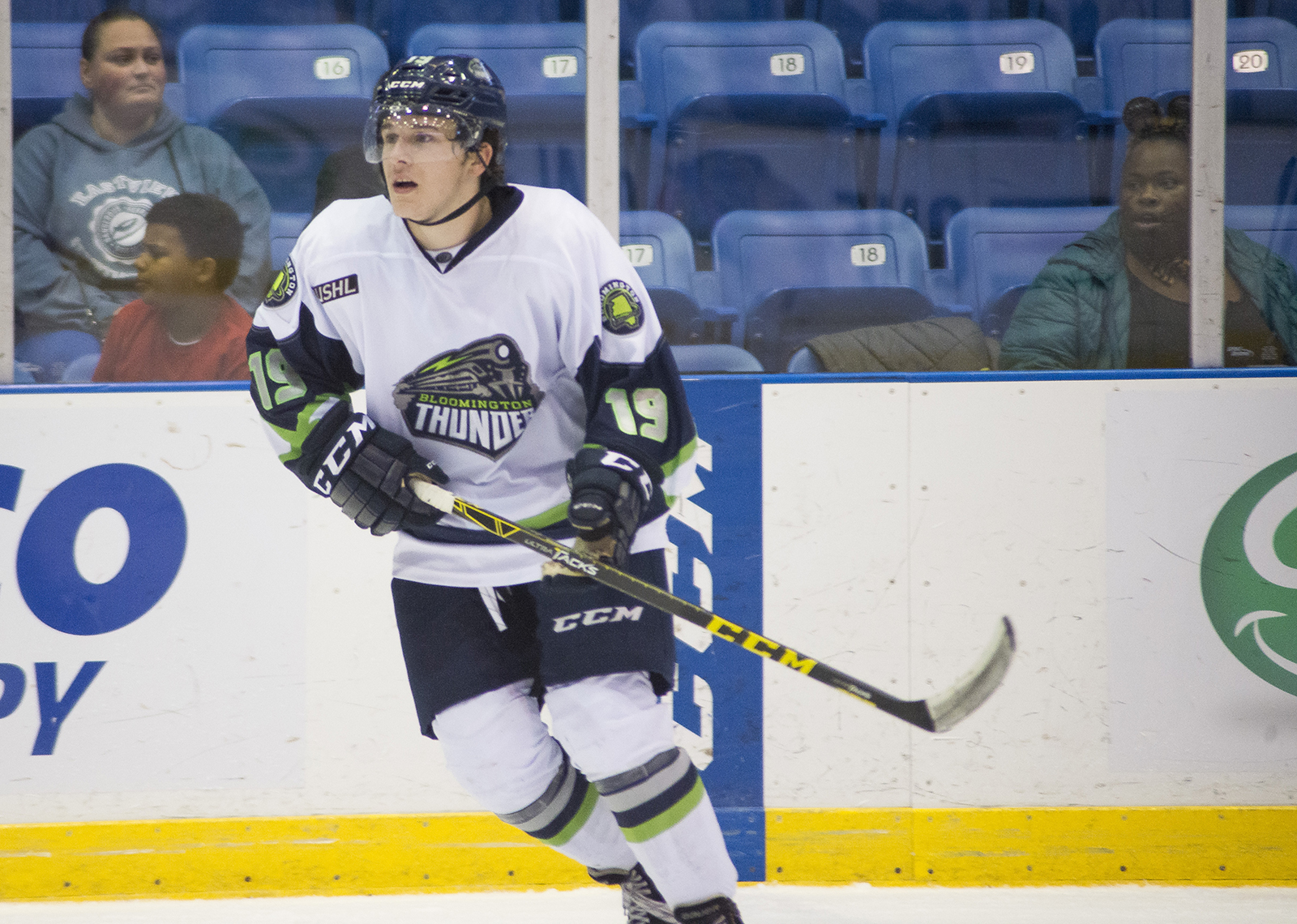 ---
Clayton Keller, Chad Krys, Kieffer Bellows, Patrick Harper, Dante Fabbro, Jake Oettinger. They're names well known throughout college hockey's circles, largely because they're good bets to play in the NHL one day.
So where exactly does Curry fit into that group? Not quite at the forefront. But, don't go telling the lifelong Chicago Blackhawks fan that — it's a logic he doesn't concern himself with.
"It's always fun to watch these guys at practice with their skill sets," Curry said. "I don't really look to compare myself to other players, though. I try to do what I can do best and control how I play. There's a reason the coaching staff brings every player to BU and it's important not to change that and just stick with what works."
Still, it's hard not to reflect on how Curry's different than his classmates. He's two or three years their senior, and he doesn't possess the label of an NHL first-rounder, but Maciuk hailed that distinction.
"When they were recruiting Pat it was kind of funny," Maciuk said. "They said, 'We have quite a few first round picks, so we need someone who's willing to go get the puck.' What happens with these kids who are anointed early with all the recognition, sometimes when they get to school they just think it's going to happen."
Williams didn't skip a beat in his remarks, praising Curry's versatility, 200-foot game and forechecking.
"To say where he is now among all those guys BU has, is it a surprise?" Williams asked. "Maybe, but it also doesn't surprise me because of his passion for the game."
Are more surprises in store down the road? The answer there isn't quite so clear.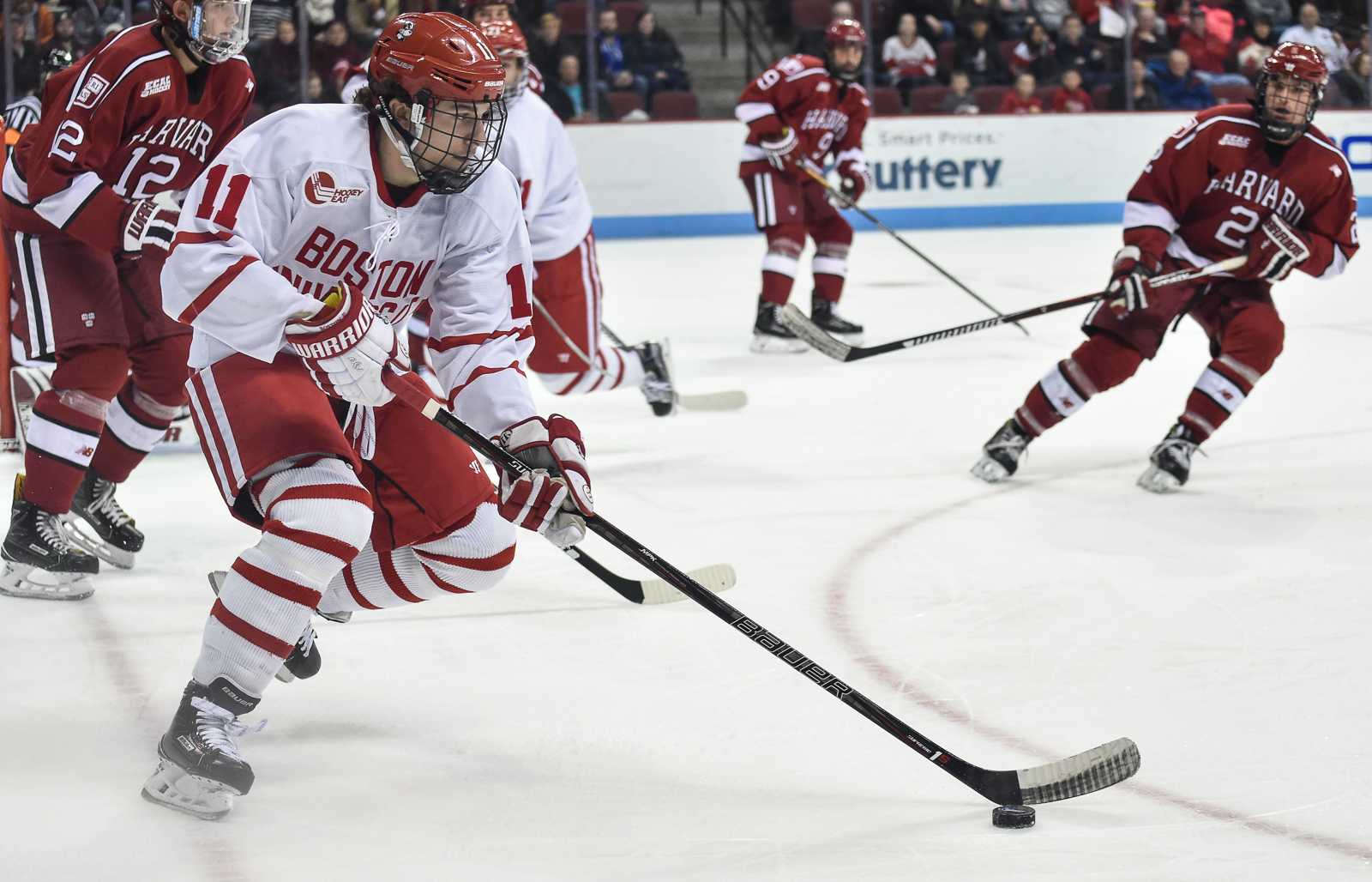 ---
Curry doesn't lose sight of his hockey beginnings. He remembers wanting to follow in the footsteps of his big brother, George, and first skating when he was two or three. There was hometown buzz surrounding the Blackhawks, too, which swelled when they drafted Jonathan Toews and Patrick Kane. He even attended the 2010 celebratory parade in downtown Chicago.
What sticks out the most was when he played for Team Illinois at The Edge Ice Arena in Bensenville, Illinois, the former rink of the USHL's Chicago Steel. His practices would wrap up before the Steel's games, so he'd change quickly and rush upstairs to watch, foreshadowing his own junior hockey path. Stops with the Springfield Jr. Blues of the NAHL, Tri-City Storm of the USHL and Thunder came next, layering on the maturity.
And while nobody has a crystal ball for Curry's future, one thing's for sure: he, almost out of the blue, has became an indispensable part of these Terriers.
"Down the road, I can see myself definitely being a four-year player, but you never really know what's going to happen in this unpredictable game," Curry said. "You have to see how it goes, but I'm definitely not against staying around for four years.
"Who knows," Curry added, "maybe grow into a leadership role and help the younger guys out one day."