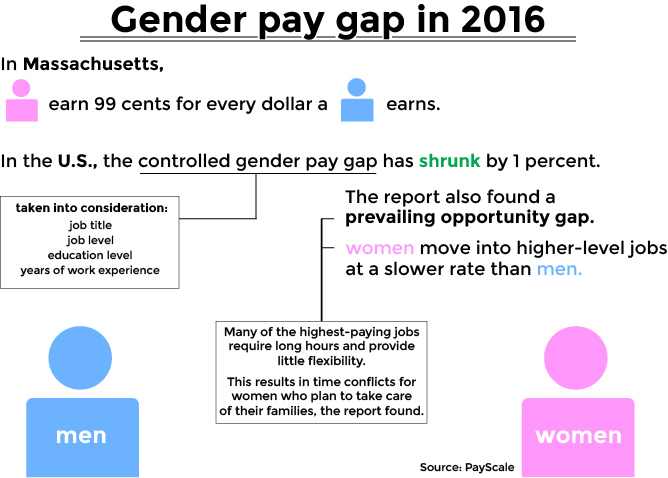 Women in Massachusetts earn 99 cents for every dollar men earn in similar jobs — which is 1 percent higher than the national average — making Massachusetts the state with the fifth-smallest gender income gap, according to a PayScale report published Tuesday.
The controlled gender pay gap, which PayScale used for its findings, controls job title, job level, years of work experience and education level for women in the United States compared to men, the report stated.
The report found a prevailing opportunity gap, with women moving into higher level jobs at a slower rate than men.
"Our data show that at the start of their careers, men and women tend to work at similar job levels, most often entering the workforce at the individual contributor level," the report stated. "Over the course of their career, both men and women move into manager- or supervisor-level roles, and eventually to director- and executive-level roles."
One factor to the opportunity gap is that many of the highest-paying jobs require long hours and provide little flexibility, causing time conflicts for women who plan to take care of their families, according to the report.
Kevin Lang, an economics professor at Boston University, wrote in an email that women remain underrepresented in many of the highest paying majors, such as computer science, engineering and economics.
"To gain a position as a senior partner in a large law firm generally requires long hours during a woman's prime childbearing years," Lang wrote. "Even relatively short work interruptions in such jobs may have a very large negative impact on earnings. Studies of MBAs and lawyers from elite professional schools suggest that moving to shorter hours and taking leaves of absence is a big factor in the large gender disparities that arise."
Nationally, men are 85 percent more likely than women to become company vice presidents or executives in the midst of their careers, and have 171 percent higher chance to attain those roles in their late careers, the report stated.
In contrast, the report stated, over 60 percent of women still work individual contributor roles by the age of 60, as opposed to 45 percent of men occupying the same roles.
The report stated that 10 percent of women agree there is a pay gap issue, and their employers are working to address it.
Daniel Aldrich, an economics professor at Northeastern University, said institutional changes are crucial to ameliorating the pay gap, which is exemplified by the bipartisan pay equity bill that Massachusetts Gov. Charlie Baker signed into law in August and will go into effect next July.
"[The law prevents] companies from asking women or asking anyone how much money they're making in their current job; if a woman was being denied equal pay in her old job, then her new job might also give her that money in salary," Aldrich said. "We could make other changes as well. For example, we can try to make mandatory that certain companies, if they go public, have to have a certain percentage of women on their board."
Several Boston residents said they are not surprised by the report's findings, underlining that the state's progressiveness plays a role in the decreased pay gap, and that it serves a good example of moving forward with the issue.
Carly Rando, 26, of Beacon Hill, said Baker has been representing the Commonwealth's gender issues well, albeit going against his political affiliations.
"Massachusetts has leaders in place that are very much willing to be vocal about their disagreements with the incoming administration," she said. "I like that even our Republican governor is willing to stand against some of the policies, the generally speaking conservative policies, that keep that pay gap as wide as it is nationally."
Kaitlyn Fox, 29, of Beacon Hill, said familiarizing girls with science, technology, engineering and math is a way to decrease gender pay gap, as those fields entail higher pay.
"Women know their worth here, and are more educated about it than in other parts of the country," she said. "It's a lot more education, and our economy is technical and more white-collar than blue-collar."
Louisa Butler, 33, of Beacon Hill, said Massachusetts is exemplary among other states in decreasing the pay gap.
"In terms of closing [the gender pay gap], there has got to be disclosure of wages, as well as men and women talking about it together," she said. "A lot of times women talk about it, but men and women don't talk about it as much."
Dave Sebastian contributed to the reporting of this article.