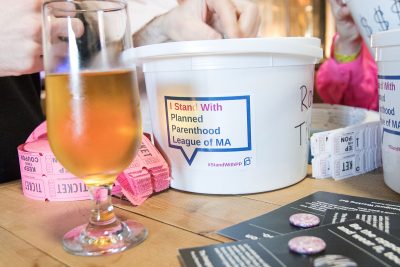 As thousands of women, men and children swarmed the streets across the country, some protesting the possible defunding of Planned Parenthood, a smaller-scale resistance was being planned at the Aeronaut Brewing Company in Somerville on Saturday.
The Inaugural Wrecking Ball, a public fundraiser, was held a day after President Donald Trump's inauguration. It helped raise funds for Planned Parenthood while simultaneously spreading the message that people are powerful and change is possible.
"We were all super bummed out after the election because there were a bunch of causes that we felt were really at stake in the last election cycle, and we were worried about those," said Casey Bleho, a main organizer for the fundraiser. "Once we'd gotten over that initial sadness, we wanted to make sure that people knew that they could do something about it."
The event was organized by a group of ordinary people with a burning desire to make a difference.
"We knew it had to be a positive, empowering thing because there's a lot of people that feel helpless and not empowered right now," said Robert Whalley, a graphic designer who is in charge of the creative side of the campaign. "The notion of the 'Wrecking Ball' manifested itself in the idea that you have to break everything down and create a level playing field before you can actually start building back up."
Rebecca Willis, a volunteer at Planned Parenthood, talked about how it was important that people maintain the right to make decisions about their own body.
"I think every woman, person, cis, trans, regardless of how they identify should be entitled to have autonomy over their body," she said.
Willis also expressed that her future career goals have really put her at odds with Trump, deeming his presidency "volatile."
"I'm very interested to see how the next four years play out in terms of healthcare law," Willis said. "As a future gynecologist and someone who wants to work in reproductive healthcare and rights, I'm definitely hoping those things can be preserved over the next four years and beyond."
She said she found the event itself to be a successful grassroots movement for fundraising Planned Parenthood. In the event this organization is defunded, she said that events like these are key to building a community of supporters.
"I think people are very motivated right now as the new term is starting, and I just hope that this kind of movement and participation keeps going through the next four years because I believe that Planned Parenthood is going to need it," she said.
Some of the attendees were concerned about the fact that people tend to assume issues aren't quite as serious as they may seem.
"I think people have a tendency to minimize or play down a little bit how much of a threat certain policies can be. I think some people would like to believe that it's not as big of a threat as it is," said Julie Croes, 26, of Suffolk.
Robert O'Neill, 30, of Kenmore, stopped by the fundraiser with his friends on their way back from the women's march and remained fired up.
"It's not enough to wait for people to do or say something wrong and then you say 'No no, you're wrong,'" O'Neill said. "It has to be a constant drumbeat of saying the right thing, so that when the person says the sexist thing or the horrible thing, they immediately get shut down."