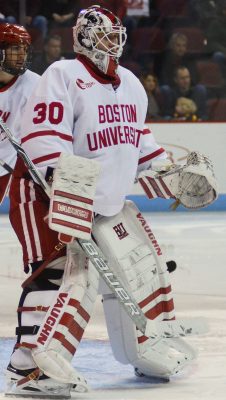 Fresh off its eighth consecutive win, the Boston University men's hockey team will travel to Merrimack College on Tuesday night for a rare midweek clash.
Ahead of the game, however, a larger bit of news surfaced surrounding the program: the Terriers are college hockey's newest No. 1 team.
BU (16-5-2, 9-2-2 Hockey East) last earned this distinction on Dec. 15, 2014, but head coach David Quinn scoffed at the recognition, especially with another two conference points at stake against the Warriors (8-13-3, 2-7-3 Hockey East).
"I pay zero attention to it," Quinn added. "The only thing that matters is the PairWise [Rankings.]"
Doyle Somerby, BU's captain and a senior defenseman, said the ranking is exciting, but also struck a similar chord to Quinn.
"We're just chugging ahead," Somerby said. "We were No. 1 a couple different times throughout my sophomore year, that national championship run, and we always seemed to slip up. A lot of the older guys here are saying, 'Don't even worry about it. Look ahead.'"
While the Terriers are avoiding being overconfident, it is hard to ignore their torrid run of form, particularly to start off 2017.
They've won six straight games in January, a feat that last occurred during the 1977-78 season, in which BU won its third national title. Furthermore, freshman goaltender Jake Oettinger and freshman forward Clayton Keller were named Hockey East's Defensive Player of the Week and co-Rookie of the Week, respectively, on Monday.
Point streaks are also starting to accumulate, notably with Keller (10 games), sophomore forward Jakob Forsbacka Karlsson (seven games) and sophomore forward Jordan Greenway (eight games). The penalty kill has remained stout, too, as BU's 88.9 percent success rate is second in the nation and trails only No. 20 Bemidji State.
"It's just confidence," Somerby said. "You can definitely feel a lot of confidence coming from the guys who played at World Juniors, and we've carried it into each and every game. Sometimes there's a little bit of overconfidence, but when you're feeling good about yourself, you do the right things."
As upbeat as the times are around Agganis Arena, the team was quick to assert Merrimack is no pushover. In fact, BU hasn't won at Lawler Rink since the 2012-13 season and is 0-2-1 in its last three visits.
This go around, head coach Mark Dennehy's squad sits second from bottom in the conference and is struggling to find consistency. On Jan. 14, for example, the Warriors knocked off now-No. 15 University of Notre Dame, but then were swept last weekend by an unranked Northeastern University side.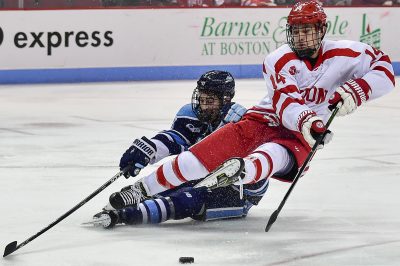 Two key factors in steadying their ship could be Brett Seney (18 points) and Hampus Gustafsson (17 points). The Terriers, therefore, will key in on them, but the biggest task is solving the puzzle that's been Lawler Rink.
"It's just really hard to play there," Somerby said. "There's a low roof, they always pack the place and it's really loud, so it gets chaotic. They're big and physical and clog up the ice a lot … but it's always pretty fun and hopefully we can get that first win."
Standing in their way, more specifically in goal, will likely be Merrimack's sophomore Drew Vogler or junior Collin Delia. Neither has made the starting gig their own, even through 24 games.
Speaking of goaltenders, Quinn said after practice on Monday that junior netminder Connor LaCouvee will start. He last played in BU's 5-4 overtime win over now-No. 5 Union College on Jan. 5.
Quinn had one other lineup update: freshman forward Patrick Harper is healthy and will play against Merrimack. He was injured late in the second frame of BU's win over the University of Maine on Saturday.
Details aside, Quinn didn't mince words when commenting on what lies ahead for the Terriers. Times are certainly good for the scarlet and white, he said, but the worst thing the group can do is become complacent.
"We talked to them before practice: the reason we've had success is we've skated more and competed hard," Quinn said. "Let's not fool ourselves, that's what this game is all about."
Anything less than that against Merrimack could stall BU's strongest run of the 2016-17 season.