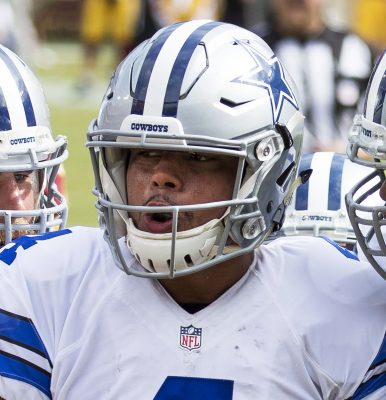 The Dallas Cowboys have had their fair share of excitement and heartbreak throughout the last couple of seasons.
They went 8-8 in 2013, 12-4 in 2014 and 4-12 in 2015. But this year, they went 13-3, their best record since 2007.
Dallas has been successful in more ways than one, and it started with Dak Prescott.
Prescott, a rookie fourth-round draft pick out of Mississippi State, started the first preseason game, competing for the backup quarterback spot behind Tony Romo.
Two preseason games later, on Aug. 25 against the Seattle Seahawks, disaster struck in Dallas. Romo suffered a compression fracture in a vertebra. Romo had previously missed the last five games of the 2015 season after breaking his left collarbone for the third time in his playing career.
The starting quarterback job for the Cowboys was suddenly open, and Prescott was tapped to lead the Cowboys offense after an impressive preseason.
Being named the starting quarterback of one of football's most famous franchises is a lot of pressure to put on a rookie.
The Cowboys have had some of the most iconic quarterbacks in the history of the NFL, including Troy Aikman, Roger Staubach, Danny White and Don Meredith.
Their current head coach, Jason Garrett, played quarterback for the Cowboys from 1993-1999.
When Prescott continued to lead the Cowboys to win after win, eventually having a record as good as 13-3, there was some skepticism that his success was all beginner's luck. There are still skeptics, but Prescott is nothing close to beginner's luck.
Some of his historic achievements in his young career include: 176 pass attempts before throwing his first career interception, passing New England Patriots quarterback Tom Brady, and winning 13 games as a starter, tying him with Ben Roethlisberger's rookie season in 2004 with the Pittsburgh Steelers.
The Cowboys didn't make it past the Green Bay Packers in the Divisional Round of the playoffs, and the idea that Prescott may just be a one-season wonder has resurfaced.
The Cowboys fell in a 21-3 hole to start the game, and people immediately began to count them out. A team built on running the ball and using clock could not come back against the mighty Aaron Rodgers. Well, Prescott sure shut up all the doubters. He led a Cowboy comeback and brought them all the way to tie the game at 31-31. If not for two incredible kicks from Mason Crosby and some questionable penalties, Dallas very well could have won that game.
Dak Prescott changed everything for Dallas and gave its fans hope. He stepped up despite not expecting to be thrown into a starting role this season, and he will step up for seasons to come. He's made Cowboys football fun again and turned the direction of the franchise around.
Prescott has brought a light and carefree energy to an otherwise stressful organization. Jerry Jones is an intense owner and general manager, and there's always so much pressure on the Cowboys to do well.
No doubt, Ezekiel Elliott has also contributed to the success of the Dallas Cowboys this season. Elliott had 1,631 rushing yards in his rookie season. He had been quite successful in his years at Ohio State, with 3,961 rushing yards in three years.
Prescott and Elliott together have been unstoppable. They are the first rookie duo in Cowboys history to make it to the Pro Bowl in their respective rookie seasons.
Romo threw a touchdown pass in the Cowboys' final game against the Philadelphia Eagles. Romo is still a top player at the NFL's most valuable position. Assuming that he's healthy going into next season, there's a lot for the Cowboys organization to discuss.
Prescott was always meant to be the placeholder for the 36-year-old Romo, but things have changed. Prescott will be the reason Dallas continues to prosper, should he stay on the team. He still played a great game against Green Bay and although they lost, that doesn't mean he was just having beginner's luck.
Dez Bryant hasn't been as bothersome this season and is up to his usual antics of getting in arguments on the sidelines. Even as a rookie, Prescott is a good influence on the entire organization. He has made Cowboys football great again, and management would be smart to invest its future in him.