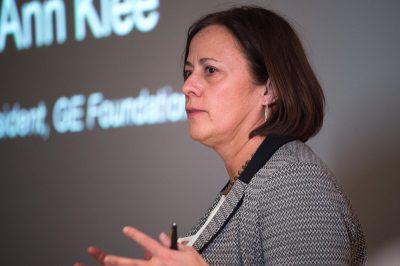 Drug overdose is the leading cause of unintentional deaths in the country, according to a 2016 study published by the American Society of Addiction Medicine. Opioid addictions are at the forefront of this issue, with 20,101 overdose deaths related to prescription pain relievers in 2015.
This epidemic not only affects the entire nation, but also hits Massachusetts residents fairly hard. The number of confirmed cases of unintentional opioid overdose deaths in Massachusetts increased 20 percent from 2014 to 2015, according to statistics from the Massachusetts Department of Public Health.
Last September, the GE Foundation, Consortium for Affordable Medical Technologies and Massachusetts General Hospital gathered the community to brainstorm ideas to combat opioid addiction at the Opioid Epidemic Challenge Summit and Hack-a-thon. Participants separated into teams and presented their plans to a panel of judges at the end of the weekend. Five winning teams received $1,000 each.
But the fight is not over.
This is why on Tuesday, the GE Foundation and CAMTech held the Opioid Epidemic Post Hack-a-thon to evaluate the progress of the initial winning teams at Massachusetts General Hospital.
"The Post Hack-a-thon event was really to recognize that a medical technology hack-a-thon was really a spark," Kristian Olson, director of CAMTech said. "And it really takes effort to get fires going, for the ideas to really move forward to public health and community impact."
Ninety days after the original Hack-a-thon, the teams regrouped and presented their developed business plan and feasibility of their opioid epidemic solution to another panel of five judges for a $10,000 prize and six months of acceleration support for early-stage global health technologies. Projects included a notification label telling a patient to return their leftover opioid medication and equine-assisted therapy for inner-city residents.
"We've held this Post Hack-a-thon event as an opportunity for teams that are moving forward to present what they've done, to present their forwarded progress, to address their plans for the future to a diverse audience," Olson said.
A previously awarded team, We Are Allies, was presented a seed grant at the first hack-a-thon and has made steps in becoming a federally funded organization in the fight against opioid overdose.
We Are Allies attempts to involve citizen volunteers by equipping them with a spray version of naloxone, given in small purple cases, according to the Massachusetts General Hospital website.
The hope, Olson said, is for community individuals to not only carry the purple cases but also wear a purple pin that "designates them as an ally, like an indicator pin."
"It arms them with talking points about the opioid epidemic, so that these people are visible in the community and ready to respond to acute overdoses but are really working to diminish stigma throughout communities," she said.
After lengthy deliberation, the judges announced the General Emergency Medical Supplies Boxes team as the winner of the Post Hack-a-thon.
According to Jeffrey Lipton, chief technology officer of the GEMS team, the team's goal is to "put ready-access points throughout the public for emergency medical supplies so that, in case of emergency, you can get the supplies you need that will help save lives."
The team's primary focus was to reduce the response time in getting an overdose victim the medication they need by providing the overdose reversal medication in public spaces, turning "bystanders into first responders," as the team's slogan went.
"We hope eventually to reach a point where, in case of emergency, no one will be without the supplies they need, be it naloxone, be it tourniquets, be it any other tragedy that would befall an individual," Lipton said. "When seconds matter to save lives, we hope the supplies will always be there."
Jennifer Edwards, director of Developing Health in the U.S. for the GE Foundation, said the Post Hack-a-thon did more than just provide potential solutions to the opioid epidemic. It provided remedies for the social stigma pinned on those with an addiction.
"It was just a great opportunity to continue to raise awareness and continue to educate folks around this chronic medical condition, so that we can start changing the narrative," Edwards said.
With the Post Hack-a-thon solutions well underway with the grants they received, Edwards said she hopes the problem of opioid addiction will be resolved alongside the negative reputation it has within society. In an interview with The Daily Free Press, she quoted Gov. Charlie Baker, pointing out that when a friend has cancer, people bring love, support and home-cooked meals. But when it's a drug addiction, there are only silence and shunning.
"We need to be celebrating people in recovery like we celebrate people in remission," Edwards said. "They are survivors, and they should be treated that way."