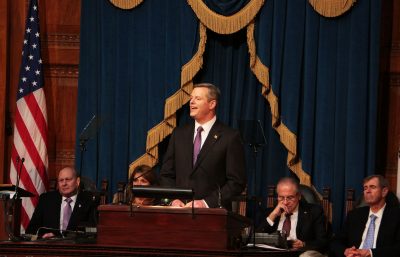 Massachusetts Gov. Charlie Baker and Lt. Gov. Karyn Polito proposed historic legislation on Saturday in the Fiscal Year 2018 budget, which would provide an increase of $91 million in Chapter 70 education funding, according to a press release from the governor's office.
The total funding for public schools would increase to $4.7 billion, while total unrestricted local aid would total $1.062 billion, according to the release.
This dramatic increase means that all 322 operating districts in the state would experience an uptick of at least $20 per pupil, the release states.
Baker said in the release that he and Polito are committed to serving the local economy and youth.
"We are committed to investing in our cities and towns to support their efforts to drive our Commonwealth's economic growth and prepare our children for a successful future," Baker said in the release.
The funding laid out in the legislation is intended to go toward Chapter 70 education spending, according to the release, which means the $91 million will be spent on state public elementary and secondary education, not higher education.
Meanwhile, higher education in the state of Massachusetts continues to become more unaffordable for students, and the government provides little aid, according to Zac Bears, the interim director of the Public Higher Education Network of Massachusetts, a nonprofit organization that advocates for affordable higher education.
Bears said while the proposal to increase Chapter 70 education spending is certainly a step in the right direction, Massachusetts higher education institutions have actually been experiencing budget cuts for the past decade and a half.
"On average, the cost to attend community colleges and universities and UMass [schools] has gone up by $4,000 per year," Bears said. "At the public universities, there is supposed to be an affordable option for students who maybe can't afford $50,000 a year, and that's becoming less and less true."
Bears said the proposed measure was good for public schools, but ideally, legislation would go even further.
"The state of Massachusetts has a problem here," Bears said. "It is underfunding public higher education and K-12 education, and while I support these minor improvements, I think we need to do a lot to really make a difference in student's lives. We really need to have an important conversation in the state about fully funding our education system."
In order to improve state funding for higher education institutions, Bears said PHENOM has been working with the state legislature in order to provide free tuition for Massachusetts students looking to attend public colleges and universities in state.
"We are proposing this year a Finish Line grant, which has bipartisan support in the State House and State Senate, and that would help us get one year free of tuition and fees for in-state students at the public community colleges, public state universities and public University of Massachusetts campuses," Bears said.
In Boston, Mayor Martin Walsh has also been taking steps to improve public education, according to a post on Medium from Boston Chief Financial Officer Dave Sweeney.
Walsh plans to invest in the physical spaces in which learning takes place, according to Sweeney's post, as he committed $1 billion to construction projects for Boston public schools.
"The plan will be funded over the next decade by the City's capital budget and by building on the City's new relationship with the Massachusetts School Building Authority (MSBA) to return more funding to Boston and ensure that the processes of the City and the Authority work together," Sweeney wrote. "Mayor Walsh's $1 billion commitment is more than double the capital spending on BPS facilities over the last decade."
Several Boston residents expressed their support for the new proposal.
Gary Sandison, 78, of Back Bay, said an increase in education funding would be beneficial to local educators.
"I think any amount more is going to be helpful," Sandison said. "Teachers have been paying for school supplies out of their own pocket. That's not right. The public should be paying for that."
Vanessa Alexander, 23, of East Boston, said as a graduate of a Boston public school, she is in favor of the measure, but she is concerned about the impact on taxpayers.
"It's a bit much money, but I support it because everyone I know, my family, my friends, my sister … have gone to public schools, too," Alexander said. "I do think [as a taxpayer] that's a lot of money."
Cole Kerr, 23, of Fenway, emphasized the importance of allocating funds to struggling inner city schools.
"I support an increase in public education funding as long as there's priority to schools in the inner city, schools that have less funding," Kerr said. "There's a lot of schools in the suburbs where a lot of money is spent on wasteful projects essentially to attract more higher income families."
Shannon Larson contributed to the reporting of this article.