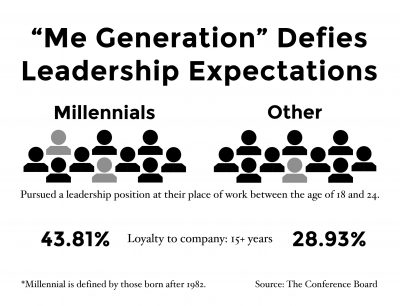 Millennials are often labeled as self-centered, entitled, lazy and narcissistic children who make up the "Me Generation." A recent study, however, cast light on how educated millennials work side by side with a world of Generation Xers and baby boomers.
The Conference Board, Development Dimensions International and RW2 Enterprises came out with a study last Thursday, titled "The Leadership Perspectives of C-Suite Executives and Millennial Leaders." These organizations sought to question these generalizations about millennials that are so commonly accepted to be true.
The study surveyed leaders in 14 companies, including American Express Company, The Boeing Company and Verizon Communications, where participants are business leaders from a variety of generations. Millennials, according to the study, are those born after 1982.
Respondents were asked to share their views on topics such as millennials' ambition, loyalty to their jobs, how often and how early they are being promoted on corporate ladders and their leadership values.
The data collected was encouraging for millennials, as it shows they are frequently favored as equally or better fitted employees and leaders in comparison to Gen X and baby boomers.
According to the study, millennials are more ambitious early on in their careers. One in five millennials say they pursued a leadership position at their place of work between the ages of 18 and 24, while just a tenth of non-millennials pursued a leadership role that young.
"I don't think a person's age has any real impact on their aptitude or ability to run a company or firm — that relies more on natural born talent, work ethic and gained intelligence," said John Margolies, a sophomore in Boston University's College of Arts and Sciences. "And that's an opinion I believe I share with many people my age, the desire to make a difference but feel suppressed or inadequate because society dictates us as 'too young.'"
Additionally, in the opinion of many participating in the study, millennial leaders were found to be more abstract thinkers and creative problem solvers who could sometimes even teach their superiors new things.
"The millennial members of our team think outside the box and bring a fresh outlook on the world and the problems that we solve," wrote Tod Kiryazov, director of product at Insurify, in an email. "They tend to have personal interest in new tech and therefore adapt to it quickly."
She added that startup culture needs people who have a personal stake in issues.
"Frankly, [having millennial members] should be an imperative for any business in today's world," she added.
Erin Breslin, CEO of All Set, a Boston based on-demand home service provider, commented on the study in a phone interview with The Daily Free Press.
"I do work with millennials, and enjoy working with them," Breslin said. "I believe business professionals who are millennials offer a unique perspective to the business world."
She added that the younger generations she's worked with have been "inherently nimble and creative."
Millennials were also proven to be more loyal to their places of work in terms of intentions of staying for 15 plus years, according to the study. Approximately 44 percent of millennial leaders say they intend to stay at their same company for more than 15 years, whereas 29 percent of non-millennial leaders said the same thing.
Millennial leaders who took part in the study reported that they value leadership impact and interpersonal skills more than non-millennial CEOs, who valued critical thinking, stakeholder and business management skills.
The study emphasized that companies are growing, especially in areas that plan to hire large numbers of millennials. Moving from the traditional workspace, the future may be more equipped to handle the standards and needs of younger generations.
"The character and the values of the CEOs are going to be important as time changes," said Theodore Chadwick, a finance professor in BU's Questrom School of Business. "Do they see their employees as partners and as assets or do they see them as commodities to be used and disposed of?"
Article has been updated.