The "Think Tank" lounge, a future hangout space in Boston University's College of Arts and Sciences, is set to be completed by April, according to Director of CAS Facilities Lisa Doherty.
The purpose of the lounge is "to make students' lives more comfortable and conducive to engaging with each other in our largest academic space," CAS Dean Ann Cudd wrote in an email.
Last year's CAS Student Government President, Christina Lucas, proposed the idea for the study lounge, Cudd wrote. Cudd and Doherty then took the lead on the project.
The administration worked closely with CAS Student Government members, who comprise the CAS Forum, to plan a space that suits students well, Doherty said.
Situated across from the CAS Dean's Office Suite on the first floor and overlooking Commonwealth Avenue, the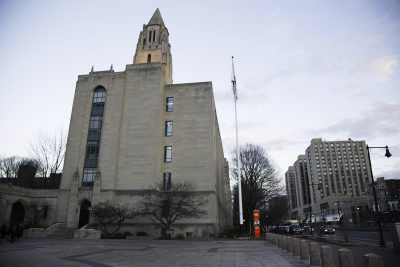 lounge promises to be a collaborative work and study space, according to Cudd.
"We thought the first floor in this building was most appropriate for students to feel very connected to [Cudd's] suite," Doherty said. "Just about everyone at BU takes a CAS class, so it was a nice little location for students to hang out."
The proximity to the Dean's Office Suite also offers students a chance to stop by and interact with Cudd at her office.
"I imagine that I will occasionally host informal receptions or meetings with students," Cudd wrote of the Think Tank in an email. "Students will be deciding what else it will be used for."
The current CAS building setup lacks a space for students to interact, leaving students to sit on the floors, disconnected from one another, Cudd wrote. The new lounge could rectify this by gathering students together in a collaborative space, helping to strengthen the CAS community.
Doherty said the space is designed for students to "collaborate, meet, lounge, wait in between classes or even have a bagel."
The lounge includes two glass doors and different types of lounging furniture. It will incorporate "huddle rooms," a term coined by CAS Forum participants, in the layout for workshops or group sessions to allow for privacy.
"It's going to be a lot of glass," Doherty said of the space. "Students can sit in front of windows and look at the street."
In order to accommodate this space, the Center for the Humanities was moved to the basement of the CAS building, a temporary relocation until the center can raise enough money to move into a brownstone, according to Doherty.
Several students said they think the new space will be beneficial for everyone, including students outside of CAS.
Margaret Atkins, a freshman in CAS, said she likes the idea of a lounge because it can mitigate the disorganized student crowds that the CAS building currently houses.
"I think it's especially good because CAS is such a big school, so that could definitely funnel a lot of kids into one space and give a good space to do work in," Atkins said.
Emily Dello Russo, a senior in CAS, said the Think Tank will be a nice addition to CAS, which currently lacks a community feeling as the largest, broadest school on campus.
"CAS is kind of just like this sprawling mess of students who have no connections," Dello Russo said. "We are the largest school on campus, so this will be a nice addition."
Daniella Lazarus, a freshman in the Sargent College of Health and Rehabilitation Sciences, said although she is not a CAS student, she does have quite a few of classes in the CAS building.
"I think it would be overall beneficial because [CAS is] the largest school at BU," Lazarus said. "It is home to many majors and so it should be home to a place for people to come together and work together."