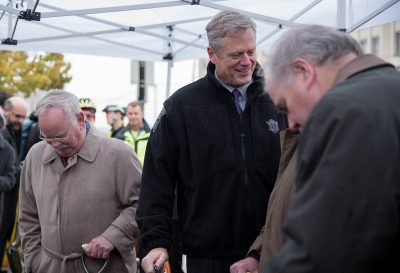 Massachusetts Gov. Charlie Baker vetoed a legislative pay increase bill on Friday. The bill would have raised the salaries of public officials across the state, according to a press release from the governor's office.
Baker said in the release that the bill, "An Act Further Regulating the Compensation of Certain Public Officials," is "fiscally irresponsible, would eliminate voter-approved term limits for constitutional officers, and was enacted after limited debate with without a reasonable opportunity for public comment."
"This bill is the result of a hasty process that included little substantive debate or time for public comment," Baker said in the release. "Perhaps as a consequence of this rushed process, there has been little or no debate or public comment on the fact that this bill repeals the term limits for constitutional office holders that the voters approved at the statewide election in 1994."
Baker said the bill will also increase legislator's salaries over the years, at such a rate that "exceeds any reasonable expectations for revenue growth."
Members of the Massachusetts Senate and House cast their votes last week, passing the bill before Baker announced his veto. If Baker's veto is not sustained with enough votes in either chamber, the bill will be enacted this month, according to the release.
Citizens for Limited Taxation, an anti-tax nonprofit organization, is one of the groups at the forefront fighting against this bill.
Chip Faulkner, a spokesperson for CLT, said the politicians wrote this bill and pushed for it to pass quickly not only for their pay to increase sooner, but because the general public is distracted now.
"The timing of this, right after the holidays, right around the time of the inauguration of a new president, and also the Super Bowl coming up, all these things came together to draw people's attention away from what they were doing," said Faulkner. "They were trying to sneak this under the radar."
Faulkner said CLT is happy with Baker's decision, as it aligns with what they've been fighting for, and hopes his veto is sustained.
"It's obvious he made the right decision with vetoing it because what they did was outrageous," said Faulkner. "The salary increases and the timing were a mockery of the legislative process. We were very happy that he vetoed it and we hope the veto is sustained."
Faulkner pointed out that the current amount of votes against the bill are not enough to sustain Baker's veto. Getting those votes, he said, will be a challenge.
"At this point, all he can really do as governor is to veto it and see what happens," Faulkner said. "[Sustaining the veto] would be very difficult to do and at this point, we're hoping this can happen, but we'll wait and see. It might be a few days before they act on this."
Several Boston residents were surprised by Baker's decision.
Andrew Martin, 31, of East Boston, said Baker's veto is a sufficient step in saving taxpayer money, although it seemed uncharacteristic of Baker.
"He's a very wealthy man, he comes down on the side of business, on the side of management, and that's not my side," Martin said. "He's in support of huge corporations and rich people and entrepreneurs."
Matthew Pollock, 28, of East Boston, said Baker's decision made him more likable.
"I think he's probably the least terrible Republican I've ever heard of," Pollock said.
Neil Fiedler, 32, of Jamaica Plain, said the veto was an unnecessary decision.
"We want to retain smart, intellectual people to work in our public governments, and if they're going to be making that [their pay] plus two in the private sector, that just might be the cost of doing business," Fiedler said.