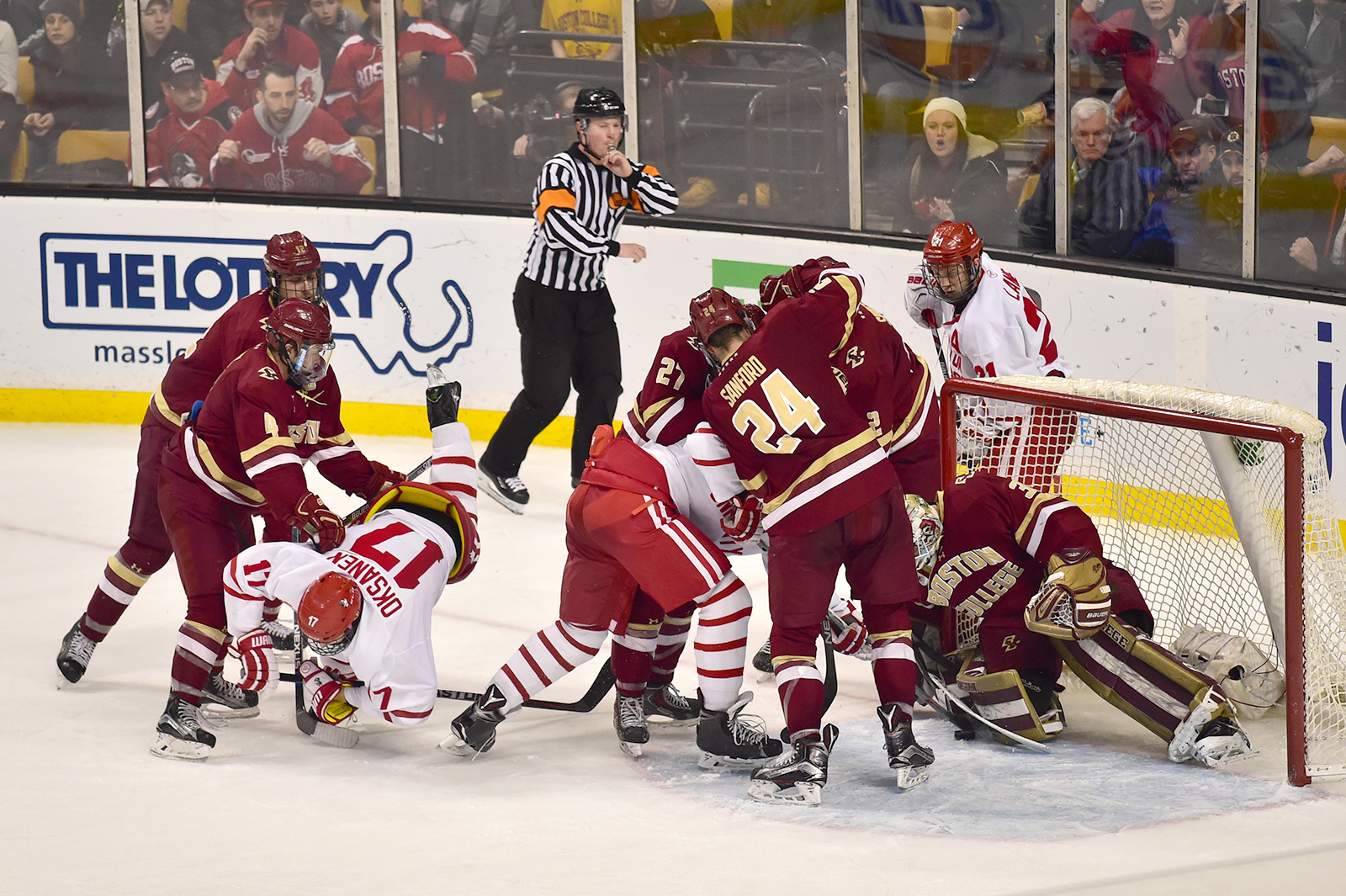 The Battle of Comm. Ave. is usually played on said Commonwealth Avenue. This time, however, it's moved about three miles down the road to the home of the Boston Bruins.
In the second semifinal of the 65th Beanpot Tournament, the No. 3 Boston University men's hockey team will take on No. 8 Boston College on Monday night at TD Garden.
Although the Terriers (18-7-2, 11-4-2 Hockey East) bested the Eagles (18-9-2, 13-3-1 Hockey East) twice already this season, they don't exactly have a white board full of secrets to take down Hockey East's top team.
"There's no blueprint to beat them," Quinn said. "There's a blueprint for success in our sport and the challenge is how often do you do it in a 60-minute game, because you can do it for 58 minutes one night and the next night you do it for 32 minutes."
Quinn is hoping his team will approach with game with tunnel vision and disregard the previous two matchups against head coach Jerry York's side.
"Those two games have nothing to do with what's going to happen on Monday night," Quinn said. "I think each game is its own entity and it's going to come down to who plays the most honest hockey."
That being said, BC did have BU's number last year, winning the Beanpot, 1-0, in overtime.
Since 2010, the rivals have faced each other three times in the final, with the Terriers losing by one goal in each. The last time the two squared off in a semifinal game was in 2014, and the Eagles topped the Terriers, 3-1. Overall, BU is 27-16 against the Eagles in the Beanpot.
Quinn, therefore, expects both semifinal games to be close, with Monday's opener pitting a red-hot Northeastern University side against No. 5 Harvard University.
"You've got four programs that are always in the mix for league championships and national championships," Quinn said. "That's what makes this tournament so special and has made it so special for 65 years."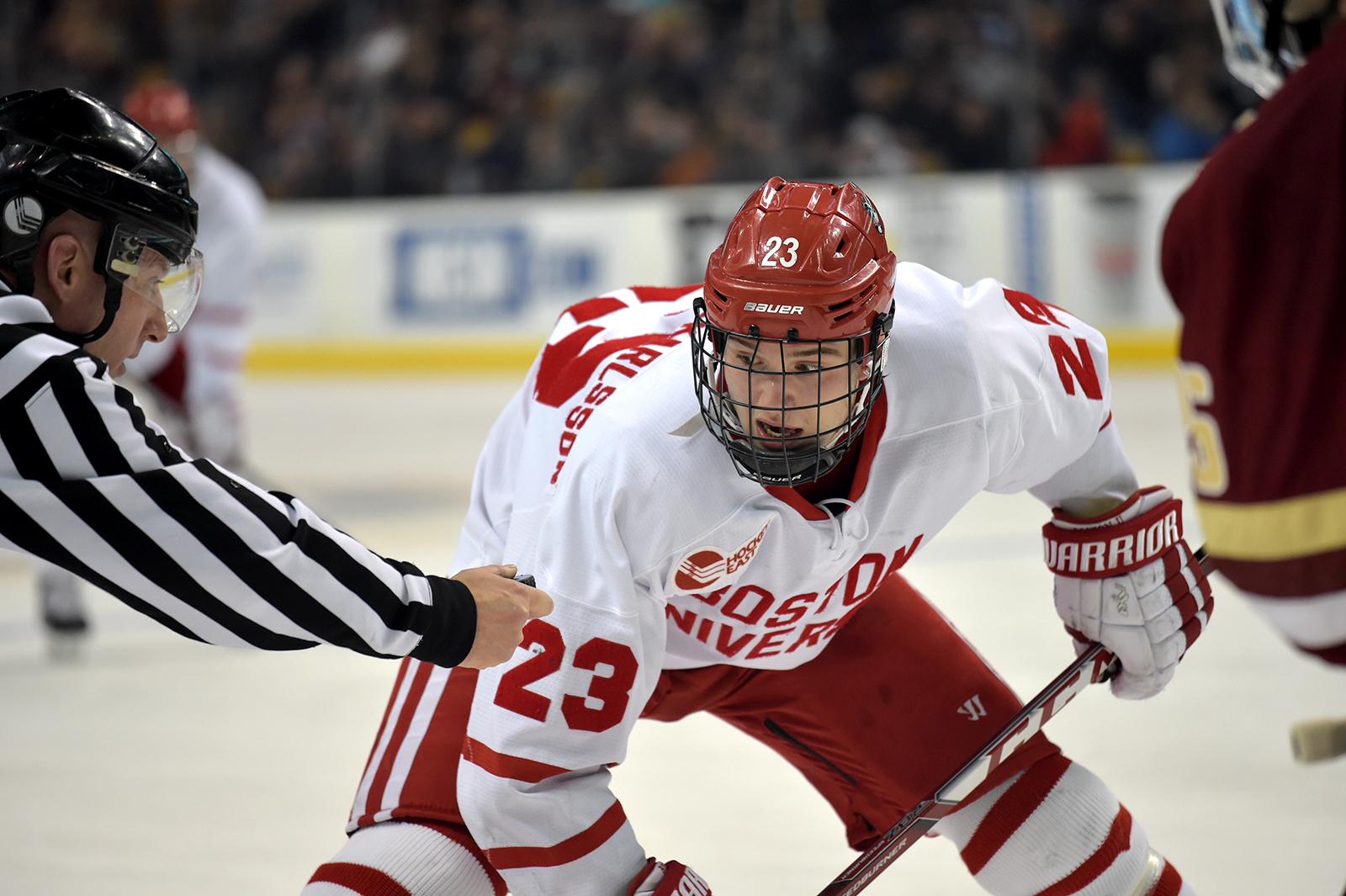 For BU, freshman Jake Oettinger will be in goal. He's stood formidable and calm in 23 games this season. His 1.78 goals against average is good for third in the country, and his .936 save percentage earns him fourth place nationally. However, BC's goaltender, Joseph Woll, is not far behind with a .923 save percentage.
Another factor at play could be youth, as the Terriers are college hockey's youngest team, barely beating out the Eagles
Junior defenseman Brandon Hickey, however, isn't concerned about BU's young guns playing at the Garden, and said they are capable of playing a mature game.
"You can play a mature, responsible game no matter how old you are," Hickey said. "If you're going out there and playing responsibly defensively, we can take chances offensively but try and limit the turnovers. Just go out there and play your game. Don't force anything."
With nerves not being a major concern, both teams can show off their offensive powers. The Terriers' top five scorers consist of three freshmen and two sophomores. Freshman forward Clayton Keller leads the team 13 goals and 29 points, and will look to push his point streak to 15 games on Monday.
The Eagles have six players with 20 or more points, with all of them being upperclassmen aside from forward David Cotton. He's notched eight goals and 12 assists in his freshman season.
Simply put, the plot is thick ahead of this clash, but senior forward Nick Roberto agreed with Quinn it all represents a clean slate.
"It's going to be a whole different game" Roberto said. "If I was them, I'd be pissed losing two games to your archrival and then getting them first round in the Beanpot. What more could you want? It's going to be a lot harder game."
Roberto isn't worried at all about the tenacity that the Eagles will come to the game with.
"We're going to bring more," he said with a confident chuckle.