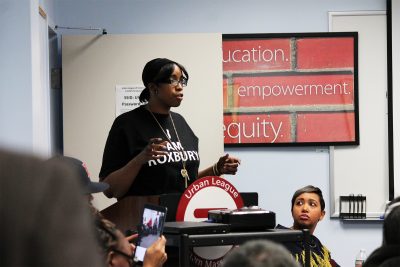 Approximately 50 community members gathered at the Urban League of Eastern Massachusetts Saturday morning for a town hall meeting about violence in the city of Boston.
Monica Cannon, a Roxbury resident and candidate for Massachusetts state representative, organized and led the meeting because violence is an issue of concern for her.
Cannon said climbing crime rates in the Boston community made her want to put a stop to violent acts in local communities.
"[We're here to] get a handle on violence and reach out to some of these families and figure out real solutions, while holding ourselves accountable and those that represent us accountable," Cannon told The Daily Free Press before the meeting.
Cannon began the meeting with a presentation, which highlights income disparity and establishes the correlation between poverty and violence using data she collected from the Boston Police Department, City of Boston and Universal Hub.
Cannon's presentation indicated 32.2 percent of individuals in Roxbury live below the poverty line, and the average family has $7.17 per day to feed itself.
Darnell Williams, president and CEO of the Urban League of Eastern Massachusetts, welcomed community members to the meeting after Cannon's presentation.
Williams said the town hall would be a platform for Boston residents to speak out.
"When you're all gathered here, I'm not looking at white, black, young, female, male," Williams said. "I'm looking at people who say that there is a better America."
Williams introduced six panelists who led an open discussion on the issues of violence and crime, including Boston City Councilor Tito Jackson, Youth Minister of the Twelfth Baptist Church Willie Bodrick II and community organizer Kilra Hylton.
Jackson, who announced his candidacy in the mayoral race last month, addressed the need for active solutions to get poor people who are participating in violent crimes the resources and opportunities they need to change their lifestyles.
"If I tell you to get off the block, I have to give you something on the other side that's going to give you … an opportunity," Jackson said. "We can do that."
In response to one attendee's question about the importance of education, Bodrick said educating citizens is a crucial step toward decreasing violence in communities.
"[Education] shapes the narrative for people who eventually pathologize our community," Bodrick said. "I want to be careful with the framing of education because we need to understand who is doing it … [and] what are they utilizing to actually get education that will be helpful and productive for us all."
Hylton, a survivor whose son was killed, urged people who have lost family members to provide real examples of violence in the community in order to educate them.
"My son is not a number," Hylton said. "When I had the opportunity to sit down with somebody, I brought his picture and it became personal … not just another statistic in our community."
Several attendees expressed their appreciation for the town hall's transparency and productive conversation.
Tashonda Vincent-Lee, 33, of Danvers, said that as a former Roxbury resident, she enjoyed engaging in open dialogue with the community.
"We know the problems," Vincent-Lee said. "We live the problems every day, but what have we done to fix it? We have to create a system to hold each other accountable."
Charmaine Arthur, 49, of Dorchester, said the town hall was beneficial because "there were tangible solutions given in the room."
"When we enter into spaces like this, when we run for office, when we take positions we take, there's a reason for it," Arthur said. "What we do, our work, is personal."
Devin Cromartie, 26, of Roxbury, said she came to support her fiancé and panelist, Willie Bodrick II, as well as the community she lives in.
As a medical student at Harvard University, Cromartie drew special attention to the impact of mental health on community violence.
"I always think about the health consequences," Cromartie said. "You have people who are literally being harmed physically, and there are these other repercussions, like emotional repercussions … on the immediate family of the people who have been affected [by violence], and people in the community who might just know the person."