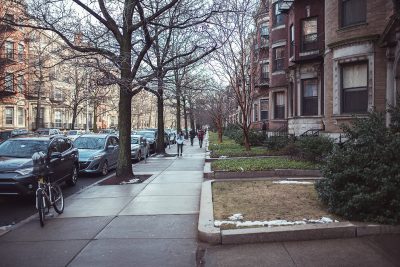 Boston Mayor Martin Walsh announced Feb. 3 that the Love Your Block project, a high-impact service initiative aimed at cleaning up Boston neighborhoods, will now be a permanent program in the city, according to a press release from Walsh's office.
The program will begin its year-round maintenance services with a spring cleaning session, three resident-run scheduled cleanups on the weekends of April 28, May 5 and May 12, according to the project's webpage.
Beginning in 2015, after the City of Boston was awarded a grant from national nonprofit organization Cities of Service, the initiative was originally known as Boston Shines, according to Samuel Chambers, a neighborhood contact from the Boston Neighborhood Services Department.
Under its new name, Love Your Block, the program encompasses a larger initiative through which residents can sign up for year-round cleanups, apply for innovative beautification mini-grants and make use of city-provided tool sheds that are soon to come, Chambers wrote in an email to The Daily Free Press.
Chambers wrote that street maintenance produces can increase community morale.
"Clean streets are vital to residents because trash and dirty streets not only contribute to negative health attributes, but also it's a quality of life issue," Chambers wrote. "A clean street gives residents more pride in their neighborhood and community."
Chambers wrote that in addition to the improved quality, there are also environmental benefits to keeping the streets of Boston clean.
"The City of Boston is continuously finding ways to be environmentally friendly including encouraging recycling, organizing neighborhood clean-ups, and making sure City vehicles are more environmentally-friendly," Chambers wrote.
Chris Osgood, chief of the streets, transportation and sanitation of Boston, said that the Boston Public Works Department supports the initiative.
"[Love Your Block] is really about engaging our residents in collaboration with the city to make our neighborhoods even better," Osgood said. "Our department, the public works department, supports that work by … really supporting people on the comprehensive clean up that Love Your Block creates."
Osgood said that the distinguishing factor of the initiative is its ability to engage residents in the neighborhood.
"It's very clear that clean streets make great neighborhoods," Osgood said. "But the great thing about Love Your Block is that [they] work in collaboration with neighborhood groups … in being able to invest their time and energy into improving their blocks."
Alan Clayton-Matthews, a professor in the School of Public Policy and Urban Affairs at Northeastern University, emphasized the value of such initiatives in building a sense of community.
"This kind of activity brings the neighborhood together," Clayton-Matthews said. "And once that pattern of working together is established, that's something that can continue and start to develop on its own force."
Clayton-Matthews attested to the importance of organization in neighborhoods.
"I think it is a real benefit for neighborhoods to get together and do something like this," Clayton-Matthews said. "A clean neighborhood and one that is well organized benefits the whole neighborhood in terms of cohesion … property values … [and] quality of life, so it's a good thing that this gets done."
With Walsh leading the initiative, Clayton-Matthews said the project could benefit from his status.
"The fact that the mayor is being visible here will do a lot to make this successful," Clayton-Matthews said. "So I think it's important that he's doing this and that's a good thing."
Several Boston residents, such as Annmarie Smith, 54, of Allston, said their neighborhoods could benefit from the project.
"Well, the neighborhood I'm in right now, it's pretty clean. It's better than where I was living six months ago in Dorchester in Codman Square," Smith said. "Right outside of my building there's … no trash barrels … so they could put some trash barrels out there, that would really help, because there's trash and it makes it look really ugly."
Eswaran Selvarajah, 68, of Brighton, said he hopes to see more informative instruction from the Public Works Department.
"[The Public Works Department] could make sure that residents are informed of when to put things on the sidewalk, what not to throw away on the sidewalk, and more importantly, people don't clean up their sidewalk during the heavy snow," Selvarajah said.
Cecilia Roberts, 57, of Dorchester, also expressed a desire to see street improvement in her area.
"[My streets] are a lot cleaner than they used to be a few years ago," Roberts said. "So, they're doing a fairly good job … but as good as it could be? No."