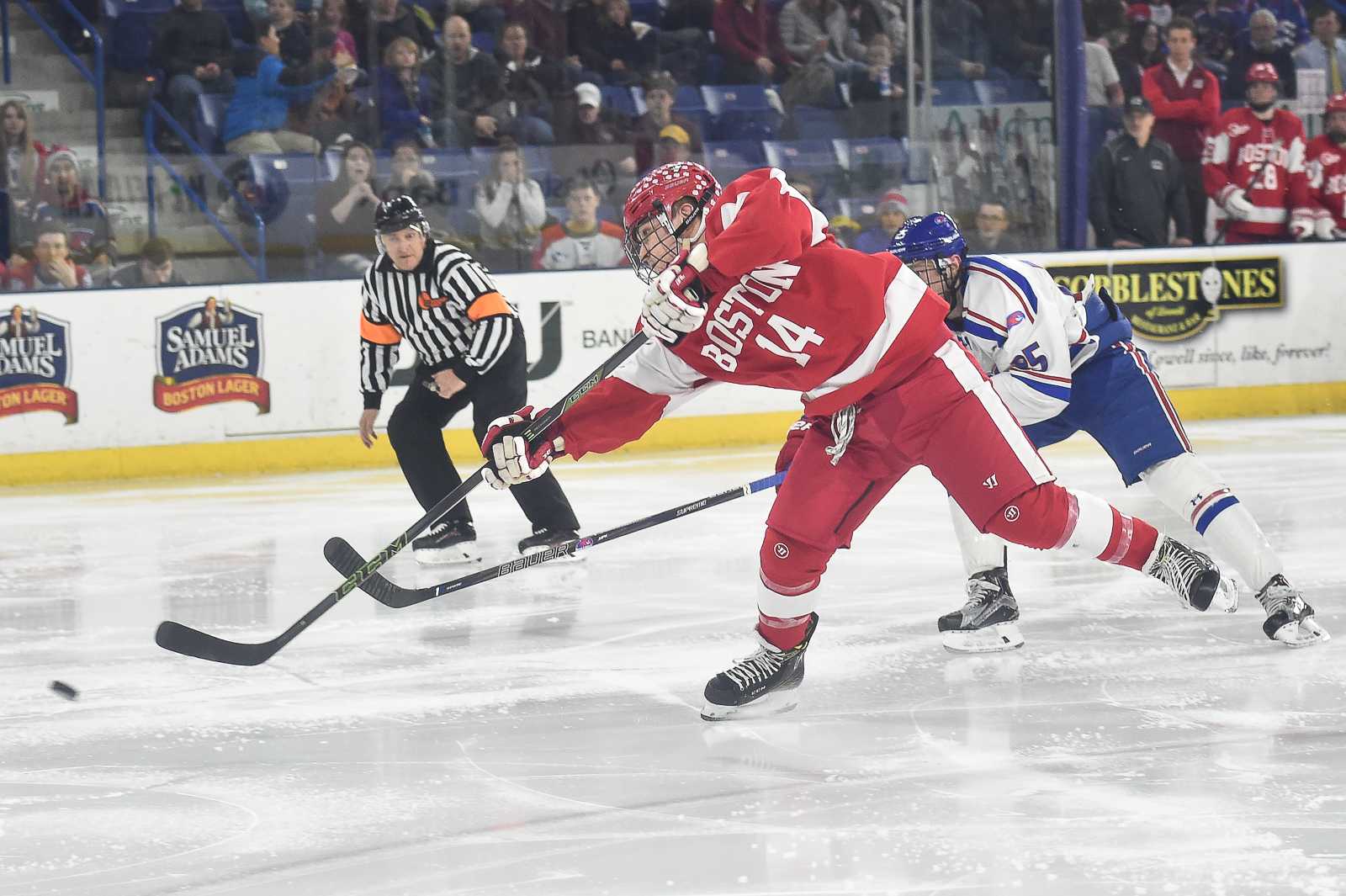 The Boston University men's hockey team ended its second consecutive week ranked at number three on a low note, dropping a 3-2 decision against No. 10 University of Massachusetts Lowell.
The Terriers (19-7-2, 11-4-2 Hockey East) didn't look like themselves Friday night, faltering in most aspects of the game. The River Hawks (17-9-3, 9-7-1 Hockey East) controlled the pace with their physical play and precision with the puck and ultimately outplayed BU for the win.
Despite putting up eight shots in two periods, despite going 0-for-5 on the power play, despite spending over five minutes straight on the penalty kill in the second frame, one good thing came out of the game. That good thing was a shorthanded goal at the hands of sophomore forward Bobo Carpenter.
Albeit unusual, the situation isn't exactly rare for the Terriers. With Carpenter's tally, BU has nine shorthanded goals, the most in the nation alongside No. 4 Harvard University and the University of Nebraska Omaha.
Head coach David Quinn said he thought the penalty kill looked good against the River Hawks. However, he has nothing specific to point to when it comes to his team's ability to score while down a player.
"If I knew I wouldn't tell you because I wouldn't want anyone else to know why," Quinn said with a laugh. "I really don't know. It's just they're good players and when they get an opportunity they bury it.
Carpenter became the fifth Terrier to score a shorty. Senior forward Nick Roberto, junior defender Brandon Hickey and sophomore forward Jakob Forsbacka Karlsson each have one. Freshman forward Clayton Keller, along with forward Mike Vecchinone of No. 6 Union College, lead the nation with four shorthanded goals each.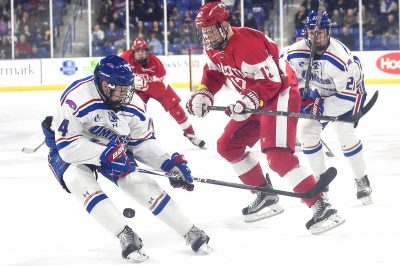 The Terriers kill 87.1 percent of their penalties and shut down Lowell five of their six opportunities. They  boast the best PK unit in Hockey East and sixth in the nation.
Freshman Kenny Hausinger, who netted the game winner and the only power play goal for the River Hawks said playing against the Terrier penalty kill team was difficult.
"I was just lucky enough to be in the right spot at the right time," the forward said of his game-winning goal.
On the other side of the special team spectrum is the power play.
Quinn said that if his team expects to go anywhere, they need to have a power play unit that can do its job.
"Our power play really really is struggling right now," Quinn said. "When you can't win puck battles, you don't move the puck quickly, you know, get pucks to the net, you can't have a power play. Look at the talent we have out there. It's a head scratcher right now why we're struggling so badly on the power play. It's just inexcusable."
The Terriers, the youngest team in college hockey, have been marveled at for their maturity on the ice, but Quinn said that's exactly what his team lacked on Friday on the man advantage.
"We've got to grow up on the power play," he said. "We were incredibly immature at what a power play is at this level. You watch [Lowell], they get it. They pass it hard, move it quick. They shoot pucks, they retrieve pucks. Us, we get it, we're slow. We stickhandle and look for perfect plays. When we do dump it in we can't win a puck battle."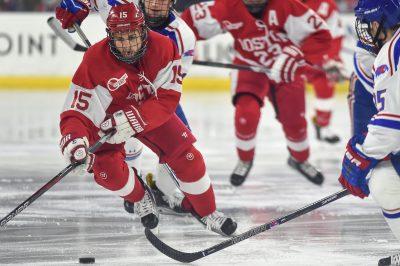 On its first opportunity, the power play didn't even get a shot on goal. BU had four total shots while playing with a man advantage.
Prior to the game, Quinn switched up the power play units, moving freshman defensemen Chad Krys to the first. Although they looked lost, Quinn said he likely isn't going to panic and rearrange players again right away.
"It's the first time they've been together," Quinn said of the new units. "So you don't want to just tear it apart because it didn't work tonight. You've got to give it a chance. But that being said, I'm not sure what we're going to do."