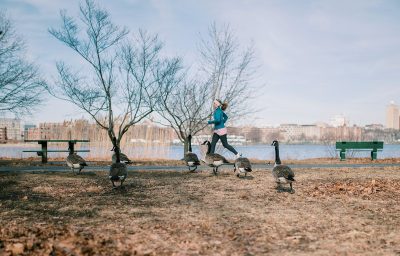 Boston ranked 24th on a list of 98 U.S. cities best-equipped for healthy lifestyles, according to a report released on Wednesday by ValuePenguin, a research-driven personal finance website.
The report ranked cities' health consciousness according to four categories, including amenities that help residents be active, healthy food access, individual residents' health and environmental factors. Results also took into account 17 different factors, including the number of sporting goods stores and organic crop acreage in the area, according to the report.
Andrew Pentis, the lead analyst of the report, said the study indicates it's easier to live a healthy lifestyle in some cities than others.
"In the case of most health conscious cities, some cities are easier and more affordable to live a healthy lifestyle," Pentis said. "Cities that ranked in the top have an easier time from an affordability standpoint."
The amenities category was weighed the most, followed by healthy food access, residents' health and environmental factors, because it had the most significant implications, Pentis said.
"If you live in a city where there is no place to work out, you're going to have a very hard time living a lifestyle where you can be outside or exercise or be physically active," Pentis said. "If you live in a city that doesn't have strong amenities it's going to be really hard to take advantage of the other three."
The Greater Boston Area did best in the residents' health category, ranking fifth, following cities such as Washington D.C. It also fared well in the environmental factors category, ranking 22nd in the 2016 study by ValuePenguin that looked at the most environment-friendly cities, Pentis said.
Pentis said the study was also a call to action for residents to voice their concerns in categories that did not do well.
"It's important for residents to see where their city ranks," Pentis said. "If maybe they're not happy with their availability of amenities or health food or environmental standards, then that's something they can go to their city leadership and look for creative solutions to bump their city's rankings."
While certain factors, such as land available for crops, are hard to change, Pentis said cities can be more health-friendly by constructing playgrounds, public parkways and other sports-related spaces.
"Some of them are really in control of the people who live in these cities and the people who lead these cities, mayor and city council members," Pentis said.
Paul Beninger, a professor of Public Health and Community Medicine at Tufts University, said he disagreed with Pentis regards to the importance of the study.
Beninger said the ranking is not indicative of anything, as it left out vital factors such as walkability, crime rate and number of grocery stores.
"Rankings can hide information, so that's why getting the value is more important," Beninger said. "[The] overall assessment is really flawed; it's hard to draw anything from it. I don't draw anything from the fact that Boston is 24th."
Beninger said he does view Boston as a healthy city, and attributes this to the city's student population, metro system and numerous bike trails.
"It's a very active city and I think that's huge and very dynamic," Beninger said. "It's got a relatively low crime rate and low unemployment rate. All these contribute to well-being."
Several Boston residents said they find Boston to be a healthy city because of its young population.
Thomas Ryan, 23, of Allston, said the large number of college students and young industry professionals in the city contributes to the good health of the city.
"There [are] over 600,000 college students. That builds a really professional population, so it's kind of the undertone of the society," Ryan said. "Such high level education, such a level of professionalism just cultivates people that want be to excellent."
Jennifer Smith, 31, of Brighton, said the walkability of the city makes it easy for her to live a healthy lifestyle.
"You can walk to many places and there are gyms everywhere," Smith said. "There's also a lot less fast food as compared to other cities."
Cora Plummer, 22, of Back Bay, said she observes many people running and having active lifestyles in the city on a daily basis.
"When I first moved here, I saw people running on the esplanade … with their pets," Plummer said. "That's not something you see everywhere … there are so many people on the streets being active versus just being there in general."