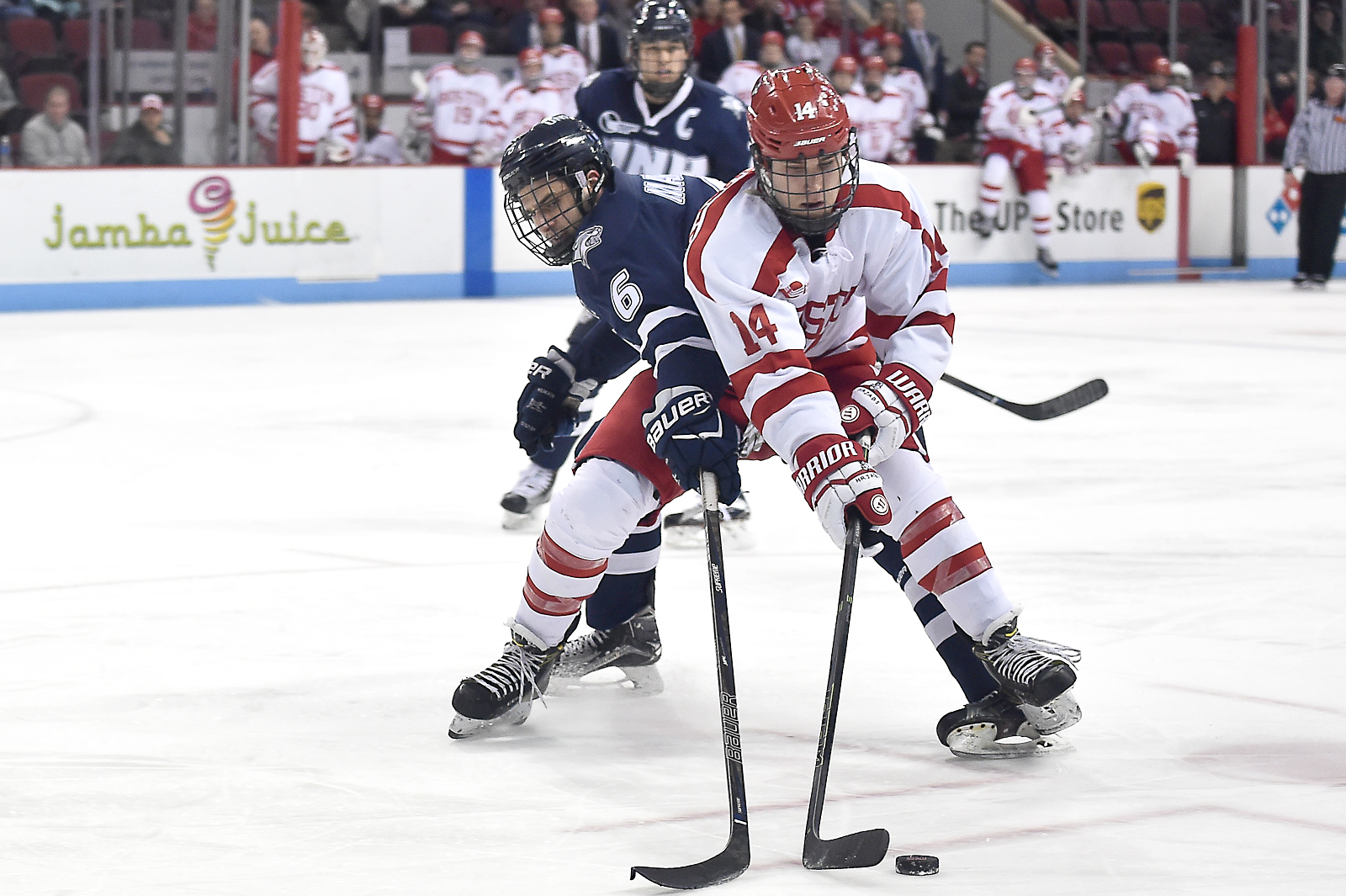 The No. 4 Boston University hockey team needed to play against the University of New Hampshire like it had flames at its feet.
With the season coming to a close and the top five teams in Hockey East separated by a mere five points, the Terriers (19-9-3, 11-5-3 Hockey East) needed a win. Coming into the game, they had dropped four in the last month, most recently losing to No. 3 Harvard University in the Beanpot Championship.
Desperate times called for desperate measures, so head coach David Quinn made drastic changes to the lineup Friday night.
While the game against the Wildcats (12-14-5, 7-8-4 Hockey East) ended in a 4-4 tie, the Terriers fought hard and looked like a top-10 team for at least 40 minutes of the game.
Quinn said the changes were a small factor in the Terriers' play and it ultimately came down to individuals stepping up and having a good mindset.
"[We're] just trying different combinations and different things," Quinn said. "I thought we had some guys step up and have really good second and third periods."
The biggest and most surprising change Quinn made was moving senior defenseman Doyle Somerby up to fourth line left wing. Another notable difference was the addition of sophomore Shane Switzer and junior Brien Diffley to the blue line. Additionally, Jordan Greenway was shifted up to the first line, despite struggling to produce since his impressive stint at World Juniors.
The move up to the first line proved to be what the 6-foot-5-inch forward needed. Six minutes into the second period, Greenway collected the puck from sophomore defender Charlie McAvoy to the right of Wildcat netminder Danny Tirone. He shot glove side and scored his first goal since Jan. 20.
Greenway had five shots on goal on the night, a feat he hasn't accomplished since he put up six shots against the University of Maine on Jan. 21.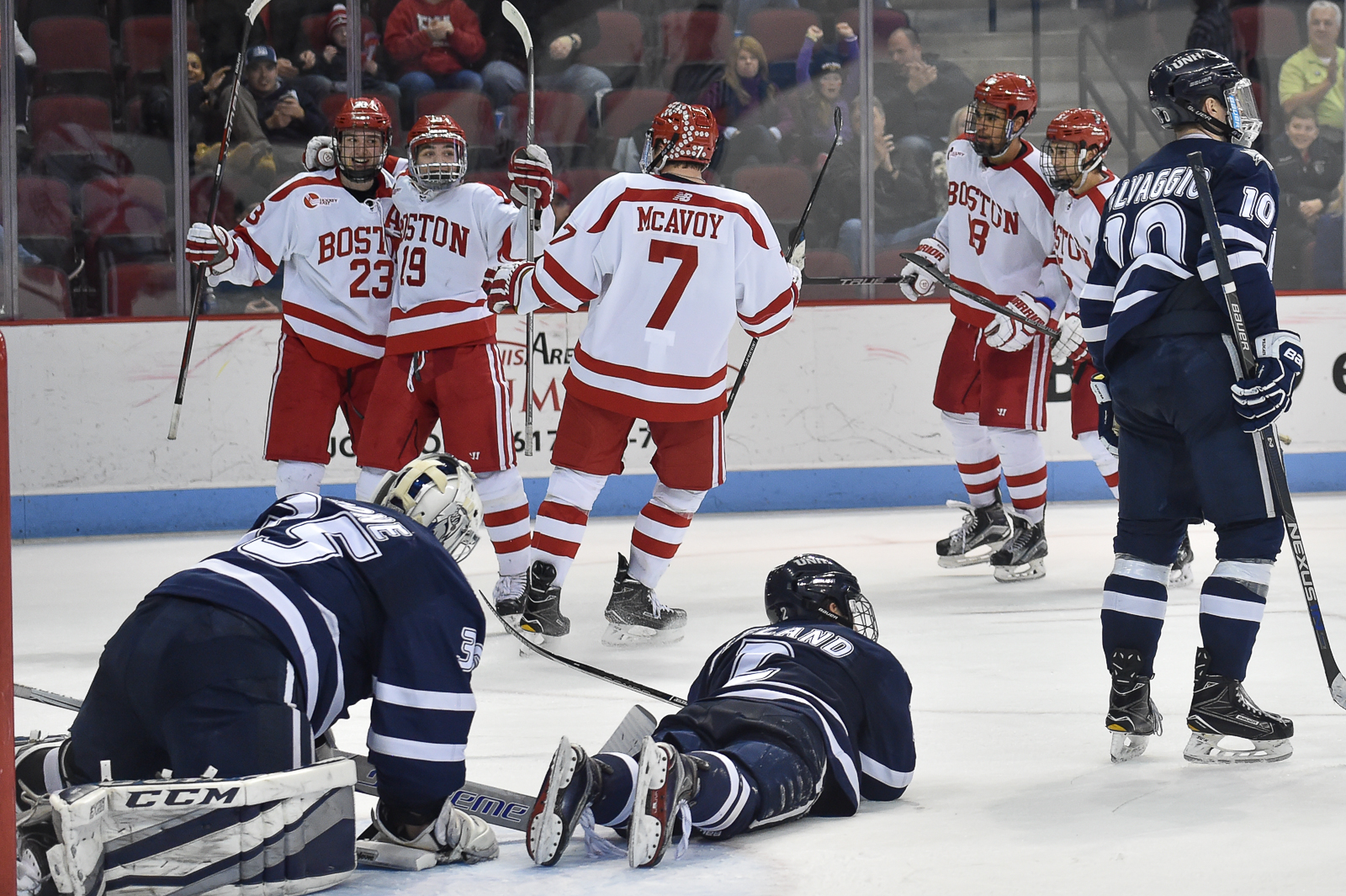 Sophomore forward Jakob Forsbacka Karlsson, first line center, said it's always fun when he and Greenway play next to each other.
"He's a big guy," Karlsson said. "He creates a lot of space for me and [freshman forward Clayton] Keller. It was fun."
Halfway through the second, sophomore Bobo Carpenter netted the tying goal. It's not usual for Carpenter to score, as he has 24 points on the season. This time, however, he did it alongside senior Nick Roberto and freshman Patrick Harper. Carpenter typically skates with Keller and Greenway.
The same lines were on the ice for the Terriers' two goals in the third as well. Keller and Forsbacka Karlsson got the assists on McAvoy's fourth of the season and Karlsson himself netted the game-tying goal with about five minutes left to play.
Although the stat wouldn't point to it, the third line consisting of junior Chase Phelps, sophomore Ryan Cloonan and freshman Kieffer Bellows was impressive, hustling and playing consistently hard, especially in the final 40 minutes.
"I thought they played well. I thought a bunch of guys played well," Quinn said. "After the first period we dusted ourselves off and said let's just go play hockey. What I liked tonight is there was a lot of zone time. We were less defendable down low. We got more pucks to the net which got them turned around. It was a lot more hectic play in the offensive zone then there has been for us."
While Forsbacka Karlsson said he was surprised at some of the changes, such as Somerby playing up front, he said they made sense given the circumstances.
"Sometimes you need to do something after a game like the against Harvard," Karlsson said of the changes. "I think it was reactionary."