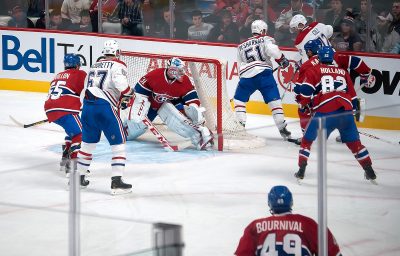 As if Claude Julien getting fired during the Patriots' Super Bowl parade wasn't bizarre enough, Julien was just hired by the Bruins' rival, the Montreal Canadiens.
The strange thing is, this has happened before. Michel Therrien first became head coach in Montreal in 2001, until he was replaced by Claude Julien in 2003. Therrien returned to Montreal in 2012. Julien stayed in Montreal for three years and had a stint in New Jersey for one season.
Then Julien made his way to Boston in 2007 where he became one of the most highly regarded coaches in the NHL.
The Bruins won the Stanley Cup in 2011, thanks to standouts Brad Marchand, Zdeno Chara and Tim Thomas.
But times have changed since that run to the finals. Chara is about to turn 40, Tuukka Rask isn't the same force in front of the net that he was when he took over for Thomas and Marchand hasn't performed at the same level.
Not to mention, Boston has missed the last two playoffs, which is an unfamiliar spot for the club.
Julien's firing wasn't necessarily a surprise. The team needed to revamp its lineup and administration if they wanted to win another Stanley Cup. That being said, firing their coach of 10 years in the middle of the season was surprising.
Boston is a city that rallies around their sports teams. The fans, the team, the coaches, they all seem to take pride in playing for a Boston club. Releasing the news about the firing during the Patriots Super Bowl parade was definitely sketchy, but the week to come would prove to be even more confusing.
Rumors went flying that Julien would potentially coach the new Las Vegas Golden Knights, but there was no validity to that claim. Other wild things in sports were happening. Charles Oakley was banned then unbanned from Madison Square Garden, Kevin Durant returned to Oklahoma City sporting a blue and yellow jersey and we mourned the loss of Mike Ilitch.
A week after Julien was relieved of his coaching duties, phones lit up around the nation with a notification reading, "Montreal Canadiens fire coach Michel Therrien, hire ex-Bruins coach Claude Julien."
The Canadiens and the Bruins are historically two of the league's top teams. In fact, they are first and second in most playoff appearances. In recent years, both teams have struggled, especially Montreal.
This year was different for the Habs. Currently leading the Atlantic division, they have played some impressive hockey this season. But the past few games have been a different story. The Canadiens have lost seven of their last nine games, most recently getting shutout against none other than the Bruins.
But does this small slip in an otherwise impressive season mean a new coach is necessary to revitalize their season? It has been done before and has been successful. Last season, Mike Sullivan became head coach of the Pittsburgh Penguins just months before the team won the Stanley Cup. He flowed right into the team dynamic, but it's not an easy thing to accomplish. He found his way into a well-established core, something that Julien does not have in Montreal.
Sullivan had Sidney Crosby and Evgeni Malkin, two of the best players in the NHL, leading his team, while Montreal is still figuring out its true leadership. It has had Max Pacioretty as its captain since 2015, but he's not the kind of leader Crosby is. No one ever will be. Defenseman Shea Weber provides veteran leadership, but it is also his first season in Montreal, as he came over in a trade that sent former Canadien-stud P.K. Subban to Nashville.
This move just does not make sense for the Habs right now. No Canadian teams made it to the playoffs last season, a detriment to the NHL. Montreal has the chance to be that team to make it this year and actually go far, but dropping Therrien at this point may even risk a spot in the playoffs altogether. It has the potential to ruin their chemistry and send the team spiraling even worse than it is right now.
A move that stings Bruins fans right now could end up helping Montreal's across-the-border rivals in the long run.