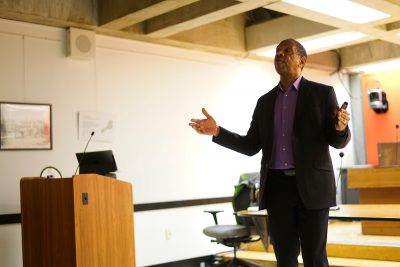 The City of Boston hosted Ceasar McDowell as the first speaker in Mayor Martin Walsh's Resilience and Racial Equity Speaker Series Tuesday afternoon at City Hall.
McDowell, a professor at the Massachusetts Institute of Technology's Department of Urban Studies and Planning, presented a series of ideas for bringing members of the public, specifically minorities, into the political process to an audience of about 50 community members and City Hall employees.
In an interview with The Daily Free Press before the event, McDowell explained how embedded racism is in the everyday lives of Americans.
"Being a black man in this country, your existence is your experience with racial inequality," McDowell said before his presentation. "A lot of what has been built in this country has been built on a sense of hierarchy of value, particularly of people."
He acknowledged that racism has both institutional and interpersonal sources and that the process of undoing racism would be complicated and difficult.
"It's a complicated issue," McDowell said. "It's deeply embedded in this country and our psyche and our institutions and ways of doing things, and it harms everyone."
He said all people must participate in order to successfully start eliminating racism.
"In any kind of work like this, allies become very important … so racial groups don't have to carry the burden of both having to live with the trauma of race, but also carrying the burden of healing the people who are actually perpetuating it," he said.
During his presentation, McDowell emphasized the idea that "cities are the places in which we have to confront the full complexity of who we are as human beings."
Instead of government-citizen engagement for solely administrative and political needs, McDowell said all Americans should engage in different parts of the democratic process in order to strengthen democracy.
McDowell framed his discussion using two main concerns: racial issues people are struggling with and creating spaces to address them.
He said designing these spaces for the most marginalized groups in society, not just the average citizen, is one way to encourage political discourse and progress.
"Our tendency to design processes is to say, 'Let's design for people, let's design for the middle because that's where most people are,'" McDowell said. "As soon as we do that, the folks who are at the margins are going to stay at the margins."
McDowell addressed the American voting process and its essential role in democracy, although he noted voting is not the only way for people to get involved in politics.
"Voting is an artifact of democracy. It is not the work of democracy," McDowell said. "The work of democracy is everything that people do and engage with that informs how they decide to vote."
To conclude his presentation, McDowell engaged the audience in a question and answer session.
Of those who attended, many were professionals with a direct interest in issues of racial inequality and the ways it relates to their work.
Hakim Cunningham, 41, of Dorchester, a social justice coordinator, has both a personal and professional interest in the presentation.
"I work in transportation policy advocacy, but also in community engagement with low income communities of color that work around transit … working to effectively change the … displacement in our neighborhoods of color," Cunningham said. "This [presentation] is going to help me develop processes and systems in how I engage residents all over the state."
Mitsy Chanel-Blot, 31, of Jamaica Plain, said the presentation engaged with her work in the nonprofit sector.
"For me, I will most greatly take away the idea of democracy," Chanel-Blot said. "I had not really thought about what democracy meant to me, and to have a new definition to walk away with, what does it mean to actually think about democracy as acquisition of knowledge in order to engage, that's a really useful starting point."