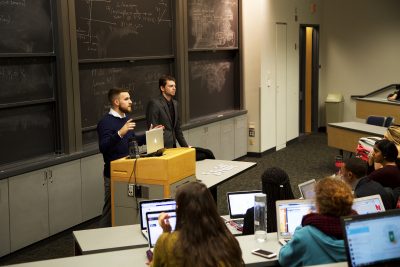 By Noor Adatia and Caroline Hitesman
Boston University Student Government Senate approved a $2,000 budget proposal to sponsor TEDxBU on its biweekly meeting Tuesday night.
The one-day conference, licensed by TED, will take place on March 18 in the Questrom School of Business Auditorium. A dozen speakers, including professors and politicians, are scheduled to speak. The attendance capacity will be capped at 100 for licensing purposes, and upwards of 1,000 people are anticipated to livestream the event, TEDxBU spokesperson Khizer Baig said.
This allocation makes SG the TEDxBU's first Gold Sponsor this year, allowing SG to host an activity during the event and to have its logo emblazoned on TEDx's website. Baig said he was happy SG decided to approve the funds.
"Student Government loves to represent the whole community" Baig, a senior in Questrom, said after the meeting. "To have their representation there [is] one step forward in establishing [TEDxBU] as a thing the [BU] community cares about."
Members of the Student Affairs Committee proposed a Coffee with Senators event for later in the semester either in the GSU Link or Marsh Plaza. The committee hopes the event would allow students to engage with SG members and directly voice their concerns.
Elie Dwek, a member of the Committee, said this event should increase student voter turnout in the upcoming SG election.
"Our job is to be their voice for them and say if there's something going on that they need," the Hillel senator said. "This will really help us figure out what needs to be done."
SG also approved financial policies outlined for the Mental Health Committee discussed in the last meeting. Committee Chair Ramya Ravindrababu proposed these policies, which passed with 95 percent voting yea and five percent nay.
In addition, the Rules Committee's proposal of changing bylaws in SG Constitution passed unanimously.
SG also unanimously confirmed both Christina Atchley and Ravindrababu as Student Election Commission chairpersons.
Atchley and Ravindrababu said they hope to incorporate a slate voting system into the election system, in which students vote for slates rather than individual executive board members. The chairpersons also discussed holding a press conference sometime during the semester to help the campaign staff gain visibility on campus.
"These elections are going to be fair and free and also smooth," Ravindrababu, a senior in the College of Arts and Sciences, said during the meeting.
After the meeting, SG Senate Chair Dan Collins said he was content with the different measures that passed.
"Rules Committee did a really good job of presenting the changes that were discussed last meeting in a form of amendments efficiently," the CAS junior said. "I'm glad we gave [TEDxBU] the [maximum] sponsorship because they deserve the money and it's good to get Student Government's name out there. Overall, the meeting was great and efficiently done."
Collins said he thinks this semester has been productive so far.
"It feels like from the few [meetings] we've had this semester that we are full throttle," he said. "Everyone is on board. We're just moving way quicker and more efficiently through both meetings and proposals that are coming up than we got a chance to last semester."
Several senators said they supported sponsoring TEDxBU event as it aligned with SG's values.
Nehemiah Dureus, a College of Engineering senator, said funding TEDxBU shows SG's willingness to contribute to creativity on campus.
"It's a great way to not only foster ideas on BU's campus and especially given this day and age, we should start talking about different ideas," said Dureus, a sophomore.
Shivansh Chaturvedi, a CAS senator, said he eagerly supported the proposal, especially considering the sizable $26,000 left in SG's budget.
"We don't nearly do enough and give back to the students," Chaturvedi said. "Every senate meeting is spent on rules more than what we can do for the community."
Marina Poole, a School of Hospitality and Administration senator and a sophomore, said she is happy with SG's progress so far this semester.
"I think it's good we funded a few projects," she said. "We need to fund more projects because we have so much, but I think we're working towards that by spending our budget so that's good."