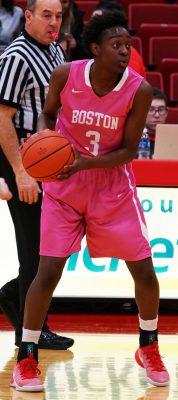 Following a 64-52 loss to the United States Military Academy on Wednesday, the Boston University women's basketball team will try to regain its footing against the College of the Holy Cross on Saturday afternoon.
The loss was the second straight for BU (11-16, 9-7 Patriot League), and it has now slipped to fifth in the Patriot League standings, albeit just one game behind American University.
The two teams have not played each other since BU's first game in league play on Dec. 30, in which the Terriers cruised to a 66-49 win behind senior guard Sarah Hope's 16-point first half. In that same game, senior guard Courtney Latham landed a triple-double, posting 11 points, eight rebounds and seven assists.
BU also did a great job getting to the free throw line, as they attempted 32 free throws, compared to Holy Cross' (8-19, 6-10 Patriot League) nine. Defensively, the Terriers never allowed Holy Cross to get comfortable, holding them to 30 percent shooting and forcing 22 turnovers.
While the Crusaders are seventh in the Patriot League and viewed as the underdog, they've proven themselves capable against any team in the league. Holy Cross has won two games against American (13-14, 10-6 Patriot League) and one against conference regular season champion Bucknell, the latter of whom has defeated BU by double digits two times this season.
BU head coach Katy Steding plans to prepare for the Crusaders just like she would for any other team — using her own game plan and not letting the opponent dictate the Terriers' actions.
"I think a large part of that is making sure we're executing our offense well, setting good screens, reversing the ball, trying to get it inside to [junior center] Sophie [Beaudry], and back out to Sarah, making sure everyone else is ready to attack when it's their turn," Steding said.
Steding also mentioned that she was not satisfied with Beaudry's involvement in the offense when the team lost to Army (20-7, 11-5 Patriot League).
"Sophie clearly had limited opportunities to score last night," Steding said. "We just didn't get her the ball enough. I think we got her the ball twice in the second half."
In addition, Steding is dedicated to the idea of creating offense as a team and making sure that every player is prepared to contribute.
"I think you want everybody to be ready, whenever your number is called, no matter what situation you're in, you want everybody to be able to make their contribution when their time comes," Steding said.
Holy Cross is led by junior Infiniti Thomas-Waheed and freshman Lauren Manis. The tandem makes up the number one and two scorers and rebounders on the team, as Thomas-Waheed averages 13.9 points and 5.6 rebounds, while Manis scores 13.4 per game and grabs 7.6 boards.
In the previous meeting, BU completely shut down Thomas-Waheed, holding her to 1-12 shooting, including 0-7 from beyond the arc. Manis scored 11 points and nine rebounds.
Steding said keeping Thomas-Waheed and other key Crusaders contained will make it much easier for the Terriers to come away with a win.
"We always try to limit the top players to below their averages and not allow players to come off the bench and work us over," Steding said. "I think a little bit of that happened last night with Destiny Morris from Army, so we'll be ready for that next time."
With just two games remaining in the regular season, the Terriers are poised to make a splash in the Patriot League Tournament, but Steding is taking it one game at a time.
"The primary focus for us right now is to stay true to ourselves," Steding said. "Not focusing too much on any one team, other than the next opponent."