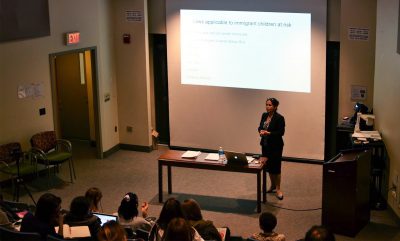 More than 50 graduate and undergraduate students gathered at the School of Education Auditorium Tuesday night for a discussion on the psychological impact and legal procedures for undocumented children. The discussion titled "The Psychological and Legal Needs of Immigrant Children" facilitated dialogue between those working with immigrant children and students interested in the topic.
This discussion was one of a series of two talks hosted by various SED organizations. It included presentations from a medical and legal expert about their work with unaccompanied immigrant children and juvenile refugees seeking asylum.
Lisa Fortuna, medical director of medicine and adolescent psychiatry at Boston Medical Center, who counsels and works with many immigrant children from the central Mexican region, presented on the mental health aspect of this conversation.
Children who come to the United States struggle with post-traumatic stress reactions, anxiety and social withdrawal resulting in loneliness due to separation from family, Fortuna said during the discussion.
Children of undocumented immigrant parents deal with different issues, including stress relations with their family and an inability to communicate. Some of these children do not have access to healthcare programs that cover therapy, according to Fortuna.
"Access to healthcare is a big issue," Fortuna said. "We need to find a policy to be able to do that and not hav[e] these restrictions for undocumented immigrants."
In addition, many of these children escape from dangerous situations and places of violence, and are often victims of sexual assault who face post-traumatic stress disorder and depression, Fortuna added.
"On the other side of this, I have sometimes been amazed at how resilient these kids are," Fortuna said. "They find a way to push down so deep and put in front of themselves what they have to do."
Legal attorney Amarilys Marrero, who practices immigration law at her own office in Quincy, presented on assisting unaccompanied immigrant children and the judicial process they have to go through after getting arrested.
There are many laws applicable to immigrant children to stay in the United States including asylum, Deferred Action for Childhood Arrivals and family petition, Marrero said. Special immigrant juvenile status provides a pathway for legal permanent residence granted to children who have been abused, neglected or abandoned.
Marrero also talked about the conditions children undergo to make the trip to the United States.
"Young women and girl[s] who take contraceptive[s] before making the trip, they anticipate they might be raped," Marrero said. "So don't let anybody tell you they're here because they want our jobs, because it's horrendous that little girls have to take contraceptives before coming here."
In light of President Donald Trump's executive orders on immigration, there has been an increase in arrests and deportations, Marrero said.
"Let's do something about this because it's despicable," Marrero said. "We're human beings, and we have basic rights. This is an awesome country and we should all do something about this."
After their presentations, the panels responded to questions from the audience.
Several students who attended the discussion said this event was informative and timely with current immigration issues.
Frances Cardenas, a second-year graduate student of SED, said this was an important topic that gives her some hope.
"There's some information I can take back to my mental health internships and take one step toward helping trauma population," Cardenas said.
Ava Marinelli, a senior in the College of Arts and Sciences, said this event ignited her passion for working with vulnerable population.
"There is a lot of work that is yet to come with the current administration and the K-12 education alone is at risk," Marinelli said. "I want to learn more and get more involved as a teacher, but also as an activist."