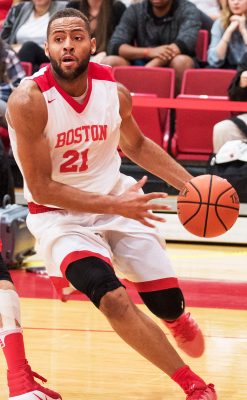 The Boston University men's basketball team is exiting Case Gym to the locker room after a long practice. Only junior guard Cedric Hankerson remains.
He was asked by assistant coach Walt Corbean to stay.
"Walt workout," Hankerson later remarked. It's an infamous combination of rigorous drills that Corbean puts together spontaneously as the drill goes on.
Hankerson, a known workaholic, accepts the challenge.
The first part of the drill is Hankerson's specialty: the catch-and-shoot. He can do this in his sleep, and he finishes it effortlessly. The impromptu drills swiftly advance until the last one, a set of different dribble moves followed by a pull-up jump shot.
He's missing most of them. Two misses follow every made shot, but he's not allowed to leave until he meets expectations.
Corbean stops the drill. After a short lecture to push Hankerson's limits, he asks where Hankerson would place himself among the elite players in the Patriot League.
"I'm the best, coach," Hankerson answers. "I'm the best."
During the 2014-15 campaign, Hankerson, then a sophomore, emerged as the best player for the Terriers. Averaging a team-high 15.9 points and 1.8 steals, he was gaining a reputation as a two-way star who dominated both ends of the floor.
Those numbers were good enough to rank him second steals and fourth in points in the Patriot League. The statistical achievement was accompanied by a spot on the Patriot League All-Conference Second Team.
However, after the 2016-2017 season is over, Hankerson will still have one more season with BU.
"It happened the last pickup session of the spring of my sophomore year after the season," Hankerson said. "I came down wrong, and someone kind of pushed me off balance, and then I tore everything."
In April 2015, Hankerson tore his ACL in his right knee, an injury that usually requires over half a year to recover from.
"It was devastating for everyone involved," said BU head coach Joe Jones. "But we were very optimistic of his return. He worked so hard."
After the surgery, Hankerson tirelessly pushed himself through rehabilitation.
"I would come in in the morning close to 8, and he'd have already been in [the gym]," Jones said. "He would be flying in terms of his energy level."
"When he finally got cleared, the look on his face — he was always telling me he feels great," Jones said. "I think he thought he was ready way before they cleared him the first time."
On Dec. 2, 2015, Hankerson finally returned against University of Massachusetts Amherst. In 12 minutes off the bench, Hankerson recorded 10 points
However, the promise of his return was cut short instantaneously.
"The practice right after UMass, someone fell onto my knee, and I tore my meniscus and MCL," Hankerson said.
Unfortunately, it was the same knee.
Hankerson would soon be ruled out for the remainder of the season and was forced to use a medical redshirt to maintain his eligibility for two more years.
"That kind of rollercoaster ride, it was not just physically straining, but it was just mentally [exhausting]," Hankerson said. "I put in all that work just to take two more steps back."
The psychological effect of the injury has brought visible changes to Hankerson's game this season. Compared to his sophomore year, Hankerson has been more reluctant to drive to the lane, resulting in a massive drop in his free throw attempts, from 7.5 to 2.1.
He is also taking an unusual number of shots from the 3-point range. In fact, 82.6 percent of his field-goal attempts so far this season have come from behind the arc.
As a product of more shots from long distance, Hankerson's have been inconsistent offensively.
Hankerson has shot less than 40 percent from the field in 14 out of his 29 appearances this season. On the other hand, he broke the school record with 10 3-pointers and scored a career-high 34 points against national powerhouse Syracuse University on Dec. 10.
Whatever negative physical and mental effects the knee injuries had on Hankerson, he said he has ;grown from them.
"It definitely helped me build character," Hankerson said. "It definitely made me stronger as a person. I honestly wouldn't change anything."
This development of Hankerson's character and maturity is reflected in his attitude and approach to his circumstances.
All athletes have an ego, but despite his change from a star to a role player, Hankerson is willingly making the sacrifices necessary to help BU succeed this season.
"It's just putting winning over any individual thing," Hankerson said.
Throughout the season, Hankerson's physical game began to reflect this mentality.
"Prior to his injury, he was more than just a shooter, and when he first got back, that was his way of working his way back," Jones said. "But I was reiterating to him to impact the game in different ways because that's who he is as a player."
Now, Hankerson has established himself as BU's premier defender.
"The last month, he's been sensational," Jones said. "He's been amazing at our press [defense]. He's had games when he scored six points, and there was no way we could've won that game without him on the floor. He's a one-man wrecking crew."
Entering his final season next year, Hankerson will have to embrace his influence on his teammates and adjust to his new responsibility as the definitive leader for BU.
"He's a guy that slowly has become a leader without saying as much," Jones said. "Now, we're going to be looking for him to be more vocal. This is a great step for him as the leader in our program."
With the injuries now behind him, Hankerson is in a position to succeed. The injuries that once destroyed him became a tool through which he grew stronger and better as a player and person.
"You can see glimpses of it," Jones said. "It's coming all together."