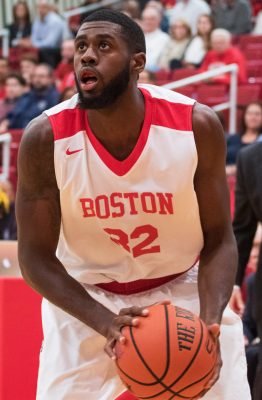 As much as he would have liked to prove the fans at Case Gym wrong Thursday night, Loyola University Maryland guard Andre Walker knew he alone could not have willed his team to victory.
Despite letting Walker finish with a game-high 27 points — including a barrage of 3-pointers down the stretch — the second-seeded Boston University men's basketball team survived a close 64-60 encounter Thursday night against seventh-seeded Loyola (15-16, 8-10 Patriot League) in the Patriot League Tournament Quarterfinals.
The loss puts an end to the Greyhounds' season, while the Terriers (18-13, 12-6 Patriot League) now advance to the semifinals of the Patriot League Tournament, where they will host the winner of third-seeded Lehigh University after it defeated Colgate University 77-72.
A win is a win, but the Terriers know that it almost let Walker take away the victory right out from underneath them.
Walker, a Westbury, New York native, went 7-17 from the field, 4-7 from the 3-point range and 9-10 from the foul line, but outside of 11-point efforts from teammates Andrew Kostecka and Cam Gregory, he could not find any additional help offensively.
"In the second half they were able to get their shooters free," said BU head coach Joe Jones. "Walker and Kostecka, those guy made threes. And those were the two guys that we talked about guarding from three [point range]. They hit six and I think five in the second half. That was the big difference in the game was those guys making those shots."
BU's narrow triumph over Loyola did not have the sights of a nail-biting finish in the opening minutes.
Sophomore guard Kyle Foreman started out hot for the Terriers, as he nailed two consecutive left-handed layups to give his team an early 4-0 lead.
Junior guard Cedric Hankerson followed with a layup of his own, and then freshman forward Tyler Scanlon's 3-pointer just 2:53 into the contest gave BU a quick 9-0 lead over the road side.
Free throws from Gregory with 14:08 left trimmed the Terriers lead to 11-6, but that was as close as the Greyhounds got to leveling the contest in the opening half.
BU then responded with a 13-2 run, which was capped off by a jumper from Eric Fanning with 8:12 remaining to give it its largest lead of the half at 23-8.
A 3-pointer from Walker with 3:32 left got Loyola to within single-digits, trailing 29-20, only for the Terriers to close on a 6-2 and go into halftime up 35-22.
Although the Terriers came out of halftime with the double-digit advantage, even Jones knew that Loyola would not leave Boston without leaving it all on the floor.
A layup from senior center Justin Alston, who finished with 11 points, with 8:08 remaining in the half gave BU the 53-43 lead, the last time it would be up double-digits.
From that moment on, the Greyhounds responded with a 15-7 run, as Walker scored 10 of those points to cut the deficit to 60-58 with 1:25 remaining.
Alston and Walker then traded buckets with 1:06 and 0:50 remaining to keep it a one-possession game, but that was as close as Loyola got to knotting it up.
A missed jumper by Greyhounds leading scorer Jarred Jones, who finished with four points on just 1-9 shooting overall, was corralled by Foreman, who after being fouled by Walker, sunk two free throws to seal the victory.
Walker's near-herculean efforts Thursday night saw the Terriers bend but not break, which for them is a result they will take in the postseason.
"That's a great saying. I say that a lot, too," Jones said. "You can bend, but you can't break, and that's basketball. People are going to make runs. [Loyola] has a great team and [Walker] is a talented player. He's going to score at times, but the big thing is we got the win and we get the chance to advance and move on."