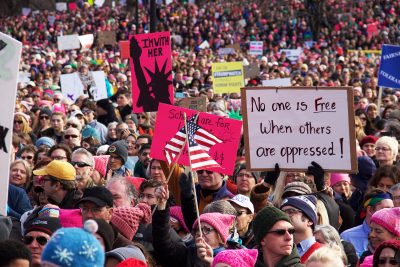 The organizers who led the Boston Women's March for America announced the founding of March Forward Massachusetts, a women's activist organization designed to tackle feminist issues at the local level, according to a press release from the organizers.
The new organization, which launched on March 8, International Women's Day, emphasizes building upon current grassroots efforts and working alongside community activists to enact change, according to the release.
Members of the group are committed to raising awareness on important issues and advocating for individuals belonging to marginalized communities, according to the release.
Karen Cosmas, the interim deputy director of March Forward Mass, said the decision to take the organizing power of the Women's March and transform it into an advocacy organization came in the aftermath of the march.
"When we got to the march … we found ourselves with a set of assets that we didn't think we would be holding," Cosmas said. "Among those things were notably a brand that was really strong, this ready-made and ready to go network of people who were ready to do more things, and the mailing list to match it, and relationships in the community that took some effort to build."
Based on those assets, the team behind the march decided to create March Forward Mass, Cosmas said, and the activist organization will listen to the community to determine goals for action.
"If one of our partners, or another organization with whom we align is working on an action or has a program that we think our marchers would appreciate, then the role of this organization will be to the facilitate that connection to drive our marchers and our resources toward supporting that," she said.
Cosmas stressed that there are many ways for the average citizen to get involved in local advocacy, and recommended reading "The Indivisible Guide" to those interested in learning more about protesting legislation they don't agree with.
"[The Indivisible Guide] is written by a group of former congressional staffers and the goal is to resist legislation … [with] information on how to interface with your elected representatives," Cosmas said. "We [also] have groups of women meeting in small circles called Huddles, getting together to figure out exactly what they would like to do on the hyper local level."
Melanie O'Malley, a member of the Boston National Organization for Women, described the importance of activist groups working together in solidarity in an email to The Daily Free Press.
"When activist groups support one another, we help spread awareness of our causes and illustrate more widespread support for our values," O'Malley wrote.
O'Malley highlighted the positive impact activist efforts can have on marginalized groups.
"It's important to support any sincere and informed effort to increase the rights and representation of marginalized groups," O'Malley wrote. "It's important that people of all ages and backgrounds are regularly involved in supporting the values and policies important to them."
O'Malley recommended several courses of action for local citizens who wish to make a change in their community.
"Volunteer for a local organization that you support," O'Malley wrote. "Help spread awareness of the causes that matter to you. Follow organizations that advocate for the policies that you support and support their action requests. Join lobby days organized around issues that matter to you. Call your elected officials to let them know what matters to you."
Several Boston residents said it's important to be politically active, and expressed how vital it is for individuals to be informed about current issues.
Hannah Viens, 26, of Jamaica Plain, said she is currently making an effort to become more involved in politics, including making calls to local representatives, and said it's necessary to be an engaged citizen if you want to see change.
"I think protests and marches are a good symbolic action," Viens said. "People need to do more than just that because marches don't change policy, they show opinion. However, there's a lot more we need to do to really make our voices heard."
Tom Ricketts, 35, of Roxbury, said he supports women becoming more active in politics, and said that it's important to be informed about politics in order to have open discussions with others.
"It's a tough one because the older I get, the more cynical I get," Ricketts said. "Sometimes I think it doesn't really matter. But at the same time, just for the sake of conversations with people and being engaging, it's important [to be politically active]."
Natacha Garcia, 21, of Allston, said in order to have a constructive opinion on an issue, an individual has to be aware of current politics, and expressed that since the election, she has become more active than ever before.
"I'm actually a dual citizen between France and the U.S., and I grew up in France, so I've always been more politically involved over there," Garcia said. "Here, I feel like with this election, I have been more [active] than ever, given the outcome of the election."
Shannon Larson contributed to the reporting of this article.