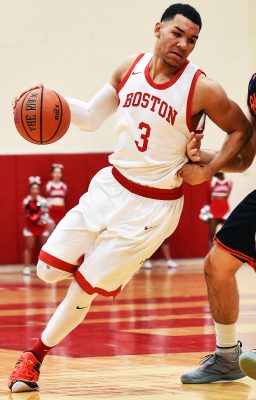 The Boston University men's basketball team might not be representing the Patriot League in the 2017 NCAA Division I Men's Basketball Tournament — that honor goes to 13th-seeded Bucknell University — but it is nevertheless knocking on March Madness' door.
The Terriers (18-14, 12-6 Patriot League), despite regressing by a game from last season when they made a second round appearance in the CollegeInsiders.com Postseason Tournament, showed that they have the tools necessary to contend in an unpredictable league.
BU was led throughout the season by the senior leadership of guard Eric Fanning (team-high 14.9 points per game) and forward Justin Alston (12 points per game), but also saw progression from many returning players.
Junior guard Cedric Hankerson, with 9.6 points per game, was the Terriers' third-leading scorer and will be counted on alongside sophomore Kyle Foreman (team-leading 136 assists) to fill the void left by Fanning, who will graduate in May.
Head coach Joe Jones also saw improvement from freshman forward Tyler Scanlon, a 2017 Patriot League All-Rookie Team selection who became a mainstay in the starting lineup, as well as freshman forward Max Mahoney and junior forward Nick Havener, who will be competing for Alston's starting job next fall.
"Justin Alston and Eric Fanning, those are two big losses but I do feel good about our team in the future," Jones said. "I like where we are. I like the guys we're bringing in as freshmen next year and I think we're going to surprise some people."
Losing Fanning, a reigning two-time All-Patriot League First Team selection, and Alston, a 2017 All-Patriot League Second Team selection, is something Jones will need to address this offseason, but with a solid recruiting class calling Case Gym home next November, the sixth-year head coach might not have to worry.
Jones was able to nab three stellar recruits from the Class of 2021, which includes rising freshman guard/forward Walter Whyte, center Sukhmail Mathon and guard Javante McCoy.
As the No. 2 recruited player in Connecticut, Whyte (19.8 ppg, 9.4 rpg, 2.3 apg and 1.6 spg) will be joining the Terriers one season removed from taking his St. Luke's team to the NEPSAC Class C Championship and being named NEPSAC Class C MVP and an All-NEPSAC First Team selection.
The 6-foot-10 Mathon (11.5 ppg, 9.5 rpg, 3.0 apg and 2.1 bpg) comes to BU after nearly averaging a double-double last year at New Hampshire's Holderness School and helping the D.C. Blue Devils (N.H.) win the AAU Silver Showcase Championship.
McCoy (15.3 ppg, 3.1 rpg and 2.6 apg), the 6-foot-4 guard now out of Phillips Exeter Academy, is fresh off being selected in last season's All-District First Team as a player at Wakeland High School in Texas.
This freshmen trio is certainly loaded with the talent and credentials capable of making noise last season, but Jones' expectations of them are tempered because as everyone knows, not every freshman will come out playing like UCLA's Lonzo Ball.
"You never know with freshmen," Jones added. "You never know. You have to be careful with how much you put into what they accomplished in high school because it's different. Now with that being said, I do think [Whyte, Mathon and McCoy] can help our team next year. How much they can help, that remains to be seen."
BU will have to settle with watching March Madness this season, but its Patriot League rival, the No. 13 Bucknell Bison (26-8, 15-3 Patriot League), have a fascinating matchup with No. 4 West Virginia University Thursday afternoon at 2:45 p.m. in Buffalo, New York.
The Terriers have gotten familiar with Bucknell this season — they were swept by the Bison, both losses in the double-digits — and Jones sees its matchup with Bob Huggins' Mountaineers (26-8, 12-6 Big 12) coming down to limiting turnovers and shooting well against the Big 12 powerhouse.
"If Bucknell ends up turning it over a ton, that's gonna hurt them," Jones added. "[The Bison] will also need to shoot the ball well. If they can avoid a rash of turnovers and then they're able to make shots … I think those are going to be two big things, is how well they shoot it and if they turn it over a lot."
The Terriers have not made the "Big Dance" in Jones' tenure at BU and with many expecting them to come down next season, that will set the scene for what Jones believes will be a season of defying the detractors.
"I think there's going to be some people who looked at our year and say, 'They lost their two leading scorers' and feel like we won't be as good," said Jones. "I think we can still have a really successful season [next year] with what we got."