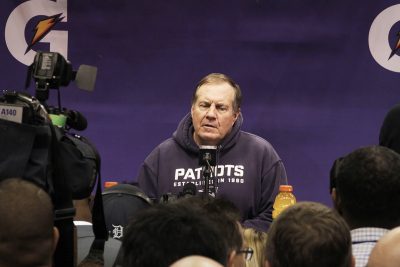 The New England Patriots have become notorious in the past decade and a half for not pursuing high-profiled free agents, for letting go former players who are set to earn big contracts and for signing unheard-of no-names who turn into some of the league's best in Foxborough. However, this offseason, the Patriots have broken from the norm, signing high-profiled players like Stephon Gilmore, trading for Kony Ealy and the explosive and well-known Brandin Cooks, and retaining expensive free agent Dont'a Hightower.
With Tom Brady turning 40 years old this August, Bill Belichick and company have decided to surround arguably the greatest quarterback of all time with as many weapons as possible. We all have to face it — Brady's window is closing. "TB12" has been nothing short of magical during this late stretch in his career, leading stellar comebacks in two of the last three Super Bowls. But this offseason is proof that New England understands the risk of playing with an aging quarterback.
Look, Brady has shown no signs of slowing down. In fact, he has been even better than ever before. But the Patriots and teams all across the league have seen how quickly age can catch up to a player.
Peyton Manning was one of the best quarterbacks in the league when he signed with the Broncos in 2012. He won the MVP and set the NFL record for touchdowns in a season in 2013. Two years later, Manning was a dud who struggled to throw the ball for more than a short pass and was replaced by the mediocre Brock Osweiler.
Brady has yet to show any signs of slowing down, however, in classic Belichick fashion, the Patriots have planned for the future.
The Patriots' offense was almost untouched after winning Super Bowl LI. The departure of Martellus Bennett was quickly voided by trading for tight end Dwayne Allen. With all of their pieces back from last year's championship squad, New England made yet another splash by trading for Cooks — a deep-threat wide receiver from the New Orleans Saints.
Cooks brings an element to the Patriots offense that hasn't been seen since the departure of Randy Moss: a receiver who can get behind a defense down field on any given play. While New England has made its fortune with slot receivers like Julian Edelman, Wes Welker and Troy Brown, the addition of Cooks gives Brady another weapon to make a championship offense faster, more explosive, and even more lethal.
The only questions on offense that remain are the futures of LeGarrette Blount and Danny Amendola. Amendola is another slot-type receiver who will most likely need to restructure his deal in New England to avoid being cut, while Blount's downhill style of running rounds out the Patriots running back core. With new addition Rex Burkhead, the return of quick-footed Dion Lewis and Super Bowl hero James White all being small pass-catching backs, re-signing Blount would give Belichick and company a great option on third and fourth down.
Going into this offseason, defense looked to be the biggest roadblock for the Patriots repeating as Super Bowl champs. A bevy of the team's defensive backs were set to become free agents, as were key members of their front seven. However, Belichick again proved his worth as a general manager by fortifying the defensive line and the secondary.
It began by bringing back defensive lineman Alan Branch on a two-year deal. After that, Belichick signed former Baltimore Ravens stud Lawrence Guy, a 27-year-old lineman who explodes well off the line, to a four-year contract.
Next up on Belichick's list came Kony Ealy, the defensive end formerly of the Carolina Panthers who was stellar in Super Bowl L. The Patriots sent their second round pick to Carolina in exchange for Ealy and a third-rounder. In Super Bowl L, Ealy sacked Peyton Manning three times, forced a fumble and added an interception. The move was especially vital after the departures of Chris Long and Jabaal Sheard.
In the secondary the Patriots retained safety Duron Harmon to keep solid depth at the position. And while contract negotiations with corner Malcolm Butler have reportedly gone south, New England remained one step ahead by adding Gilmore.
Gilmore is a cornerback familiar with the AFC East, being a former member of the Buffalo Bills. The 10th overall pick back in 2012, Gilmore is a shut-down corner that brings height and speed to a New England secondary that already boasts one of the game's best safeties in Devin McCourty.
However, the departure of Logan Ryan means that the Patriots will have a glaring hole on the other side of the field if Butler leaves or holds out. And the thought of Eric Rowe taking over as a full-time corner is an unsettling one.
If Butler chooses to sign elsewhere — the corner reportedly has met with the Saints in recent days — then the Patriots will receive that team's first-round pick. Meaning if Sean Payton extends an offers sheet to Butler that Belichick decides not to match, New England will receive the 11th pick overall — barring some sort of outside trade. And though I would like to see Butler remain a Patriot, grabbing a mid-first round pick is the next best thing.
Most recently, the Patriots have answered their biggest question of this offseason: what to do with Hightower. The linebacker has made two Super Bowl-saving plays in the past three seasons and became an unrestricted free agent this March. Had New England lost Hightower, they would have been forced to have Kyle Van Noy or Shea McClellin take over as the head of the linebacker core. With Hightower back, the green dot stays on his helmet and the Patriots defense becomes almost as lethal as ever.
Weeks removed from earning his fifth ring in New England, Belichick has loaded up in a manner most Patriots fans are not accustomed to. With the Pats packing their roster with some of the league's best and the rest of the AFC trying to keep pace, expect New England to be back in the big game next year — and maybe even the year after. For now, my advice is to buy your tickets to Minneapolis ASAP.