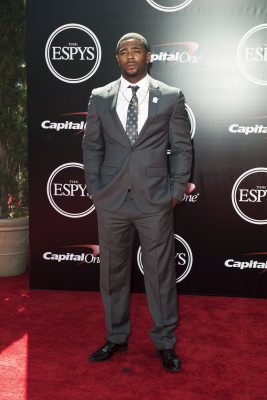 The New England Patriots would never admit to it, but they need Malcolm Butler next season. The Patriots shocked the football world on the first day of free agency by signing unrestricted free agent Stephon Gilmore to a five-year, $65 million contract with $40 million guaranteed, an offseason move uncharacteristic for the organization.
The team needed help at corner after watching Matt Ryan pick apart the Patriots' secondary in Super Bowl LI. It did not help that they would be losing No. 2 cornerback Logan Ryan to free agency. After signing Gilmore and re-signing Duron Harmon, the secondary looked to return stronger than last year's group. That is until Butler made his frustration known with his situation in New England.
With Gilmore receiving such a large contract, there is little money left over to extend Butler's current deal. He met with the New Orleans Saints last week as they want anyone who can help out on defense, and both Butler and New Orleans look ready to make this move work at whatever the cost.
Butler will always be a Patriot because of the Super Bowl-saving interception he made on the 1-yard line to secure New England's fourth ring. Having a player who will be forever tied to such a historic moment for a franchise wanting to change teams is never a good thing, especially when he is a talented and important piece of the defense.
With the Patriots and Butler not on the same page in regard to his contract, it does not look like his tenure with the team will last much longer. If this is the case, the Patriots should hope a deal won't happen with the Saints in order to retain Butler for one last season before he becomes an unrestricted free agent in 2018.
If Butler is on the Patriots' roster in 2017, the team looks poised for another Super Bowl run. If Butler is on another team's roster this season, the Patriots will have to answer questions about depth at the cornerback position, even after signing Gilmore. New England's No. 2 cornerback is Eric Rowe if Butler changes teams and the No. 3 corner would be either last season's second round pick Cyrus Jones or Justin Coleman.
While each played in 10 regular season games, Jones saw little playing time on defense after a rough preseason and struggling in the return game on special teams, and Coleman played in limited time and contributed eight tackles all season.
If the Patriots decided to address their need for a cornerback in the draft, they would need to do so with a first round pick. If Butler departs before this season, the Patriots would ultimately receive the first round pick of the team Butler signs with. After trading this year's first round pick to New Orleans already for wideout Brandin Cooks, the Patriots would most likely need to trade up to get a top corner, as their first pick isn't until pick number 72.
As the NFL continues to shift its focus to pass-heavy offenses, the importance of pass defense cannot be overlooked. Gilmore is a great man-to-man cover corner who can match up with larger number one receivers. His combination of size, length and speed is comparable to that of Aqib Talib in Denver, a former Patriot, but he shut down an opposing team's passing attack on his own.
If the Patriots can magically hold onto Butler for one more year, the secondary will be in the conversation for best in the league. Butler would provide the team flexibility by moving him either in the slot or to shadow a team's quicker receivers, while Rowe guards the biggest, most physical receiver on the field and Gilmore locks down the number one pass threat.
The safety group is deep, with Patrick Chung moving down into the box to help in run support and covering tight ends Harmon and Devin McCourty swapping between single high and two high safety looks.
If the Patriots believe they can move on from Butler, they better have a specific player in mind to replace him from the draft. If not, this will be a rare time when the Patriots' persistence to shell out big contracts for players will come back to severely hurt their chances at repeating as Super Bowl Champions.