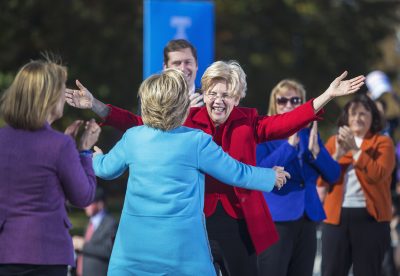 The U.S. Department of Education rescinded limits restricting collection fees that can be issued to student loan borrowers who default on their loans Friday, according to a press release from Rep. Suzanne Bonamici's (D-OR) office.
The decision follows a joint letter issued by Massachusetts Sen. Elizabeth Warren and Bonamici this on Tuesday, asking Secretary of Education Betsy DeVos to maintain "commonsense limits" on the fees charged to defaulted student loan borrowers, according to a press release issued by Warren's office.
As part of an ongoing lawsuit, a federal judge ordered the Department of Education to reassess its guidelines and decide whether it would stand by its former policy, which allow defaulted borrowers options to reduce their loans, according to the release.
Under the Department of Education's former guidelines, those who default on loans from the Federal Family Education Loan Program could be charged a collection fee of up to 16 percent on "the principal and accrued interest owed on the loans," according to the release.
Borrowers who agreed to enter into rehabilitation agreements designed to address their defaulted loans used to be exempt from this fee, according to the release, until the Department of Education reversed this policy Friday.
The 16 percent collection fee is "an unnecessary financial burden on vulnerable borrowers," Warren and Bonamici wrote in their letter to DeVos.
"Congress gave borrowers who default on their federal student loans the one-time opportunity to rehabilitate their loans out of default and re-enter repayment," Warren and Bonamici wrote. "It is inconsistent with the goal of rehabilitation to return borrowers to repayment with such large fees added."
Congress and the Department of Education must do more to protect student loan borrowers from the consequences of default, Warren and Bonamici wrote in the letter.
"Penalizing borrowers who take prompt action to cure their defaulted loans is a step in the wrong direction," Warren and Bonamici wrote.
Zac Bears, the executive director of the Public Higher Education Network of Massachusetts, said he supports Warren and Bonamici's efforts on this "incredibly important" issue.
"[PHENOM supports] anything to protect student loan borrowers from unnecessary fees, but this is a pretty small … symptom of a much larger problem," Bears said. "Our organization tries to address the larger problem of why does public college cost so much, and how can we reduce or eliminate the loans that are being taken out to fund it."
Bears said the high fee "adds another level of unfairness to an already unfair system," and suggested the Student Loan Borrower Bill of Rights as a possible solution to this controversial issue.
If passed by the Senate, the Student Loan Borrower Bill of Rights would create a public office in Boston to assess complaints from borrowers and protect them from unfair treatment, Bears said.
"If someone is defaulted on their loans, they probably already can't afford the principal and the interest on the loan," Bears said. "Adding another 20 percent doesn't make it any easier to actually help collect the money from the loan."
Several Boston residents expressed concern over the price of higher education and the impact of student loan debt on borrowers.
LaVonya Tate-Mervin, 32, of Dorchester, said although she graduated in 2008, she is still working to pay off her student loan debt.
"Lowering the cost of college would … really help," Tate-Mervin said. "If people can't pay loans then they can't pay a 16 percent fee."
Carly Silvernale, 19, of Kenmore, said she currently attends the Massachusetts Institute of Technology and has seen applicants deny admission because of the costs.
"It sucks because you're deciding between either having student debt or getting an education that could change your life," Silvernale said. "If you have people studying and doing what they need to rather than focusing on their debt, that's what is really helping our country the most."
Dan Wilde, 25, of Brighton, said his college choices were limited by high costs, yet he is still paying off excessive student loans.
"I think interest is probably one of the biggest problems," Wilde said. "You would think that if [college students] were going to be the money makers of the future that we wouldn't be crippled by debt."