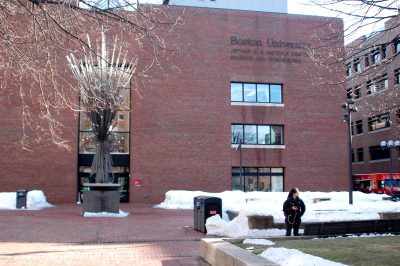 The White House released a budget proposal for the 2017 fiscal year, which outlined cutting funding for research agencies nationwide, potentially including Boston University, on Thursday.
The National Institutes of Health, responsible for much of the biomedical research for disease prevention done at universities and hospitals, will be receiving an 18 percent cut, which affects BU's research programs. The blueprint also proposes consolidating agencies within the NIH, including the Agency for Healthcare Research and Quality.
Jennifer Grodsky, BU's vice president of Federal Relations, said this proposal would affect BU and other research-based universities, but in the short term, not in the long run.
"I think that in the short term, there's a lot of concern from researchers for their work," Grodsky said.
BU's Vice President and Associate Provost for Research Gloria Waters said these cuts could definitely affect many researchers at BU and their programs since a vast majority of funding comes from the federal government.
"Certainly [these cuts] would affect people's ability to carry out really important research that would hopefully be leading to better health in the nation to cures in disease," Waters said.
Still, the proposal does require Congress' approval in order for these cuts to go into effect.
"We've already seen members of Congress from both sides of the aisle saying that they do not support these cuts, so I do not think we will impacted in the long run," Grodsky said.
Grodsky said the BU Federal Relations Office works directly with policymakers in Washington D.C. to advocate for BU. The Federal Relations team lobbies on policies affecting university research funding.
BU faculty competes for and receives more than $200 million in research grants from NIH each year, Grodsky said.
"We feel like we have excellent faculty, and they're very competitive," Waters said. "Faculty has been very successful in getting research grants."
Last year, research funding went up by 13 percent, Waters said. However, with less money to go around, research may be threatened.
"Faculty are applying for an increasing number of grants in the hopes that the grants they write will be successful," Waters said. "We're going to focus on doing what we can to put our faculty in the best position to obtain whatever research funding is available."
This proposal also includes a cut to NASA's budget, effectively eliminating NASA's Office of Education and grant programs associated with the agency.
Grodsky said she does not think these cuts are reflective of how the country values science, a practice that "leads to innovation and an improved quality of life." Instead, these cuts point to a strain on finances in the Capitol.
"I think [the cuts are] more of a reflection of the difficult budget environment in D.C. where there isn't a lot of funding available, so policy makers have to make really difficult choices," she said.
Grodsky suggests students who are worried about their research funding to call their legislators, especially those in STEM-related fields.
"Members of Congress are always eager to hear from students," Grodsky said. "I think it's important to provide personal examples of how cuts to research and student aid will affect you."
Several STEM students said they find this budget proposal concerning as it is something that affects their futures.
Preetha Velu, a freshman in the College of Arts and Science in the Seven-Year Liberal Arts/Medicine Education Program, said these cuts directly impact research programs and opportunities at BU.
"We have a medical school across the river and they conduct a lot of research," Valu said. "We are a private university, so we do rely on a lot of grants and outside funding so these cuts could affect BU a lot."
Aimee Aylward, a sophomore in CAS studying neuroscience and psychology, said she finds these proposed cuts concerning and hopes they will not affect BU too much.
"Since it's a private university, [BU has its] own funding as well, so hopefully it won't affect BU specifically," Aylward said.
Annie Heyman, a pre-medicine freshman in CAS, said the cuts are concerning for students like herself who need research to maximize later job opportunities.
"It's really troubling for opportunities," Heyman said. "Especially now since so many fields are more competitive, you have to have good research opportunities and internships."