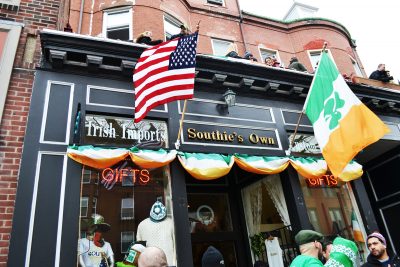 Thousands of Boston residents joined together to celebrate community at the 116th St. Patrick's Day Parade. The streets of South Boston came alive with seas of green attire, recurring choruses of the Boston Red Sox anthem "Sweet Caroline" and parade participants from around the country.
Local figures helped invigorate the moments of unity despite frigid temperatures and international controversy over the initial exclusion of the LGBTQ group OUTVETS. The restriction stemmed from a rule against participants advertising sexuality during the parade. Mayor Martin Walsh walked the route alongside Massachusetts Gov. Charlie Baker, even after both declined to appear due to the initial ban of the group. Ultimately, OUTVETS marched at the parade to a chorus of cheers.
But a large part of the day was run by local Boston businesses.
Southie's Own, a family business run by Bridget Nee-Walsh with help from her sister Francine Walsh, is located in South Boston. The store promotes Irish pride in the community with offerings from Irish jewelry to the storied "Southie"-embroidered baby pillow. Her first experiences with the parade began when she was just a baby, Walsh said.
"We have the old-fashioned pram with the big ribbons we had made and [Walsh's niece's] name pillow," said Walsh about her store's ties with the parade. "It's a Southie tradition."
Throughout the day, carriages such as those described by Walsh speckled the crowd with continued Southie pride.
The parade was lead by Framingham's own Devin Suau. Devin, a 6-year-old boy battling a rare form of brain cancer, has become a local source of inspiration in his campaign, #WhyNotDevin, after becoming the first child to survive his illness, according to MassLive.com. With future sights to become a police officer, Devin joined the multitude of personnel keeping the parade and its participants safe.
With thousands entering the route, a path from West Broadway Street onto East Broadway Street, city officials had to make special arrangements for public transportation accommodations. While the parade began at Broadway Station, the growing crowds posed concerns for safety. To combat the problem, shuttles brought attendees from South Station to the parade area.
While the parade had historical roots as a celebration of St. Patrick and Irish culture, hailing from the Emerald Isle was not a necessary requirement to partake in the revelry.
"If you're not Irish, if you're not born into Irish-Catholic families, then you're Irish at least one day of the year," Walsh said.
Another local business also gained momentum during the celebration. Southie Apparel, a branch of College Hype Custom Screen Printing and Embroidery, also gave their support.
"We've been supporting South Boston for probably 15 of those 30 years [we've been in business]," said founder and CEO of College Hype, Jack Doherty, whose grandparents hailed from the area.
In order to meet the growing demand for holiday and local apparel, Doherty revealed that his team works "12-hour days for two months," but the day of the parade is a rewarding experience for his company.
"Twenty of my employees get up at five in the morning, get up and sell T-shirts," he said. "We have a lot of fun and meet a lot of nice people."
As a first time parade-goer, Jill Schuman, 44, of Shalersville, Ohio, said she finally checked the event off her bucket list.
"I'm Irish and it's always been known as a heavily Irish traditional town and I just wanted to join the fun," she said.
Schuman, who has visited 45 of 50 states so far, said the Boston crowd was "definitely in [her] top five" places she's been to.
This atmosphere strayed from what Schuman initially expected.
While Schuman said she enjoyed the atmosphere, she said she was skeptical of the high prices to get into local bars. In addition to mom-and-pop shops in the South End, the area also serves as a home to countless bars and Irish-themed bars.
"We would probably use that $20 for food or drinks instead of paying it at the door," she said of the popular establishments.
Many of the bars lining the parade route had lines around the block.
"It's very hard to get into a bar," said Matt Rahming, 28, of South Boston. "There's already lines at 11 a.m."
Rahming participated in the pre-parade 5K to benefit the Boys and Girls Club of Boston. As parade-goers began to line the streets, the runners jogged down the route to the cheers of onlookers.
Rahming and his roommate Daniel Jenks, 28, of South Boston, joined in on the celebration through many avenues. Shared between them were green suspenders, a green tutu and a box of Lucky Charms.
Jenks also wore a shirt patterned with various faces of a certain Irish rock star, showcasing another reason he said he's so enthusiastic about attending the St. Patrick's Day parade.
"I always hope Bono shows up every year."