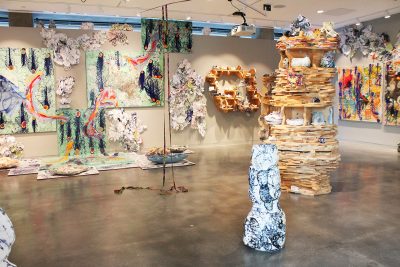 Boston-based artist Mark Cooper opened his art exhibit, "Uncertainty," at Lesley University's Lunder Arts Center on Saturday. The compilation of various mediums brought together a number of small pieces to create an immersive environment of thoughtful artistry for viewers.
Using materials from ceramics to digital screens, Cooper kept visitors engaged as they wandered through the colorful gallery. The amount of content drew the eye in every direction — from floor to ceiling — creating a sense of intrigue for even pedestrians outside walking by the large windows.
With more than 20 years of experience in creating art with others, Cooper placed emphasis on collaborative work in "Uncertainty," teaming up with innovative artists from all over the world to put together the exhibit. The varying types of art reflect different cultures, complementing each other while subtly conveying the underlying theme to viewers.
"The sum of all the parts is greater than the individual parts," Cooper said. "A metaphor for all of us working together to create a better planet, a better world."
Although the exhibit as a whole is intended to evoke emotion in those who meander through the gallery, each piece is meticulously crafted and displays intensity in detail. Every sculpture and painting is made more impactful by others around it, he said.
"They're all together in conversation with each other, one of the things that I learned in my research," Cooper said. "When you have collage, assemblage installations, it triggers the viewer's brain in a different way than let's say, a linear narrative."
A professor at both Boston College and School of the Museum of Fine Arts at Tuft University, Cooper teaches students how to create art, and also how to approach creative ideas. His artistic ideas for "Uncertainty" led him to invite students, and other artists in the area, to put together the intricate gallery.
"I like the idea of collaborating with other artists and thinking about how I can animate their work," said Sarah Jenkins, a second-year MFA candidate at Tufts. "And Mark's work is particularly interesting. He's collaborated a ton and that art show is really about collaboration."
Jenkins created the digital artwork that is displayed on several screens around the gallery. Although working on only one aspect of the exhibit, she began to interpret it as Cooper had intended in his creative approach.
The exhibit is about "many small parts coming together as one," said Jenkins. "These many artists coming together as one. I mean, to me, that is the overarching theme."
Cooper's teachings are not only accomplished through classroom instruction. The manner in which he creates art, especially his diverse use of materials, is a learning tool for those who observe his exhibit.
"In his practice, Mark Cooper represents a way of working that inspires many of our students at [Lesley University's College of Art and Design] as they move toward careers in the arts and art-related fields," wrote Bonnell Robinson, director of exhibitions at Lunder Arts Center, in an email to The Daily Free Press.
While Cooper and other artists collaborated to initiate the exhibit, it is considered to be completed by those who come to explore it, Cooper said.
"It is intended for everyone in the community who stops by to become a participant within the space of the experience," he said.
His goal is to inspire viewers to partake in something new, he said, something they hadn't attempted before. In a world that is defined by technology, Cooper said he wants to impress upon those who view the gallery with the importance of creativity.
"We need to have things that are cared about, that are handmade along with all the things that exist in our mind and that exist on the internet," Cooper said.
Cooper, who has a Master of Fine Arts from Tufts University's SMFA, is no stranger to instilling action into his work. He began assisting youth in Washington, D.C. to create art geared toward eliminating violence in the early 1990s. He published a book on collaborative art methods, "Making Art Together," in 2006 and was a 2013 finalist for the James and Audrey Foster Prize, which recognized his many contributions as a Boston area artist.
"Openness, tolerance for ambiguity, and a willingness, if not desire, to explore uncertainty are messages we can appreciate, especially at this time," Robinson wrote.
Cooper is also a strong proponent of the power that art holds, attendees said.
"He's trying to forge a dialogue between the different elements and how one-plus-one is greater than two and that kind of synergetic collaboration of those different elements," said Jessica Lu, a senior at Boston College.
The overall unification of different pieces in "Uncertainty" is a way to generate conversation and spur changes on a personal level for viewers. But like most artists, Cooper said he is enticed by the idea of others being influenced by his work on a purely creative level.
He said he hopes to use his work to inspire people in the Lesley community and beyond.
"I hope there's an element of magic and wonder from the exhibition that is sort of a catalyst for viewers to want to do some interesting things on their own."