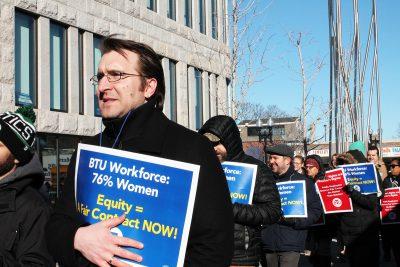 Teachers and students from the Greater Boston area gathered outside of the Bruce C. Bolling Municipal Building Wednesday afternoon with the Boston Teachers Union, advocating for the union's new contract and expressing concerns over education in President Donald Trump's administration.
The union and its supporters gathered at the Bolling Building with signs and posters because most of the Boston Public Schools' administrative offices, in which teachers and BPS administrators hold their meetings, are located there, according to the rally's Facebook page.
Richard Stutman, the president of the Boston Teachers Union, told The Daily Free press before the rally that despite the number of hours spent negotiating with the BPS district officials, not much progress has been made.
"We're not looking so much for them to cave on an issue but for them to come back on a table determined to reach an agreement," Stutman said.
The BTU has put in approximately 228 hours in 32 sessions with the BPS, according to Stutman.
"We feel like it's really a sign of disrespect that the school district hasn't ruled at all about some key issues," he said.
The protesters marched around the building to the beat of drums, chanting "SOS, save our schools" and "BPS, don't hate, sit down and negotiate." Trucks and cars also blared their horns while driving by.
After marching around the building for an hour, representatives from various organizations spoke in front of protesters, addressing the difficulties that public schools face today.
Stutman spoke first and thanked those who were in attendance. He said during the speech that approximately 1,200 people came out to the rally.
"We can control our determination to get a fair contract and that's why we're all here today," Stutman said.
He also introduced students from the Boston-area Youth Organizing Project that have worked on the budget cuts and attended meetings between BPS and the BTU.
Kathleen Alvarez, a 15-year-old high school student from Snowden International School, which recently experienced budget cuts, spoke on behalf of the BYOP.
"I've been saying that this protest is not just for us, it's for the future," Alvarez said. "It's about educating these kids [about topics] they don't learn about every day. It's about teaching them the curriculum, instead of [being about] what they have money for."
Randi Weingarten, the president of the American Federation of Teachers, also spoke at the rally to show her support for Boston teachers.
"The reason why I came is pretty simple and obvious," Weingarten said. "Those kids are fighting for their lives and their future, standing shoulder and shoulder with us to make sure everyone has a future."
In light of recently proposed budget cuts from the Trump administration, specifically to the Department of Education, Weingarten said the country is polarized and divided.
"If people, meaning Donald Trump and [Secretary of Education] Betsy DeVos, believed in public education instead of privatization, if they believed that public schools were the bedrock of democracy, then things could be solved," Weingarten said.
Weingarten ended her remarks by criticizing the BPS system for prolonging contract negotiations.
"This is something that should not have taken months to negotiate," Weingarten said. "This is something that there is an urgency to do now."
After the speeches were concluded, several teachers who attended the rally voiced their concerns about the education system in Massachusetts and the nation at large.
Maria Montano, 34, of the North End, said she is concerned about the proposed budget cuts.
"It will definitely affect [public schools] because if you're cutting their funding, there will be less resources to explore and use technology and to assist them if they're needing differentiated learning," Montano said.
Nancy O'Malley, 62, of South Boston, is a special education teacher. She said she is concerned about the needs of students who have difficulty learning in the classroom.
"The most important thing is that they have what they call inclusion and do it well," O'Malley said. "They have two teachers in the classroom and they don't staff it properly."
Steven Dunmire, 26, of Cambridge, is an inclusion teacher who has taught in schools in Dorchester in the past. He said he finds the understaffing of inclusion classrooms completely unacceptable.
"We definitely need multiple teachers, it's not fair for a bunch of students," Dunmire said. "One teacher doesn't work."