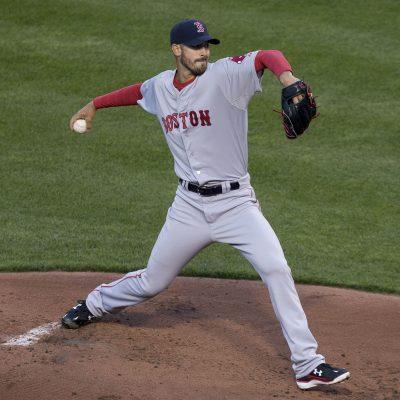 The Boston Red Sox entered spring training poised to make a run at the franchise's ninth World Series title. Headlining the Sox rotation is lefty ace Chris Sale, who was acquired from the Chicago White Sox in December for a bevy of prospects, including Yoan Moncada. Sale was set to join Cy Young recipient Rick Porcello and fellow ace David Price.
However, there has been a bump in the road for the Sox and their arsenal of arms. Injuries have reared their ugly heads in a season that is still in its infancy. Normally, banged up pitchers are common occurrences during a lengthy season of baseball, but the tweaks and strains usually come after pitchers have been put through a heavy volume of work, not in springtime. With the rise of shoulder and forearm injuries cropping up in the Sox's pitching, concern has set in over Boston's potential to win the American League pennant.
Price came into spring training looking to rebound after an uncharacteristically average season on the mound. The left-hander went 17-9 last season and started a career-high 35 games in his first season in Boston. And while his earned-run average was the highest it has been since 2009, it was largely due to a subpar beginning of the season.
Aiming for a return to form as one of baseball's best in 2017, Price gave Red Sox nation its first big scare of the season when it was announced that the hurler might need a Tommy John surgery. Price complained of elbow and forearm tightness in his pitching arm at the end of February.
However, after seeking a second opinion on his "unique elbow" by Tommy John specialist James Andrews, it was determined that Price would not need the season-ending surgery after all. Instead, the southpaw would have to undergo a rehab process that included taking medication and a throwing regiment to ease him back into baseball. He is expected to be out until mid-May, as reported by Evan Drellich of Comcast SportsNet New England Monday evening.
The loss of Price hurts the Red Sox for a number of reasons. Primarily, they will have to delve into their pitching depth early in this season. With Clay Buchholz gone — thankfully — and Joe Kelly now a member of the bullpen, the Red Sox bevy of starting pitchers has whittled down.
Still remaining on the staff is Eduardo Rodriguez, who has been vying for the team's fifth spot in the rotation as a third-year starter. Price's extended injury bodes well for Rodriguez's chances. The 23-year-old Venezuelan has shown flashes of brilliance in his two years in Boston, but has presented injury concerns after missing time last season with a left hamstring injury. Rodriguez also tweaked his knee in winter ball this past December.
Joining Rodriguez in the back half of the staff this season is knuckleballer Steven Wright, who was an All-Star last season. Out of his four years at the Major League level, Wright had his best season last year, going 13-6 and posting a 3.33 ERA.
However, being a knuckleballer comes with inherent risk. While the Red Sox have had success in the past with specialists like Tim Wakefield, knuckleballers like Wright can often get exposed when hitters adjust their timing. Knuckleballers are extremely effective because hitters, who are used to facing pitches in the 90s, are not accustomed to seeing fluttering throws in the 70s.    
The other option the Sox have for starting pitching is Drew Pomeranz, the underwhelming replacement traded for blue-chip prospect Anderson Espinoza. Since his arrival, Pomeranz has been riddled with injuries and has not yet proven his worth, especially after being exchanged for one of the Sox' best prospects. In fact, the MLB even gave Boston the opportunity to undo the deal after it was made public that the San Diego Padres had not been fully transparent about Pomeranz's health.
Price's absence also means the Red Sox will lose a pitcher who habitually racks up innings throughout the course of a season. Last season, Price pitched a monstrous 230 innings, the most in the MLB. That means that Boston will have to rely more on its bullpen than hoped for in the early months of the season.
President of Baseball Operations Dave Dombrowski has bolstered the Sox relieving corps over the past two years. Bringing in players like Craig Kimbrel, Tyler Thornburg and Carson Smith, Dombrowski has back-loaded the Red Sox pitching staff with shutdown relievers. However, they too have been touched by injuries.
Smith missed all of last season because of Tommy John surgery. A year removed from his injury, Smith would be better off easing back into things to make sure his reconstructed elbow holds up to the wear and tear of a long season. With Price out, Smith's usage will increase, which should be a concern for Red Sox fans.
Thornburg has also been reported to be experiencing soreness in his throwing shoulder due to the Red Sox offseason shoulder program. Acquired from the Milwaukee Brewers in the offseason, Thornburg explained that the Boston offseason workout program was much more extensive than the Brewers, according to the Providence Journal.
Kimbrel has been a monster in save situations for the Red Sox. While he has had issues in non-save appearances, Kimbrel, now in his second year as the Sox closer, was an All-Star last season and totaled 31 saves.
The Red Sox are in a delicate situation. They have the pedigree, both offensively and pitching-wise, to win the Fall Classic. However, if they hope to not get swept in the American League Division Series like last season, they'll have to manage their arms and keep injuries limited. That's easier said than done for Dombrowski and company.