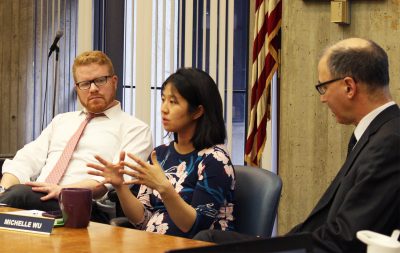 The Boston City Council's Committee on Government Operations met Monday afternoon to address an ordinance regarding the reduction of plastic bags in Boston, which is co-sponsored by City Councilor Matt O'Malley and City Council President Michelle Wu.
The legislation would require retailers to charge a minimum of five cents for every plastic bag used to carry merchandise, excluding bags used to carry newspapers, laundry or grocery items, said City Councilor Michael Flaherty. These bags would also be required to be reusable or recyclable.
The proposal would be enforced through regulatory checks, a fine of $50 for the first offense and $100 for subsequent offenses, according to the ordinance. The ordinance also states that if the economic pressure is too great for any business, they may apply for exemption from the law.
Wu said during the meeting the City Council sent out a survey to members of the community in October to gather responses about the plastic bag proposal, which was analyzed later in the month. Based on that data, the Council held a public hearing for the reduction of plastic bags on Dec. 13.
The Council plans to set a date to vote on the ordinance, and from there Boston Mayor Martin Walsh must decide whether to sign or veto the legislation, according to Wu.
As a co-sponsor of the proposal, Wu voiced her strong support for the passing of the legislation.
"I am eager to see us keep moving forward on this," Wu said. "As council members had said, it is very important for city government to step up and take the lead nowadays."
Carl Spector, the commissioner of the Boston Environment Department, said during the meeting that he wishes to see the ordinance tabled due to his preference for his department's environmental protection plan.
Spector said the plastic bag ordinance is too specific, thus it limits the results it can produce.
"There's several different problems," Spector said. "As a percentage of the waste stream, plastic bags are a very small percentage … that we want to address. It's often a very visible piece, but in terms of quantity, it's not a huge part of the waste stream"
Several city councilors, including O'Malley, disagreed with Spector.
"This ought to be part of a comprehensive plan … to make Boston a more environmentally friendly city," O'Malley said.
City Councilor Ayanna Pressley also commented on the effects of the ordinance on low-income communities.
"To the issue of hardship on low-income households … the issues of the climate often break along class lines — low-income communities have the highest concentration of litter," Pressley said. "It doesn't feel good to walk through your community and have it look like the bottom of a trash bag."
The meeting drew several citizens who said they wish to see the proposal passed.
Sierra Rothberg, 42, of Dorchester, is a leader of her daughter's Girl Scout troop. Rothberg said her girls have been working to sell reusable bags at grocery stores ever since they went on a visit to an aquarium and learned about the dangers plastic bags pose to sea turtles.
"It got the girls thinking about a lot of questions and thinking around it, looking at their own community and identifying problems," Rothberg said. "We have between 15 and 18 girls who have done everything from doing petitions to going to farmer's markets and just talking to people about it."
Pam Sinotte, 60, of Roslindale, said she fully supports the ordinance, citing the need to eliminate dependence on fossil fuels as a reason to reduce plastic bag use.
"We see this plastic bag litter everywhere," Sinotte said. "It's in our trees, it's on the streets."
Sinotte added that while the plastic bag ordinance is a good step, she hopes to see the city move to reduce the use of more products made from petroleum.
"I think that we need to reduce plastic bag litter because it is a petroleum-based product, for one thing, so I think we need to reduce petroleum-based products in general," Sinotte said.